Back in August 2021, we announced that Request Finance's fast and simple app to generate, track, and pay invoices was made available to the rapidly expanding community of users transacting on Fantom.
"We're delighted to report that the use of the Request Finance app has scaled with Fantom, which has been one of the fastest growing protocols in the industry", said Christophe Fonteneau, Head of Business Development and Partnerships at Request Finance.
Since Request's launch on Fantom at the end of August last year, the number of unique Fantom wallet addresses has grown 440% to reach 1.9 Million. Total value locked (TVL) on the network has grown by an astonishing 1,248% to reach $9.2 Billion.
Through this period, the Fantom Foundation has relied on Request Finance to manage payments to its expanding team of employees and contractors. Similarly, the surging wave of projects flocking to Fantom for its low-fees, and fast transaction finality are also increasingly using Request Finance to streamline invoicing, and support their DAOs' treasury management through integration with multi-sig wallets like Fantom Safe.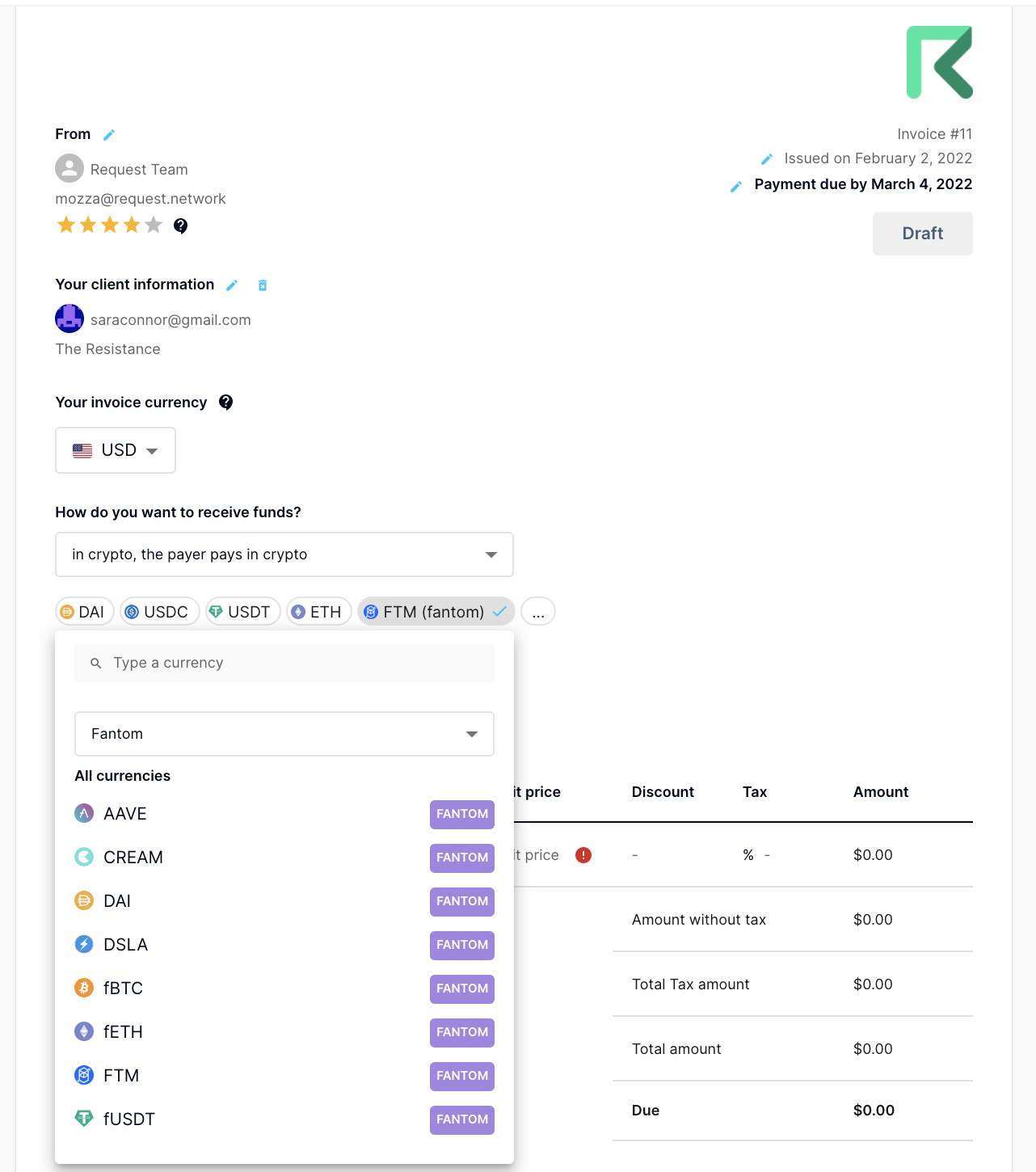 We want to continue supporting our rapidly-growing community of builders and users in the Fantom ecosystem, helping project teams to easily manage and keep track of their payments made on the Fantom Network.
"Request Finance has greatly helped reduce the Fantom Foundation's operational overhead. It has made working with contractors, grantees, and many others incredibly easy and efficient" - Simone Pomposi, CMO at Fantom.
Request Finance allows users to easily keep track of the payments being sent and received over time, and even reconcile the data to accounting software like Xero and Quickbooks. By connecting directly to the wallets of users' accounts on Request, project teams no longer have to copy and paste individual wallet addresses. With Request, you can confidently pay to hundreds of different wallet addresses in just a few clicks.
Get started now on issuing and paying an invoice on Fantom
How to create and send an invoice on the Fantom network using Request
Log in to your Request account
Click on the "Create an invoice" button
Add/Select the client for the "Your client information" field
Leave the "How do you want to receive funds?" field with the default option: crypto, the payer pays in crypto
Click on the "More" button (ellipses icon) next to the list of cryptocurrencies
Next, click on the "All networks" field and select Fantom
Then choose the payment currency you wish to receive as funds on the Fantom network
Set your invoice currency which will depend on the payment currency chosen in the previous step*
Add the rest of the details for your invoice: item description, quantity, unit price, discount, and tax
Review and check that your invoice number, issue date, and payment due date are correct.
Click the "Create & Send" button to generate and send the invoice
*What is the invoice currency? This is the currency that your invoice will be issued in and can be different from the payment currency which you'll receive as funds. For example, you can have the invoice currency as USD (fiat) while receiving funds in FTM as the payment currency. You can also set both the invoice and payment currency as the same currency such as in FTM.
Watch the video tutorial below on how to send an invoice on Fantom
How to pay an invoice on Fantom using Request
Log in to your Request account
Click on "Received Invoices" on the sidebar menu under Invoices
Next, select the invoice you wish to pay
Click on "Pay now"
Select a wallet
Proceed with payment following the instructions from your wallet
When payment is successful, the status of the invoice should change to "Paid"
Watch the video tutorial below on how to pay an invoice on Fantom
About Fantom
Fantom is a fast, scalable, and secure layer-1 EVM-compatible platform built on a permissionless aBFT consensus protocol. On Fantom, transactions are confirmed in 1 second and cost a fraction of a cent. Speed, low transaction costs, and high throughput make Fantom ideal for DeFi applications and real-world use-cases.
Website | Docs | Research papers | Discord | Telegram | Blog | Twitter | Reddit | Github
About Request Finance
Request Finance is a suite of financial apps helping companies, DAOs, and freelancers easily manage their crypto invoices, payroll, expenses, and other payment requests in a compliant, professional and secured way. Send and receive payments in 60+ cryptocurrencies and stablecoins, 10+ fiat currencies, and 10+ blockchains. Payments can be settled in cryptocurrency while denominated in fiat like USD or EUR. Track, verify, and organize all your payment requests in one dashboard. To learn more about Request, visit Request.Finance