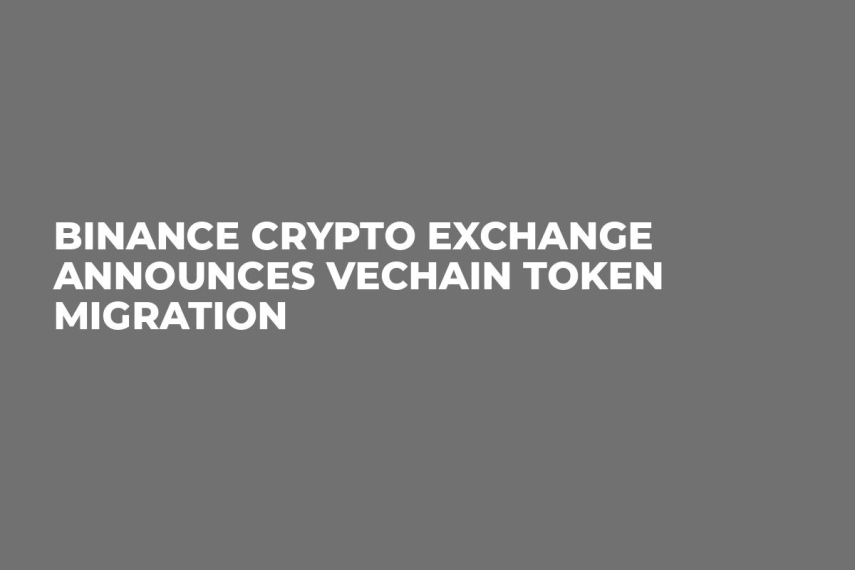 Cover image via U.Today
VeChain has been planning to launch its mainnet for a while already, following the suit of TRON and EOS to get off the ETH platform and launch its own network. As with the other two coins, old VEN tokens will be changed for new VET ones.
The token exchange scheme
The whole thing will start on July 22 at 00.00 a.m. (UTC) by Binance freezing all deposits and withdrawals of VEN. At this point, the token migration begins.
The exchange team reminds that users must ensure enough time for their VEN deposits to be processed.
Also, trading with all VEN pairs will be halted at 4 a.m. (UTC) July 23. The team intends to make a snapshot of users' balances at the same time. One VEN will be generously swapped to 100 VET coins.
Deposits/withdrawals and trading with new VeChain pairs will open on July 25 4 a.m. (UTC).
All old VEN coins will be burned.
Market behavior
Recently, things have not been too good for the VeChain coin, the price has been dropping from $5 to $2.55. Currently, the coin is trading at $1.94, according to Coinmarketcap.com.
A short while ago VeChain was added to a small-scale LBank exchange. Binance is trading it against Tether (USDT), which is basically good since the latter is a very popular and quite stable coin.
However, the majority of VEN trades are performed against Bitcoin and the BTC rate sliding down cannot but impact this altcoin.
Outlook
The launch of the new mainnet and the release of the new VET coin could basically let this token's price grow a little if the team behind it continues promoting it and improving the protocol.