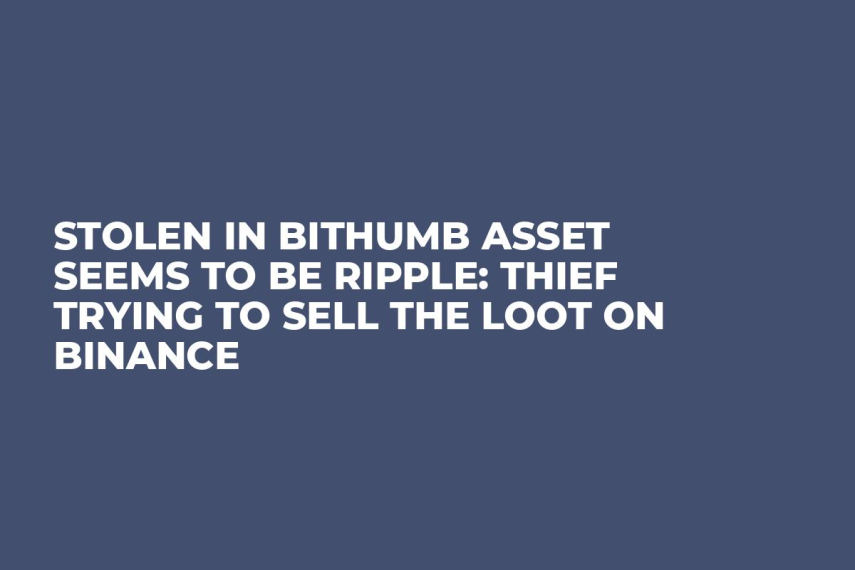 Cover image via U.Today
This morning, one of the biggest South Korean crypto exchanges suffered an attack after which $30 bln worth of crypto was lost. According to the exchange's announcements in the country, mainly Ripple (XRP) was stolen.
The top coins, like Bitcoin, Ethereum, Ripple and some others, that a couple of days ago gained slight momentum, have seen the corrective rallies over and lost about one percent in the last several hours.
Several altcoins kept on with their downtrend versus BTC and the USD, depressed by the Bithumb attack and thus making the negative sentiment in the Korean market even worse.
Compared to the Korean exchange Coinrail that has been hacked recently, Bithumb has got off lightly. It was lucky to store most of its assets in a cold wallet, so the attackers managed to steal just a little, even though the amount of $30 mln does seem huge.
Trying to get rid of the loot
Some crypto bloggers have noticed a massive sale of XRP tokens on Binance today. Shortly aftewards a big number of Litecoin was bought. They bravely assumed that this could have been the hacker trying to get rid of some stolen coins. He either lost patience or just made a mistake because he or she was afraid that the Binance team might have tracked his XRP deposit.
They even concluded that the Binance team may soon have the name of the Bithumb attacker since the exchange has implemented the KYC (know your customer) system.
Overall outcome
Bithumb has been attacked three times within a year. The latest hack has shaken the South Korean crypto market as the consequences of the police raid on the Upbit exchange had only started to wear off for local investors. Also, last month Bithumb listed the Popcorn Token and this led the regulators to investigate the trading platform.
Overall in June, Korean investors have been facing major difficulties investing in the local crypto market, since the two exchanges were pretty unstable.