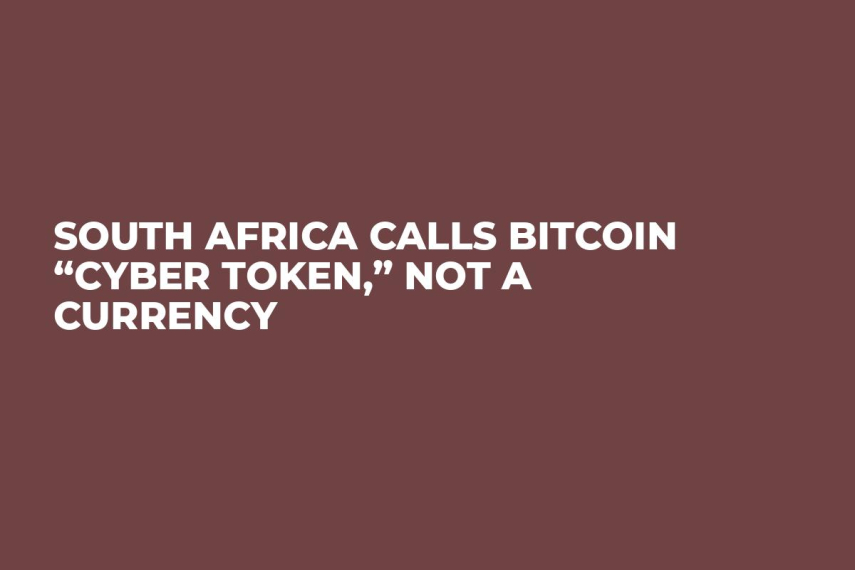 Cover image via U.Today
South Africa has been working towards regulating Bitcoin and other cryptocurrencies in a positive light, but their latest move shows that they do not see the digital currency as any sort of currency. The Reserve Bank of South Africa has decided rather to label them as "Cyber Tokens."
The reason for this categorization is because the bank does not believe that digital currencies meet the requirements of traditional currencies and thus should not be labeled as such.
Not classified as money
Reserve Bank deputy Governor Francois Groepe explained that the Reserve Bank, essentially the Central Bank, has scrutinized Bitcoin and seen it fall flat on a few requirements.
"We don't use the term 'cryptocurrency' because it doesn't meet the requirements of money in the economic sense of the stable means of exchange, a unit of measure and a stable unit of value," Groepe said. "We prefer to use the word 'cyber-token.'"
This does not necessarily mean that the Reserve Bank is cracking down or trying to make the cryptocurrency ecosystem in South Africa more difficult, but it does point towards where the regulators in South Africa are heading in terms of regulation.
Understanding the space
The South African government has in the past set up Sandboxes and other structures in which cryptocurrencies can operate freely in order to determine their use and effect.
Bitcoin and Ethereum are becoming increasingly popular in the African country and globally, with regulators in struggling to move fast enough to manage them.
The Reserve Bank has established a financial technology unit to review its position on private cryptocurrencies and to help draw up an appropriate policy framework and regulatory regime.
"We want to ensure or establish whether there is still compliance with the relevant financial surveillance or exchange-control regulations," Groepe added.