IDC Saudi Arabia CIO Summit | Riyadh, September 13-14, 2023
Event details
Location:

Event place

Fairmont Riyadh, Saudi Arabia

Dates:

Wed, 09/13/2023 - Thu, 09/14/2023

Website

https://www.idc.com/event/idcksaciosummit23?RefID=Utoday

Price: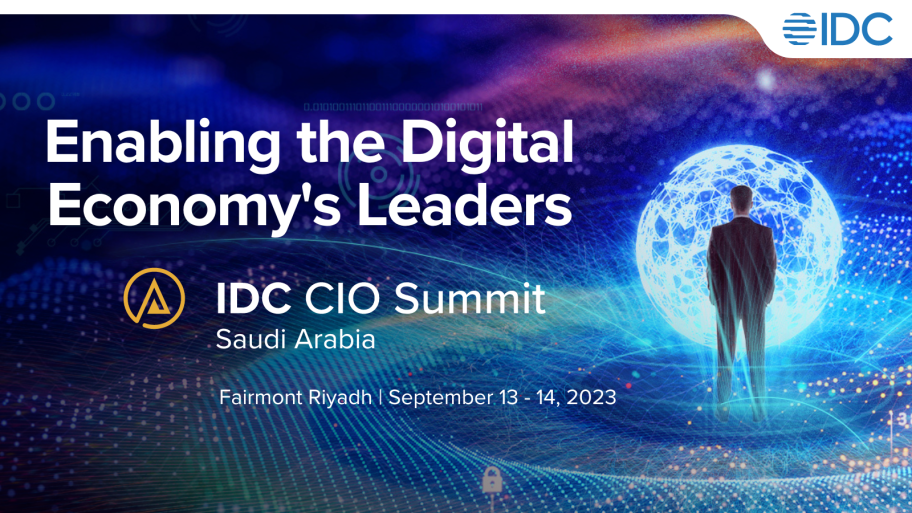 Cover image via U.Today
In 2023, we are going further together! So, join us for the 13th Edition.

As the share of the digital economy becomes increasingly significant, major governments around the world are beginning to develop dedicated strategies to enable its measurement and further development. Creating suitable regulatory environments and enriching the talent pool will be critical to the success of these strategies. Today, technology is playing an ever-increasing role in enabling, measuring, and reporting on sustainability initiatives and diversity and inclusion drives, and government and business leaders are moving these issues to the top of their digital agendas.

The IDC Saudi Arabia CIO Summit 2023 will bring together the region's foremost IT and telecom leaders, digital government pioneers, digital regulators and authorities, and industry thought leaders.

Hosting the Saudi Arabia's most prominent CIOs and Senior IT Executives, the event will examine the current state of the digital economy, assess its ongoing impact on citizens, customers, employees, and operations, address the key challenges that need to be overcome, and outline proven best practices and strategies for driving future success.

Why Attend?
• Receive critical insights from leading industry experts
• Discover solutions to pressing business challenges
• Get hands on with the industry's latest innovations
• Interact with the brands and specialists on your short list
• Engage in workshop-based technology discussions
• Participate in dedicated one-to-one meetings
• Share knowledge and network with your peers
• Take part in a series of fun, exciting, and memorable activities
To register and learn more about the event, please visit https://www.idc.com/event/idcksaciosummit23?RefID=Utoday
Advertisement
Top
Crypto
News
in
Your
Mailbox
Top
Crypto
News
in
Your
Mailbox