Cardano Summit 2023 | Dubai, November 2-4, 2023
Event details
Location:

Dates:

Thu, 11/02/2023 - Sat, 11/04/2023

Website

https://summit.cardano.org/

Price: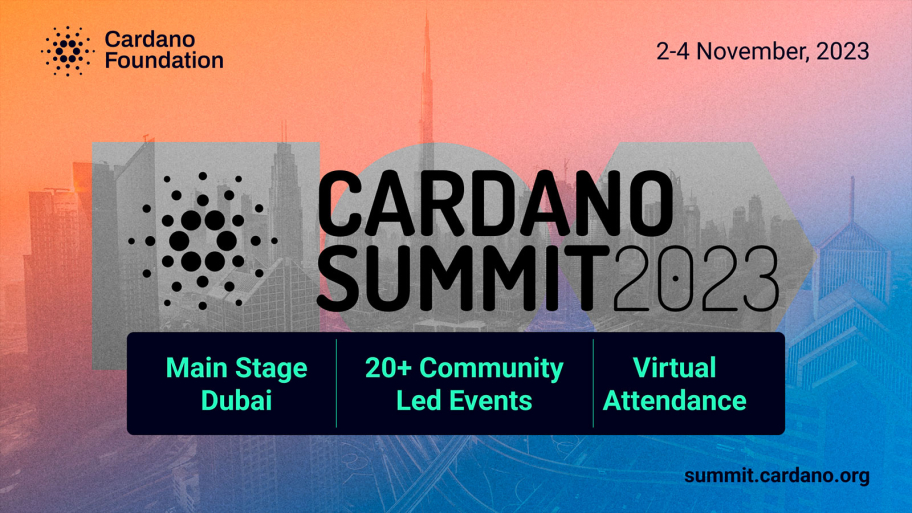 Cover image via U.Today
The Cardano Summit 2023 is a global event for anyone interested in blockchain technology. Led by the Cardano Foundation, it brings the Cardano community together. The Summit also welcomes everyone wishing to join the Cardano ecosystem or curious about how Cardano's blockchain technology is being used to create positive change around the world. At the Summit, we celebrate successes and look to the future.
The Cardano Summit will happen on 2-4 November, 2023, with the main stage event taking place at the Grand Hyatt in Dubai, United Arab Emirates. Multiple community-led events will also take place in different cities around the world.
Speakers on the lineup include:
Frederik Gregaard - CEO, Cardano Foundation
Charles Hoskinson - CEO, IOG
Ken Kodama - CEO, EMURGO
Dr Marwan Al Zarouni - CEO, Dubai Blockchain Center
Emmanuelle Ganne - Senior Analyst, Economic Research and Statistics Division, World Trade Organisation
Nick Cooper - Head of Finance, Stacks Foundation
Dominik Schiener - Co-Founder of IOTA & Chairman of IOTA Foundation
Ayumi Moore Aoki - Founder and CEO, Women-in-Tech
Vanessa Zuabi - Head of Ecosystem Development, VARA
Gabrielle Inzirillo - Head of Ecosystem Development, ADGM
Dr. Bernhard Kronfellner - Partner & Associate Director, Boston Consulting Group
Carmen Hett - Corporate Treasurer, UNHCR
Milica Begovic - Head of Strategic Innovation, UNDP
Paola Valencia - Director of Operations & Strategic Partnerships, House of Blockchain. Swiss
Glen Jordan - CEO and Co-Founder, Empowa
Andrew Westberg - CTO, NEWM
Shahaf Bar-Geffen - CEO, COTI
Robert Quartly-Janeiro - CSO, Bitrue
Dr Weijia Zhang - VP of Engineering at Wanchain
Andre Ayotte - Partner, Modus Africa
Further information on the speakers, sponsors and the Summit Hackathon, as well as details on the more than 25 community-led events across the globe can be found here.
Advertisement
Top
Crypto
News
in
Your
Mailbox
Top
Crypto
News
in
Your
Mailbox