On Tuesday, the XRP price slid below the $0.22 level where it had been holding for a long while. At the time of writing, the third largest coin is trading at $0.2149, instead of sitting at $0.219 yesterday.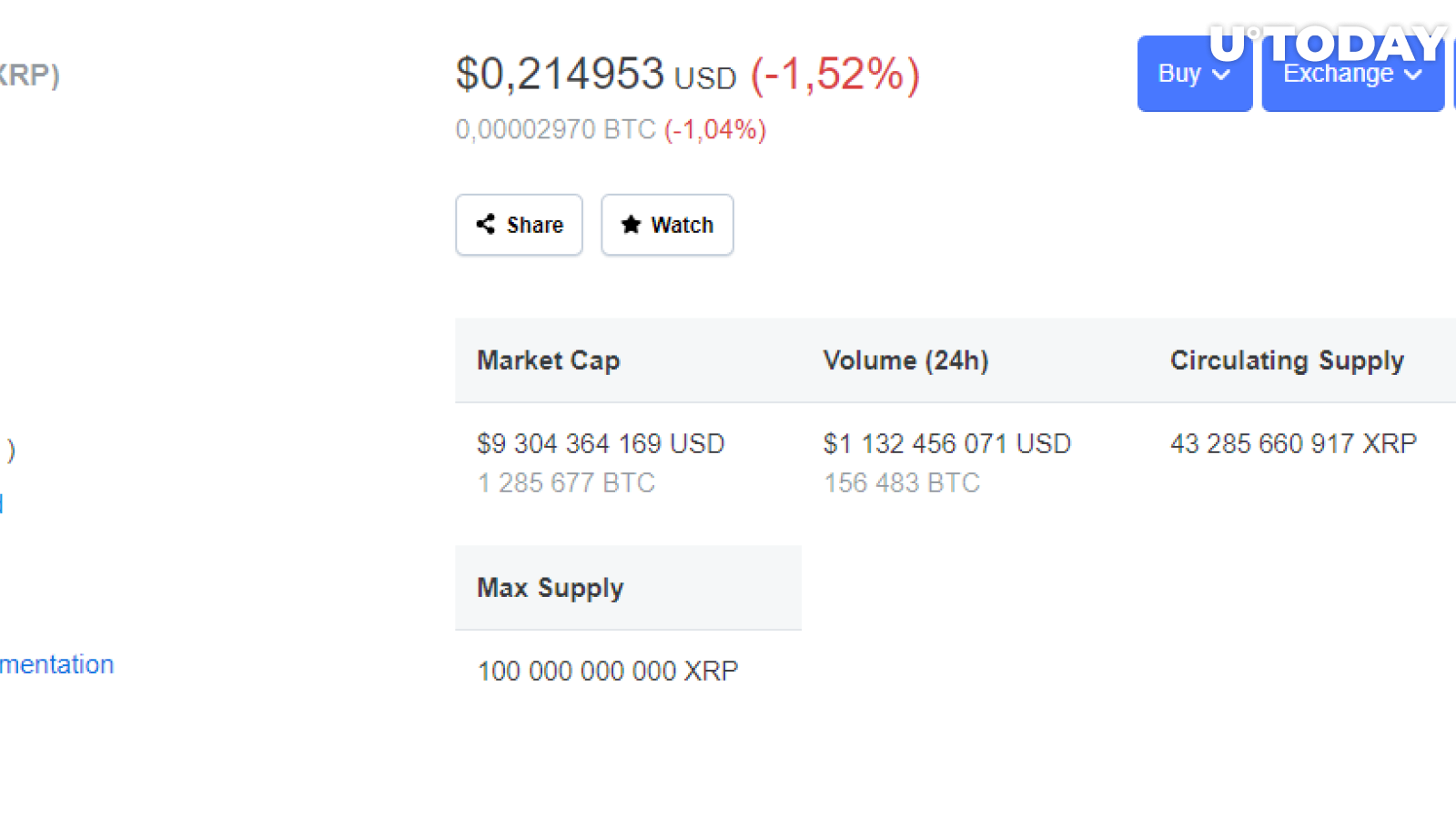 Earlier today, the Whale Alert Twitter page published data about a 25-mln XRP transferred. Just like on December 1, when 1 bln XRP was released from Ripple's escrow vault, the community is again talking of an upcoming price dump, since more coins are obviously about to be injected to the market.
XRP - from Binance to Coinbase
Whale Alert reports that 25 mln XRP (that's $5,365,381) has been sent from Binance to Coinbase earlier today.
25,000,000 #XRP (5,365,381 USD) transferred from #Binance to #Coinbase

Tx: https://t.co/9HGvdepviU

— Whale Alert (@whale_alert) December 4, 2019
Every month, Ripple, which has 55 percent of the total XRP supply in control, unlocks 1 bln coins. Many believe that it is preventing the XRP price from surging. On December 1, one bln XRP was unlocked again and the community went mad, accusing Ripple and its co-founder Jed McCaleb – now also the founder of Stellar Lumens –since he regularly receives enormous XRP payments from Ripple.
Thanks for the dump jed

— justine 🐾 (@jussyc123) December 4, 2019
This time, however, the 25 mln XRP transfer was made from Binance to Coinbase. Even though, one Twitter user commented that the sender may be using Coinbase for its custodial services, the majority of users believe that the XRP price will be forced to plunge soon.
Being optimistic.....They could be using @coinbase custody.

Being pessimistic......It's gonna tank!

Being optimistic again....If it tanks I'm filling my bag and then my other bag and then my other bag!

— Digiknowassets (@digiknowassets) December 4, 2019
Crypto influencer accuses Ripple
Recently, U.Today reported that a crypto influencer @Crypto_bitlord accused Ripple of using XRP for purchasing real life business. As an example he referred to MoneyGram, saying that now after the recent investment Ripple owns a 10-percent stake at this global remittance giant.
Ripple dump on the community to acquire real life business ✅

Remember,

They say they aren't responsible for the price of $XRP but continue dumping.

You have no rights to the company OR @MoneyGram

How can we fix this? $XRP is a SECURITY @bgarlinghouse https://t.co/ARDQ3WMCpO

— ฿ITLORD (Hunger strike) (@Crypto_Bitlord) November 26, 2019
Previously, when standing up to these accusations on Twitter, the CEO Brad Garlinghlouse told the community that these XRP sales are used for improving the Ripple ecosystem.