WOW Summit Lisbon | November 1-3, 2022
Event details
Location:

Dates:

Tue, 11/01/2022 - Thu, 11/03/2022

Website

https://wowsummit.net/lisbon-nov-2022/

Price: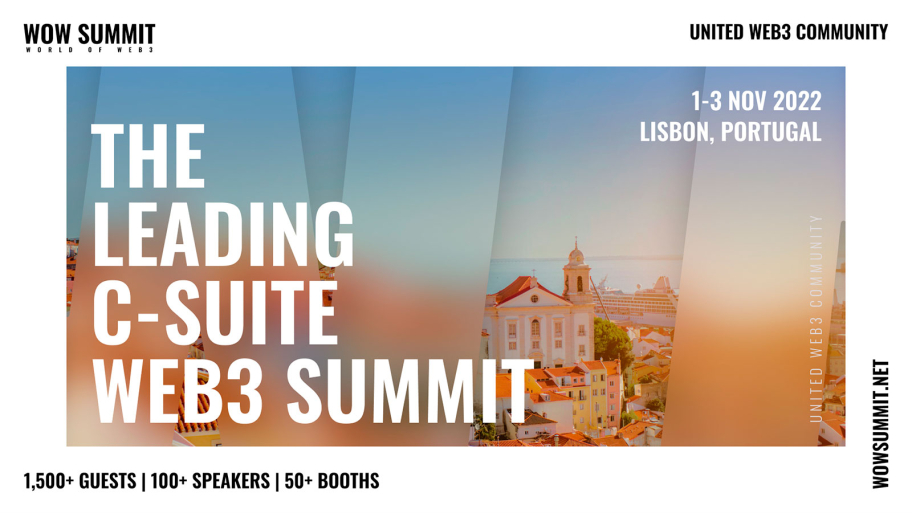 Cover image via U.Today
This year the 3rd edition of Global Web3 Summit WOW will take place on the 1st to 3rd of November 2022 at one of Lisbon's most iconic destinations— SUD Lisboa.
WOW Summit was established a while back, but quickly became the leading C-Suite B2B gathering in the world of Web3 tech and digital assets.
Thought leaders, top CEOs, board members, government authorities, Tier-1 Funds, promising startups, and blockchains representatives from around the world have attended WOW events, to experience top-level networking, form priceless relations, and facilitate operations on all levels.
Web3 world and digital assets professionals will have the opportunity to significantly expand their network of business contacts and find new business partners. WOW Summit is one of the worlds, main international events for B2B and B2G networking striving to promote partnerships and the future of Web3 tech at the highest level. Get deeper into the World of Web3 with WOW!
Facebook: https://facebook.com/wowsummitworld
Instagram: https://instagram.com/wowsummitworld
Twitter: https://twitter.com/wowsummitworld
LinkedIn: https://www.linkedin.com/showcase/wow-summit-world/
Telegram: https://t.me/wowsummitworld
YouTube: https://www.youtube.com/channel/UCooGWgLOF9sHQo69GhLmY2w/videos
Advertisement
Top
Crypto
News
in
Your
Mailbox
Top
Crypto
News
in
Your
Mailbox