With Ripple resisting the trends of the bearish market and growing in price, many investors have high hopes for making profits with XRP in the coming years. Can Ripple hit the 100 USD threshold? What are the chances of that? Let's find out what XRP's potential value is, and compare the opinions of Internet users and advanced traders.
What makes Ripple superb?
Unlike Bitcoin, Ripple was created for a different mission: this is an open-source protocol that enables cheap and fast transactions. Ripple was designed for institutional users and banks rather than individual users because it facilitates international transactions in a huge volume. While it sounds too ambitious, practice shows that Ripple does its work pretty well.
Ripple serves both as a currency and a platform: it helps people find each other and exchange literally any cryptocurrency, including Bitcoin and hundreds of other altcoins. The transaction fee is minimal – $0.0001. It was introduced to prevent DDoS attack and hackers.
It goes without mentioning it has a pretty high transaction processing speed: at the moment, Ripple is capable of processing about 1,500 operations. Unlike other cryptocurrencies, the platform works without blockchain — it uses the Ripple protocol consensus algorithm (RPCA) instead.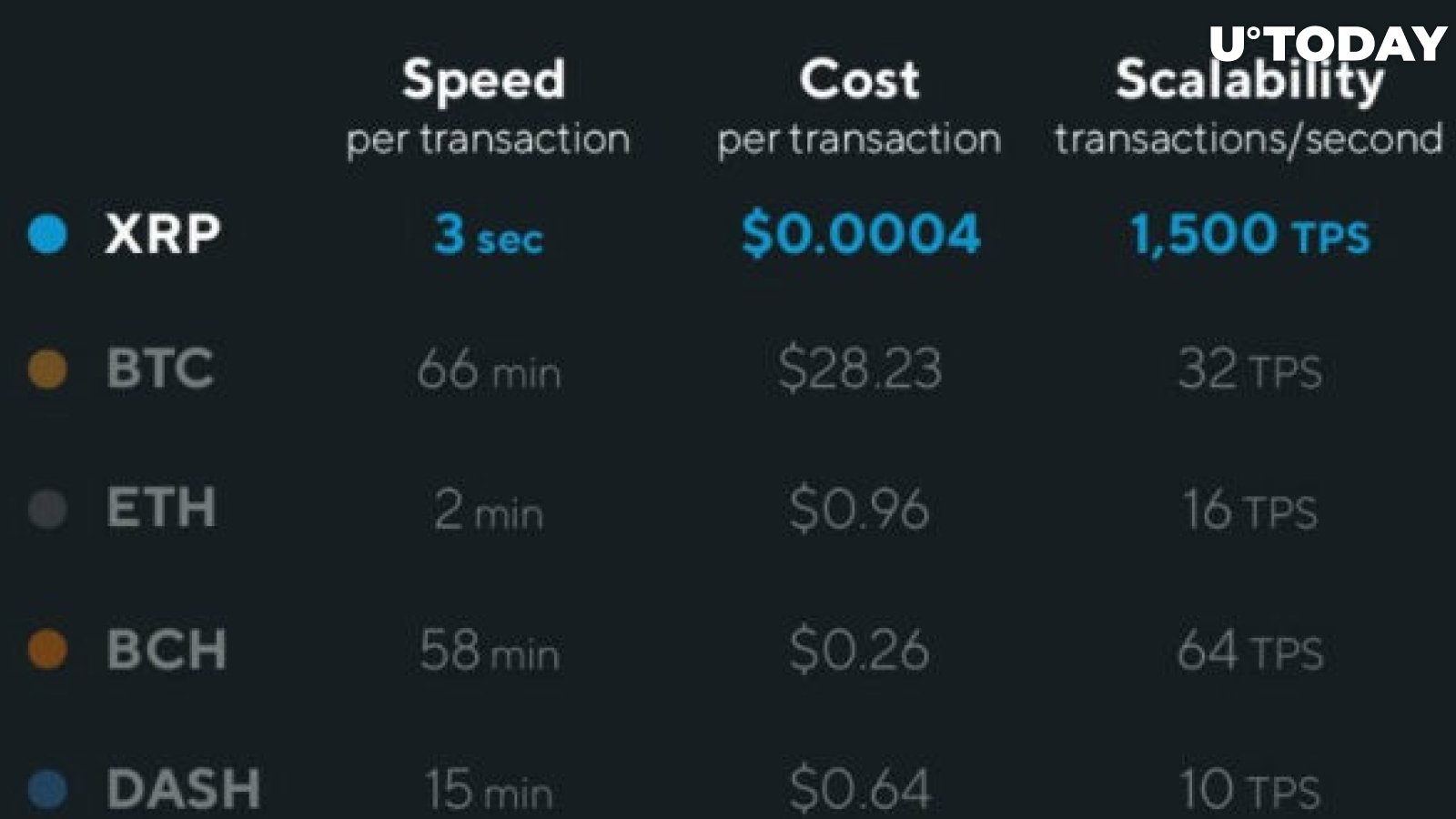 Ripple's superiority is also conditioned by the huge support it gets from investors. Just look at the list of contributors:
| | | | |
| --- | --- | --- | --- |
| Date | Funding type | Investor | Amount ($ mln) |
| April 2013 | Angel | Andreessen Horowitz, FF Angel LLC, Lightspeed Venture Partners, Pantera Capital, Vast Ventures, Bitcoin Opportunity Fund | 2.5 |
| May 2013 | Angel | Google Ventures, IDG Capital Partners | 3.0 |
| November 2013 | Seed | Core Innovation Capital, Venture51, Camp One Ventures, IDG Capital Partners | 3.5 |
| May 2015 | Series A | IDG Capital Partners, Seagate Technology, AME Cloud Ventures, ChinaRock Capital Management, China Growth Capital, Wicklow Capital, Bitcoin Opportunity Corp, Core Innovation Capital, Route 66 Ventures, RRE Ventures, Vast Ventures, Venture 51 | 28 |
| October 2015 | Series A | Santander InnoVentures | 4 |
| September 2016 | Series B | Standard Chartered, Accenture, SCB Digital Ventures, SBI Holdings, Santander InnoVentures, CME Group, Seagate Technology | 55 |
Ripple's expected growth cannot be overestimated thanks to the huge list of banks that partnered up with it: Union Credit, Westpac, NBAD, UBS, Axis Bank, Yes Bank.
Why can Ripple's 100 USD price prediction become a reality?
In the following years, Ripple will sell 55 bln XRP that is locked in escrow. Once the sale is finished, the vast majority of coins will help in banks, so usual investors won't be able to purchase coins. Although there are billions of coins, the situation when an investor is ready to buy a coin at any price, say, $100 or $1,000, is possible. Deficiency can make XRP prices soar.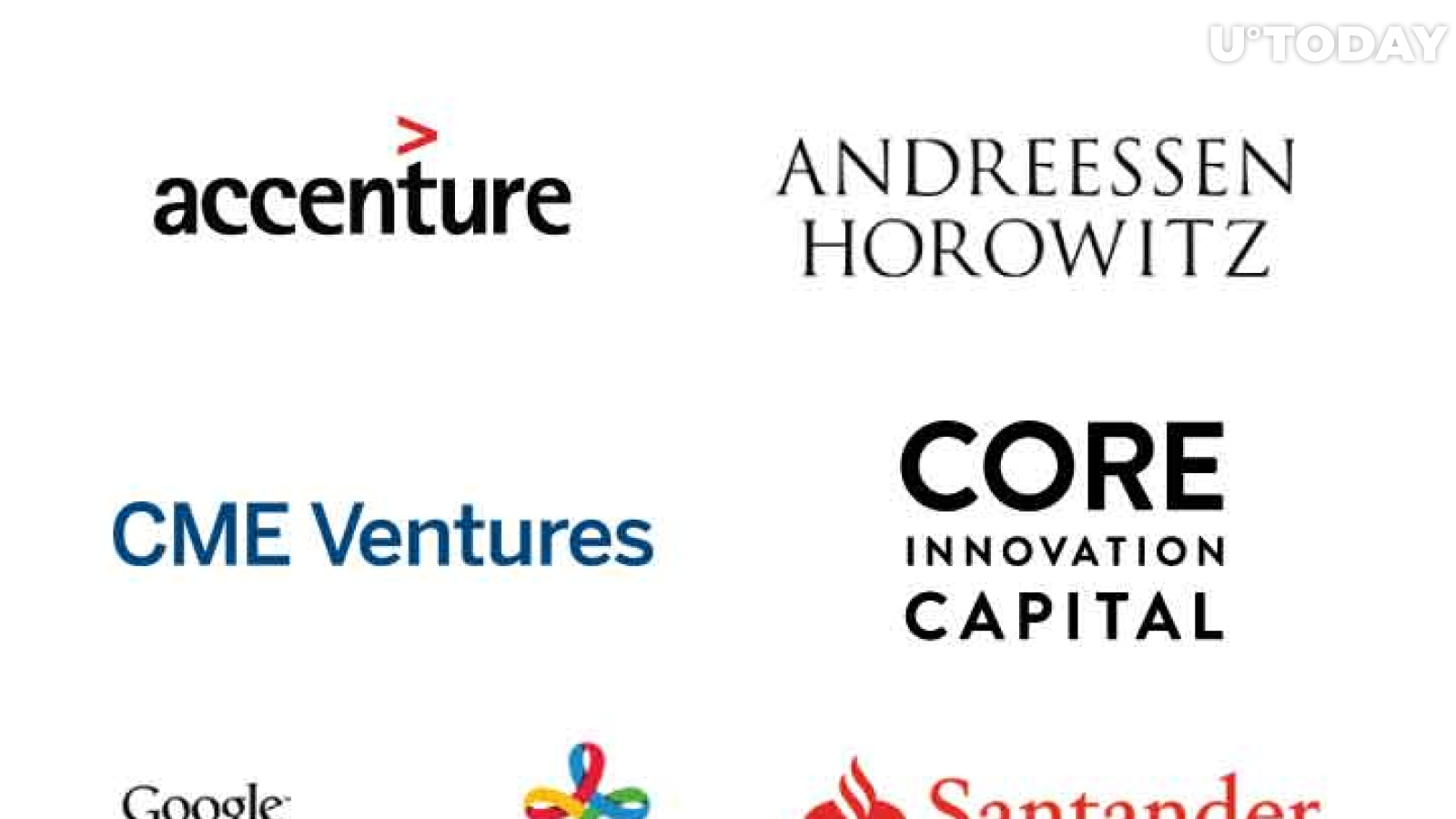 Another reason to assume that XRP can hit $100 is that Ripple is too sublime to fail. While Bitcoin hasn't been properly adopted and is too slow, Ripple is making its way to the top at a steady pace. It will soon be the global currency circulating in world banks: the team is already doing business with American Express and Japanese banks.
So if you still wonder, "Will Ripple reach $100?" don't doubt: Wall Street professionals and world banks are likely to boost its value considerably.
Will Ripple reach 100$? Here's what numbers say
Yet, when estimating how high will Ripple go, we shouldn't forget about real facts. Let's do simple math.
Total Ripple Supply= 100,000,000,000 XRP
For XRP to be worth a $100 in future it should earn about 100,000,000,000 x $ 100 = $10,000,000,000,000 capital.
That's $10 Trillion (Bitcoin's current market cap is $213 bln).
How much is it now?
Compare:
The U.S. GDP was about $18.46 trillion in 2016. With Apple worth $800 bln, you could buy 12.5 Apple companies for $10 trillion.
At the moment, no company has reached the market cap of even $1 trillion with Amazon, Google and Apple being race leaders. Compared to that, Ripple's $17 bln market cap is nothing. To reach XRP $100 price, the company should do something impossible.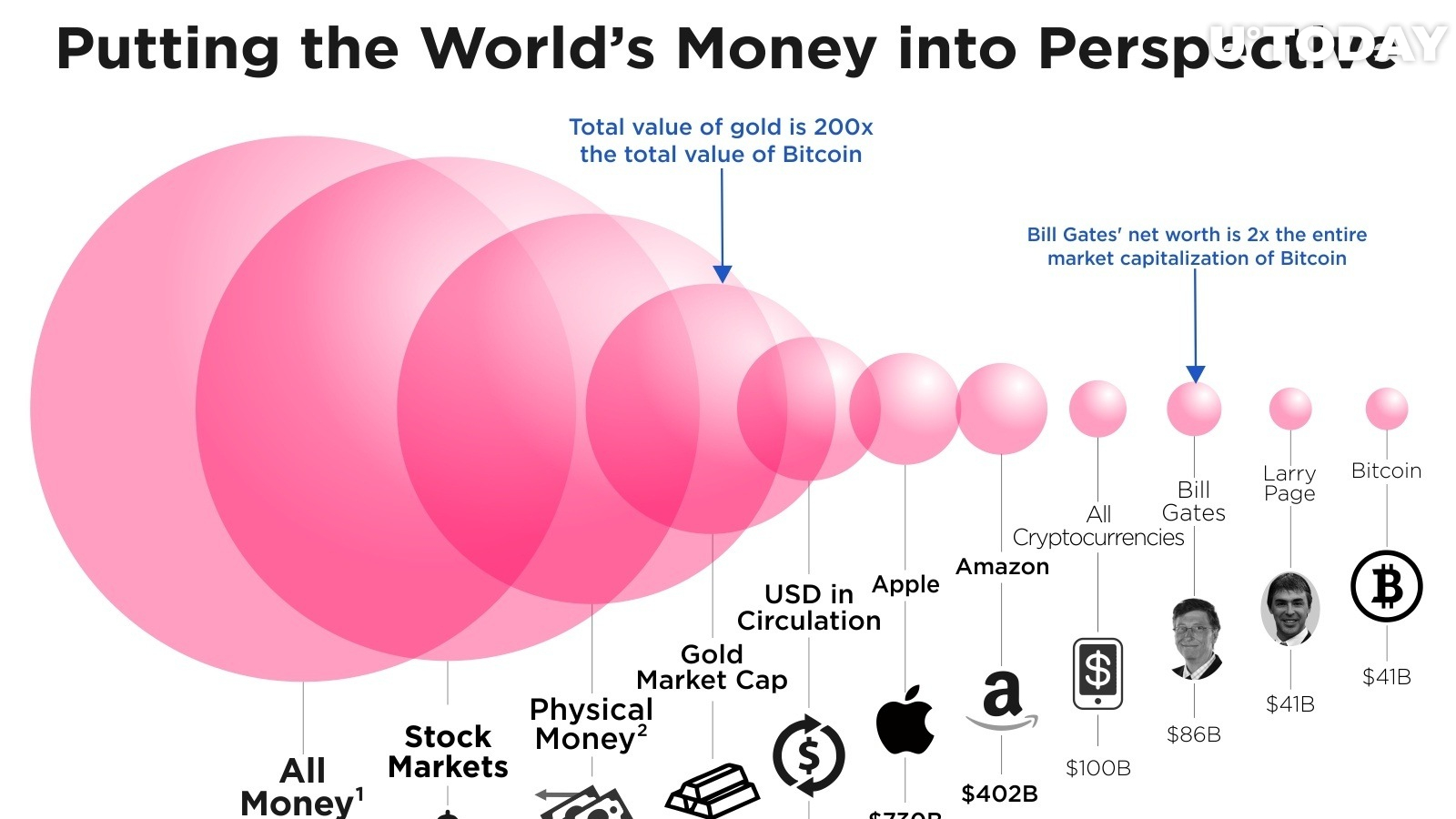 Most likely, Ripple 100 dollars threshold won't be hit within the following five years — its total supply is too high. Yet, when it comes to Ripple price prediction 2030, such suggestions can apply.
Experts' Ripple price forecast
What do professionals think about Ripple's future?
Roman Guelfi-Gibbs, the CEO and Lead Systems Designer for Pinnacle Brilliance Systems Inc., reckons that the world needs time to digest the technological headwinds caused by altcoin. 2018 is only beginning — the true rise of Ripple will be witnessed in 2019.
Samson Williams, CSO of Ireland-based fintech firm SeedUp, says that Ripple isn't a cryptocurrency but rather a new toy for banks. However, after 2018, it should get a bump.
Shidan Gouran, president of Global Blockchain Technologies, expressed the following opinion:
Ripple is unlikely to go up by one or two notches in the cryptocurrency world in 2018, and this is the case for three reasons. The first reason is the sheer dollar volume that separates each of the three currencies in the top positions, in terms of their market cap. Bitcoin is at over $191 billion, Ethereum is at over $84 billion, and Ripple is at over $35 billion. To displace Ethereum would require a deficit of about $49 billion to be closed (which is more than double Iceland's entire national GDP). The second reason is that the use cases for Ripple are mostly for the trade of assets, not for day-to-day spending. As consumer awareness of cryptocurrencies will rise significantly in 2018 and beyond, the interest of the masses will be on cryptocurrencies that can be used as currencies, not just for investment transactions. Finally, the third reason is that because Ripple cannot be bought with fiat currencies, one must purchase existing cryptocurrencies such as Bitcoin and Ethereum to purchase XRP. This goes on to feed demand for Bitcoin and Ethereum, and will only solidify their positions as the top two cryptocurrencies on the market.
Therefore, Ripple's projected growth isn't likely to be stopped, but it's not so tremendous for the currency to get even to $50.
It's time to unlock the potential: How high Ripple's price can go?
As you can see, Ripple's price prediction for 2020 and further is mostly positive: no one doubts that the cryptocurrency has enough potential to conquer the market. But when it comes to the cost of the asset, the future is unclear.
Even if you're a very accurate and smart trader, you will never be able to predict the exact cost of crypto referring to its past. There are too many factors that count. Therefore, no one can say for sure how high could Ripple go. Check out the diversity of forecasts from WalletInvestor.com: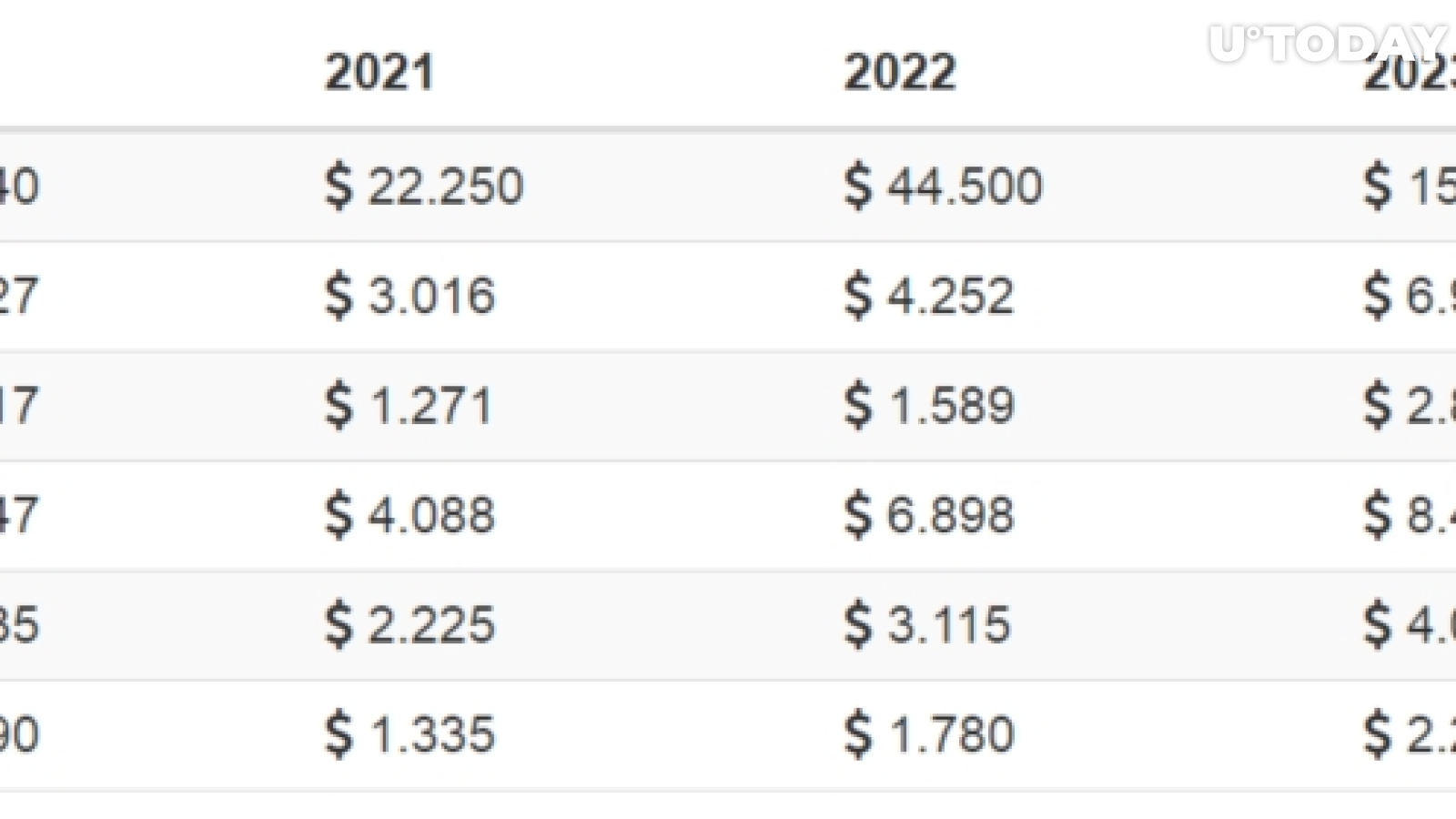 What are the factors that may influence Ripple's growth or slow it down?
| | |
| --- | --- |
| Factors contributing to XRP development | Factors hindering XRP development |
| Ripple is not just another startup — it's a potent project with serious technical advantages. | Ripple is highly centralized — that repels some crypto enthusiasts and potential contributors. |
| Lack of inflation. All tokens are emitted initially. | Ripple Labs owns 61% of coins, which makes Ripple close to a monopoly. |
| Ripple is supported by banks worldwide, and if one day they decide to use it as a unified currency, early investors can make a great profit. | There's still a risk of hacking — all in all, Ripple is an open-source code. |
| | Ripple can freeze users' transactions as it happened with Jed McCaleb's XRP sale worth $1 mln. Theoretically, transaction freezing is against Ripple's principles. |
Bottom Line
So, can Ripple reach the 100 USD price? We never know how high can Ripple (XRP) can go. However, the numbers cannot be ignored: for the price to get to $100, the company should reach vertiginous heights.
No matter what, Ripple still remains one of the most attractive cryptocurrency investments in 2018. It is surviving in the current cryptocurrency market fever, and Ripple Labs are tight-lipped about their project. With substantial support from governments and banks, it can depose Bitcoin from the throne and turn into a versatile means of international transfers.
However, if the newly released XRP is sold to banks, getting it on the exchange market will be quite a challenge for regular users — deficiency can make XRP prices soar. Therefore, investing right now is the best decision you can make, but remember that you should invest only what you can afford to lose. In cryptocurrency, no one can give you any guarantees.