Our series of cryptocurrencies articles and their predictions for 2019 and beyond is completed with an article about Tron price prediction 2019. We will mention scenarios about coin price forecast. Results of 2018 will also be shown as a starting point of our trx price prediction article.
Results of 2018
At the beginning of January Tron is ranked in the 9th position in top 100 cryptocurrencies in terms of their market capitalization on CoinMarketCap. Tron has a current value of $0.023808, a market capitalization of $1.586.908.038, a volume for the past twenty hours of $121.976.029, circulating supply of 66.631.954.397 TRX and total supply of 99.231.165.008 TRX.
On Jan. 1, 2018, the price of Tron was $0.044682, a peak was formed early in January 2018 at the price of $0.224499 and ever since a decline followed for the remaining of 2018. The current price of $0.023808 represents a decline of 48% compared to the price on Jan. 1, 2018. What experts think and believe about Tron in 2019?
Tron price prediction 2018
Our Tron price prediction for the remaining of 2018 and more specifically for December 2018 in our article called "Tron Price Prediction for December: One-Month Performance of -42.39%, Can This Change?" was that "The current trend is a strong downtrend and if we must make a TRX price prediction for the remaining of 2018 it is in favor of lower prices. What is a potential range for our price prediction? A level of $0.010-$0.08 for the end of 2018."
The recent rally of Tron for the past twenty-four hours of about 10% and a current price of $0,020729 proved our Tron coin price prediction wrong. Our trx coin price prediction was based on the current downturn which changed direction in the past two weeks. What are now some Tron price predictions for the year 2019?

Tron price prediction 2019
Four Tron coin prediction opinions are presented below as a first approach about what could Tron value be in 2019:
WalletInvestor.com is very pessimistic about the future business prospects of Tron predicting a 1-year forecast value of $0.000330 or a decline of almost 98%. According to this prediction if price is to move to this very low level then the recent rally would be an opportunity to sell the cryptocurrency. Nevertheless, this article is strictly informational and does not provide any trading recommendation.
Smartereum is on the other side with a very different and much wider prediction. They report that analysts are very optimistic about Tron in 2019. Their Tron predictions by the end of 2019 is a price of $12, which is based on fundamental factors, partnerships and advantages, important catalysts for the future price of the cryptocurrency.
CoinSwitch is also very optimistic about the price of Tron in 2019. They have a range of $0.05 - $0.06 for the first two quarters of 2019. By the end of 2019 the price could reach $0.11, which is positive as compared to the last year. In 2019, Tron will have positive effects from two important factors, security and privacy.
TradingBeasts.com has the following trx predictions for 2019. In January an expected price of $0.02 and in December 2019 a minimum price of $0.05, a maximum price of $0.07 and an average price of $0.05.
Tron price forecast 2019
Theoofy.com presents a few alternative scenarios about TRX price prediction in 2019 based on the positive and negative factors such as high trading volume and large circulating supply. There is a wide price range of $0.3-$0.7 for 2019 which is very optimistic as compared to the current price of $0.020662.
An important note is that the assumption of the constant circulating supply. If the supply changes, this will result in the change in market cap and token price. While this is an important note, we would mention the fact that fundamental factors such as business prospects and applications and a wider adoption of the Blockchain technology worldwide would be very important factors to consider. Regulation is also a key driver for the future price of cryptocurrencies.
Tron price prediction 2020
For 2020 TradingBeasts.com forecasts that during January 2020 a minimum price of $0.05, a maximum price of $0.08 and an average price of $0.06 may be expected. By the end of 2020 in December a large price appreciation is expected with minimum, maximum and average prices of $0.21, $0.30 and $0.24 respectively.
CoinSwitch forecasts that in 2020 Tron for the first time could reach the price of $0.4 and that it will be a year high increased volatility compared to 2019. By the end of 2020 a decline of the price is expected from the price level of $0.30 to $0.24 in December 2020. Smartereum has mentioned by 2020, the coin is expected to trade at $52.91.
Tron price prediction 2025
Can we make an accurate forecast five or six years from now about the value of Tron in 2025? Logic says that the further we move into the future the less reliable Tron predictions are. But for informational purposes here are some forecasts and TRX price predictions ranges for 2025. DigitalCoin forecasts that the price of Tron in 2025 will reach a maximum value of $0.10024417 in May. By the end of 2025 in December the price could decline to $0.06084865. Another forecast made by thenexttechs.com is that price could go up to $10-$15. With all these trx price prediction ranges we will conclude with our technical analysis for Tron and a conservative approach with a bullish and a bearish scenario for 2019.

Tron technical analysis for 2019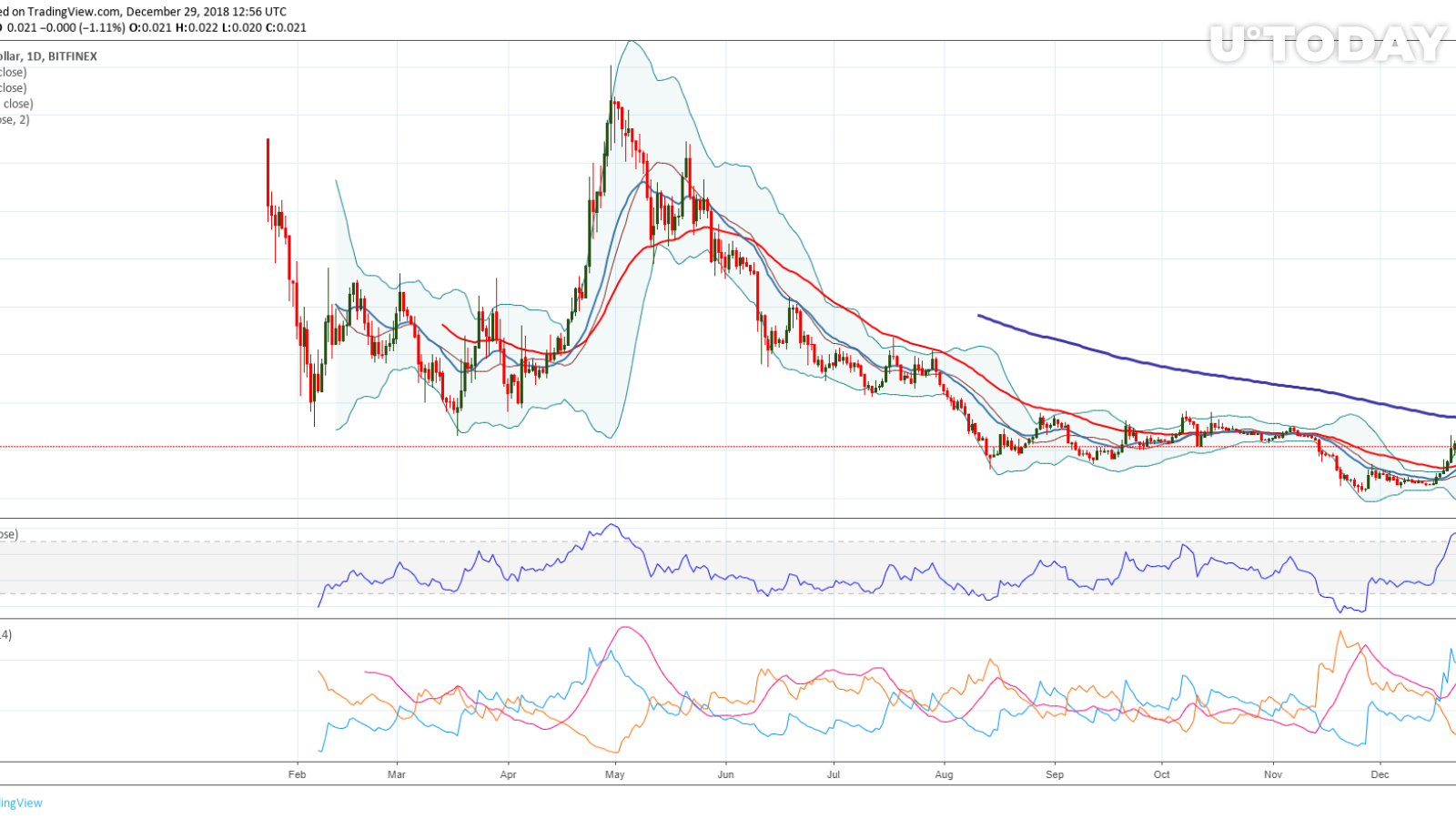 The optimistic scenario is that the bottom of $0.011 will mark a trend change with a recent uptrend formed and price could move up to the range of $0.035 - $0.051, a range with significant consolidation during 2018. For this to happen the price should close above the declining 200-period exponential moving average with a current figure of $0.0266. It is already a positive factor that price is trading above the 20-period and 50-period daily exponential moving averages. If global regulation issues provide a safer and more reliable environment for the cryptocurrency market in 2019 these price levels may be reached as they are probable and can be considered realistic based on the recent high volatility of the cryptocurrency in 2018.
An important level of resistance is $0.029 which is very close to the current value of the 200-period daily exponential moving average. We do not believe that the high price of $0.10 will be reached in 2019 or in the following years as it would only be feasible due to a higher demand for Tron and speculative momentum. Another crucial reason that could support a price appreciation for Tron in 2019 would be increased interest in ICOs and investments in the Blockchain industry. More capital raised, invested and used for business applications and solutions could send the price of Tron higher than our range of $0.035 - $0.051. Odds are according to our opinion that this most probably will not happen in 2019.
The pessimistic scenario is that price could fall below the recent $0.011 bottom. How low could price go is a tough answer, and a price of $0.0 is certainly a potential price. Without fundamental catalysts a more realistic price in the event price is to decline further would be the range of $0.05 - $0.08.
For now, a consolidation zone of $0.011- $0.028 is evident and at some point, in 2019 a breakout should occur. This wide range could send the price much lower in the event our pessimistic scenario is the one to be materialized. As a conclusion for our technical analysis for Tron in 2019, we estimate that the high volatility experienced in the cryptocurrency market in 2018 should continue in 2019. This high volatility makes the Tron predictions highly unpredictable.
All the opinions mentioned above about Tron price predictions should be taken only as informative. Only time will tell what the real price of Tron will be in 2019. 2018 proved a tough year for cryptocurrency. This does not mean that trends could change in 2019 without some pivotal developments.