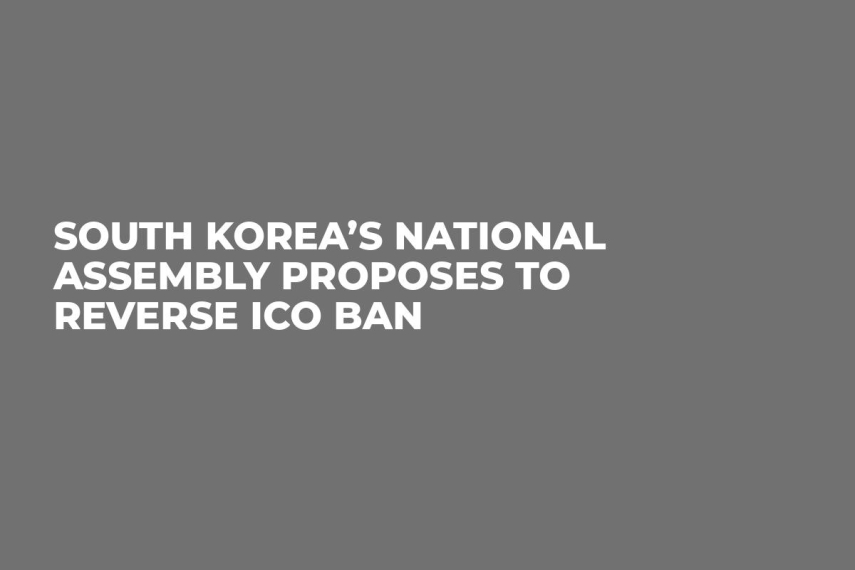 Cover image via U.Today
South Korea's National Assembly is recommending a reversal of the country's ban on domestic initial coin offerings (ICOs), according to reports from Korean media.
The legislative body is proposing to lift the ban and permit ICOs under the conditions that provisions of investor protections are met.
The small nation of 50 mln has emerged as a big player in the digital currency market place and lifting the ban on ICOs would create a fertile and sustainable environment for future growth of cryptocurrency markets, experts say.
South Korean traders accounted for more than 10 percent of trades in Bitcoin in the second half of 2017 and were the number one traders of Ethereum – the second-largest digital token by market value in 2017, according to data compiled by Bloomberg.
The special committee on the fourth industrial revolution under the National Assembly suggested that the administration's ban on ICOs is inhibiting the expansion of Blockchain, in a general meeting held on May 28.

The committee stated:
"We will also establish a legal basis for cryptocurrency trading, including permission of ICOs, through the National Assembly Standing Committee."
The South Korean Financial Services Commission has banned token sales due to their speculative nature which it stated constituted a violation of the nation's capital market law, in September 2017.
card

At the core of the regulatory reform is the aim to create a governance system for the regulation of Blockchain, which is essential for large businesses that are developing technologies to remain competitive within the international marketplace.
The committee recommended the creation of a task force to increase transparency within crypto-trading firms to develop a "healthier" industry and to implement a new governance system that would provide support to companies working with Blockchain technology.
South Korean authorities have taken important steps to mitigate fraud and address money laundering in the past few months, including a probe into the UpBit Exchange which resulted in no wrongdoing by the exchange being discovered.
Most recently Bithumb, another massive South Korean cryptocurrency exchange, stopped trading in 11 countries to comply with global anti money laundering norms.