Trading gift cards online has become a trendy activity across the globe of late. People who are rewarded with gift cards when they take part in online activities like surveys, freelancing, purchases, review, etc, trade these gift cards online through trusted and renowned platforms for their local fiat currency.
As the cryptocurrency market explodes and the dive into the mainstream discussion is more than ever, people began to look into cryptocurrency as a legitimate medium to facilitate financial transactions. However, making cryptocurrency trading very easy and accessible to everyone has always been the mission of crypto advocates and evangelists. Thus, in a bid to bring this mission into fruition and ensure an enabling environment for people interested in crypto trading, Coincola launched an over-the-counter (OTC) services that enable users to trade cryptocurrency instantly using their local fiat currency and gift cards.
BONUS: Get $5 After You Buy Bitcoin Using A Gift Card On CoinCola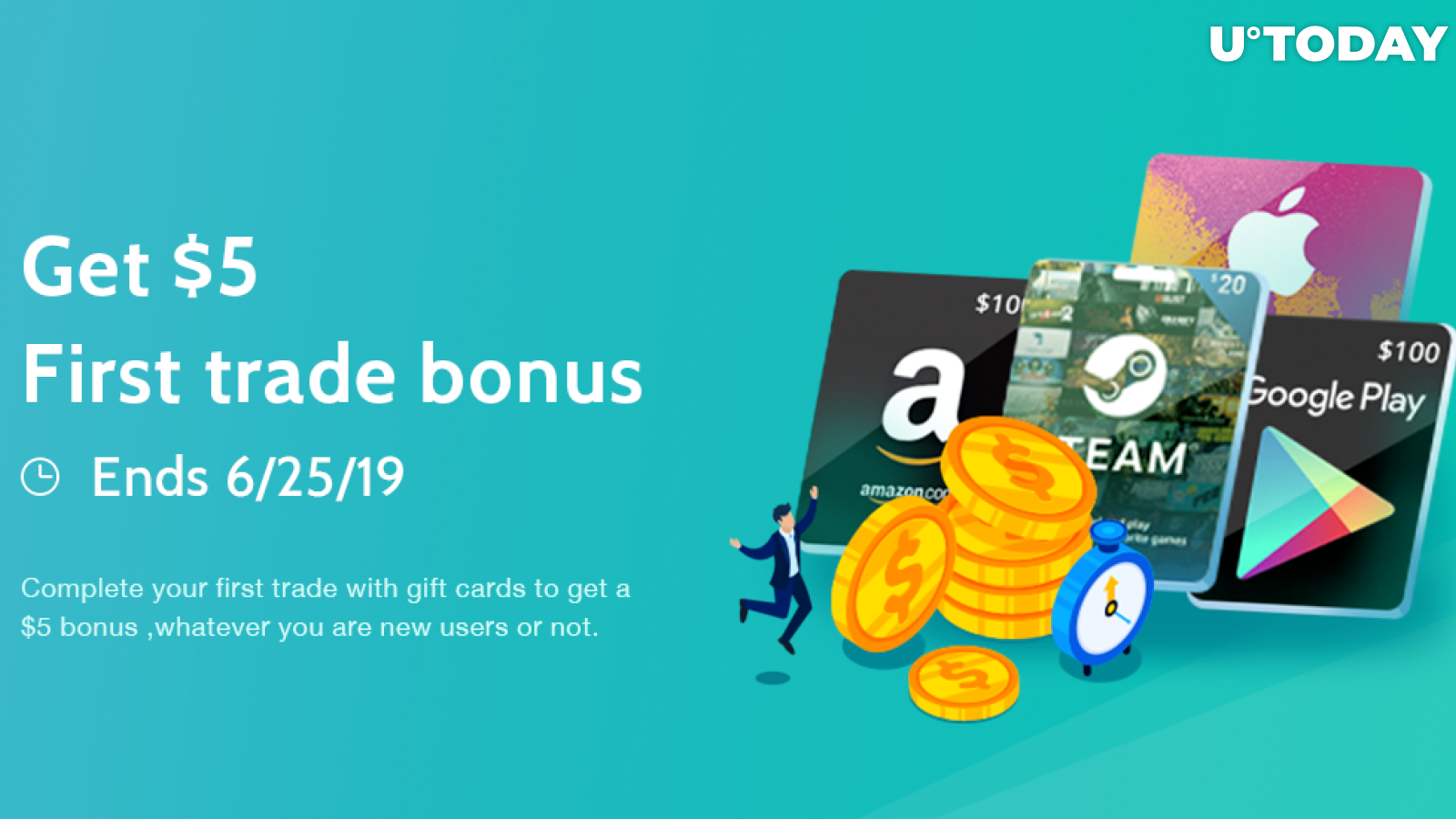 About CoinCola
CoinCola, a Hong Kong-based cryptocurrency exchange, is also an over-the-counter (OTC) cryptocurrency marketplace that enables a seamless and convenient cryptocurrency trading experience for users. CoinCola offers extensive trading services, which include banking and payment services on a unique OTC option. This enables users to easily trade in cryptocurrency using their local currencies.
The Birth of Gift Card Trading
Originally, CoinCola enables its users to trade in Bitcoin, Bitcoin Cash, Ethereum, and Litecoin, etc. just like every other crypto exchange. However, CoinCola cryptocurrency trading platform is well aware that most users desire to trade gift card online for cryptocurrency and many are often faced with challenges when trying to buy Bitcoin with a gift card, as required by most platforms today. As a result, the platform recently launched a new feature that locals will find rather interesting – Gift Cards Trading. With this dedicated feature, CoinCola became the best gift card Bitcoin trading platform, where people especially millennial can now buy Bitcoin with Gift Cards from Amazon or iTunes. Gift cards from Walmart, Google Play, eBay, Steam, etc. can also be traded on the exchange platform for Bitcoin.
According to a spokesperson for CoinCola, the dedicated gift card trading feature was borne out of an attempt to bring P2P finance closer to millennials, who are already showing an interest. This recently launched feature in CoinCola's mobile app and web platform enables users to trade gift cards online at any time and anywhere.
CoinCola presented almost all the necessary trading features to conveniently trade gift cards online, such as automatic rate, clear interface, 24*7 dispute center, etc.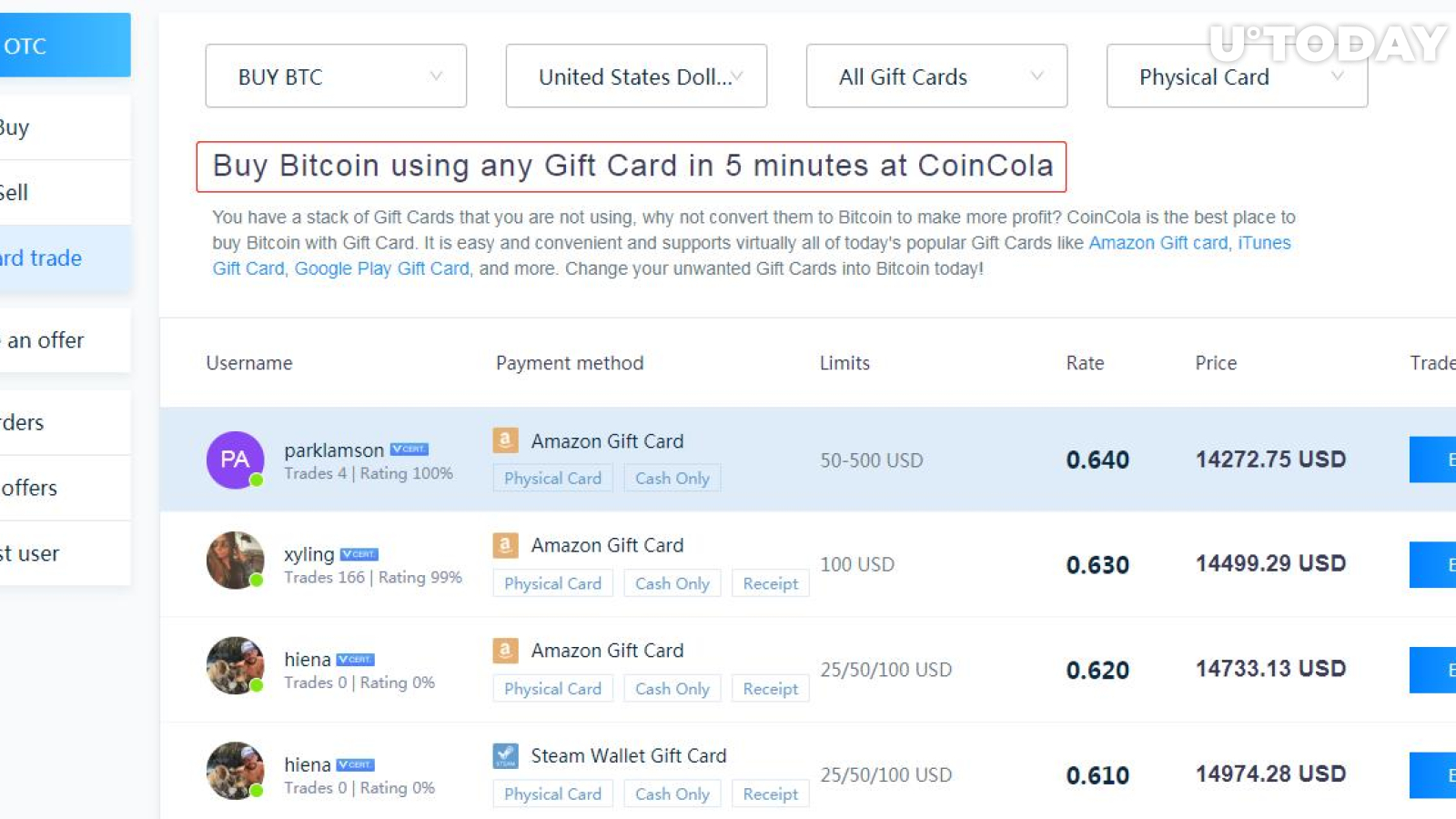 On the user interface, there are a variety of options that enables users to sell their gift cards conveniently. Users can filter based on the following:
Buy BTC or Sell BTC
Currencies: USD, NAIRA, Euros etc.

Gift Card Type: Amazon Gift Card, iTunes Gift Card, Steam Wallet Gift Card, Google

Play Gift Card, eBay Gift Card, Wal-Mart Gift Card, Sephora Gift Card, etc.

Offer Tags: physical card, Cash only, e-codes, Receipt, No receipt.
All a vendor has to do is to create a buy or sell offer, which is very easy and fast.
For the safety of users, CoinCola uses an escrow account for the transaction. This means that when a user selects an offer, cryptocurrency is held from the buyer into the escrow account. Once the term of the trade has been completed by the seller, the digital currency is released from escrow to the party that is selling by the buyer. The digital currency in the escrow account can be released back to the buyer if the seller chooses to cancel the trade.
The buyer cannot cancel the transaction at any point. The platform is perfectly built to cater to the needs of the crypto enthusiasts. It is safe, easy, and convenient. It offers a trading platform to sell gift cards without any hassles.
Also, Coincola gives users a simple and easy-to-understand guide on how to sell the gift cards on their platform, which is self-explanatory enough to a layman who has little or no knowledge about gift cards. More so, the platform is safe and well secured to protect users from the danger of fraudsters whose aim is to scam and rob unsuspecting seller and newbies.
Another unique feature about CoinCola is its ever-active customer support system, which includes an interactive WhatsApp group. The group gives users direct access to the admins who are always ready to teach and assist users on how to buy Bitcoin with a gift card on the platform. As incentives, CoinCola offers amazing bonuses and benefits to anyone who joins the WhatsApp group stand a chance to benefit from their amazing bonus offers.
Making deposits into the trading account is free as well as posting a transaction advert on the CoinCola platform is free. However, a small fee of 0.7 percent is charged on the transaction amount after the transaction is completed. If you've got some gift cards, why don't you convert them into cryptocurrency with CoinCola? CoinCola is the best gift card Bitcoin trading platform. There's never been an easier way to step into the future.