Introduced by a heavy-hitting team of cryptocurrency enthusiasts, the Met500 platform is aimed at building new-gen staking machines for the holders of Bitcoin (BTC) and mainstream altcoins.
Met500 staking platform launches in January 2023: Basics
Newly-launched Met500 is a user-friendly staking platform incorporated in London, United Kingdom, since September 2022. As described by its motto, the platform champions "unrivaled crypto staking" for everyone.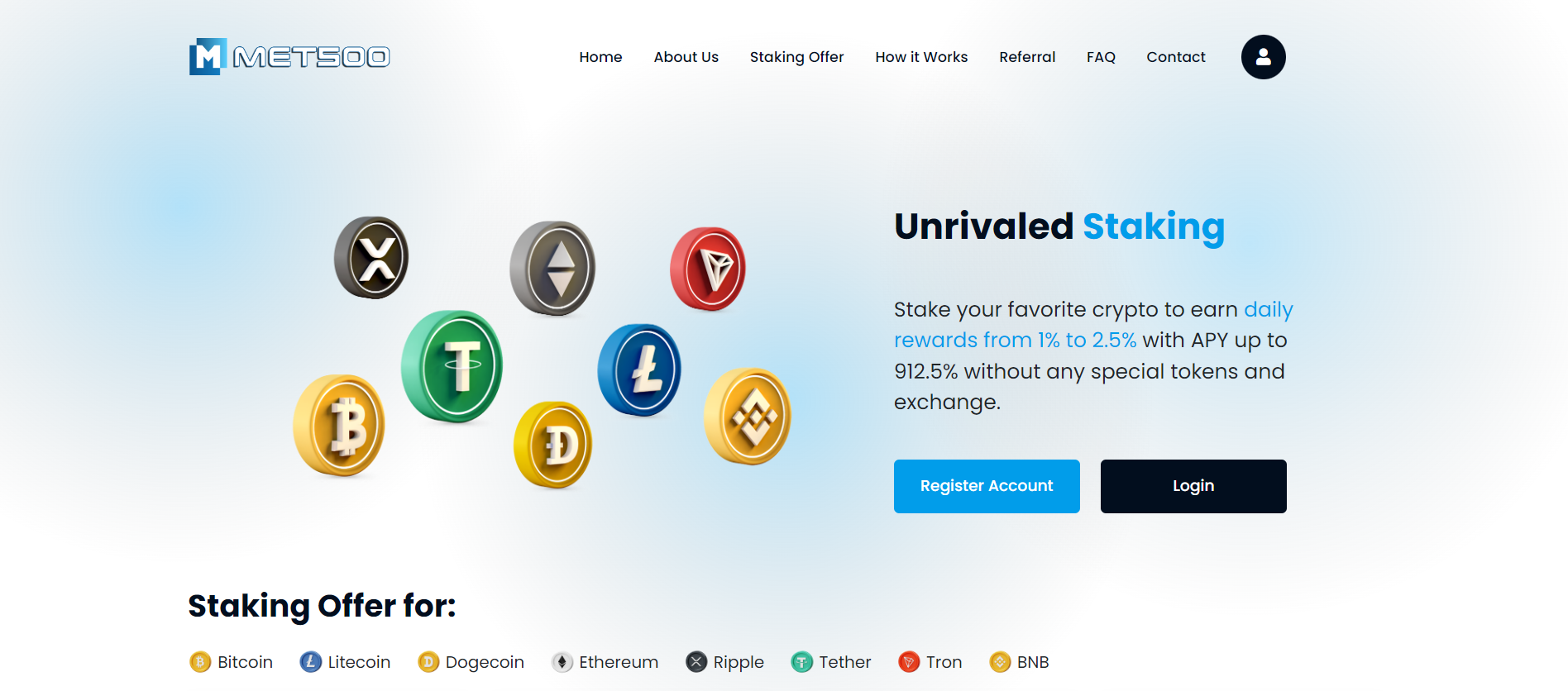 In general, the platform is designed to allow all cryptocurrency holders to get periodic rewards for locking their deposits in Met500's staking platform. The longer the "locking" period, the larger the reward is. Unlike its major competitors, the platform works not only with the assets of proof-of-stake (PoS) blockchains to deliver the services to the largest audience.
The platform prioritized an intuitive user interface to attract users with no regard to their previous experience in trading, blockchain, Web3 or staking. The tokens can be locked in a staking pool in a few clicks: no KYC checks or multi-step registration procedures are required. The withdrawal process from Met500 is also very user-friendly: depositors just need to have a working cryptocurrency wallet on every blockchain supported by Met500.
Met500 is a U.K.-regulated company: it is registered in "The Registrar of Companies for England and Wales" as a "Private Limited Company" under the number 14341841. The platform came through all registration proceedings in Q4, 2022; in January 2023, the platform's inaugural version went live in mainnet and welcomed its first stakers of eight mainstream cryptocurrencies.
Various programs, various strategies, various assets
In its first release available since early January 2023, the platform supports Bitcoin (BTC), the largest cryptocurrency, U.S. Dollar Tether (USDT), the biggest stablecoin by market capitalization, Ethereum (ETH), the token of the largest smart contracts platform, top meme coin Dogecoin (DOGE) as well as Binance Coin (BNB), Tronics (TRX), Stellar Lumens (XLM), Dash (DASH) and XRP. The platform natively interacts with BNB Chain, Tron and Ethereum (ETH) blockchains for token transfers.
In the Met500 inaugural release, four staking programs are available: for 30, 45, 60 and 90 days, respectively. To get maximum rewards, users are invited to lock their assets for the maximum period of time: as per the team's statement, average daily returns vary from 1% to 2.5%. The thing is, the APY rates do not depend on the crypto chosen by the staker: users can lock USDT and BTC to get similar rewards.
The latter strategy will be riskier. As such, every cryptocurrency enthusiast can select the strategy that suits their investing plans better. While staked with Met500, tokens are not exchanged for PoS tokens: users get rewards in tokens same to those staked. Rewards are distributed daily.
The exact limits of deposits (the minimum and maximum deposit volumes) depend on the duration of the program selected. For instance, while 0.002 BTC - 2 BTC deposits are accepted for 30/45-day programs, for 60/90-day programs, Met500 accepts 0.01 BTC - 5 BTC stakes.
Met500 offers an auto-compound mode: instead of withdrawing rewards immediately, users can restake them to have their payouts maximized. The platform and all its services are available in a zero-fees mode so that users can deposit staked and withdraw the exact sum they allocated on an account.
Referral campaign for staking enthusiasts
Cryptocurrency enthusiasts with large social media exposure can benefit from it by sharing a referral link to Met500. To advance the visibility of the brand, the platform launched a multi-level referral program that can be joined by every user.
In inaugural releases of the platform, its referral campaign has three levels. The referral link owner gets 5% of his direct referrals' bonuses (first line), 2% from their referrals (second line) and 1% from the next level of referrals (third line). As such, dedicated enthusiasts can create another stream of passive income without the necessity to increase their deposits on Met500.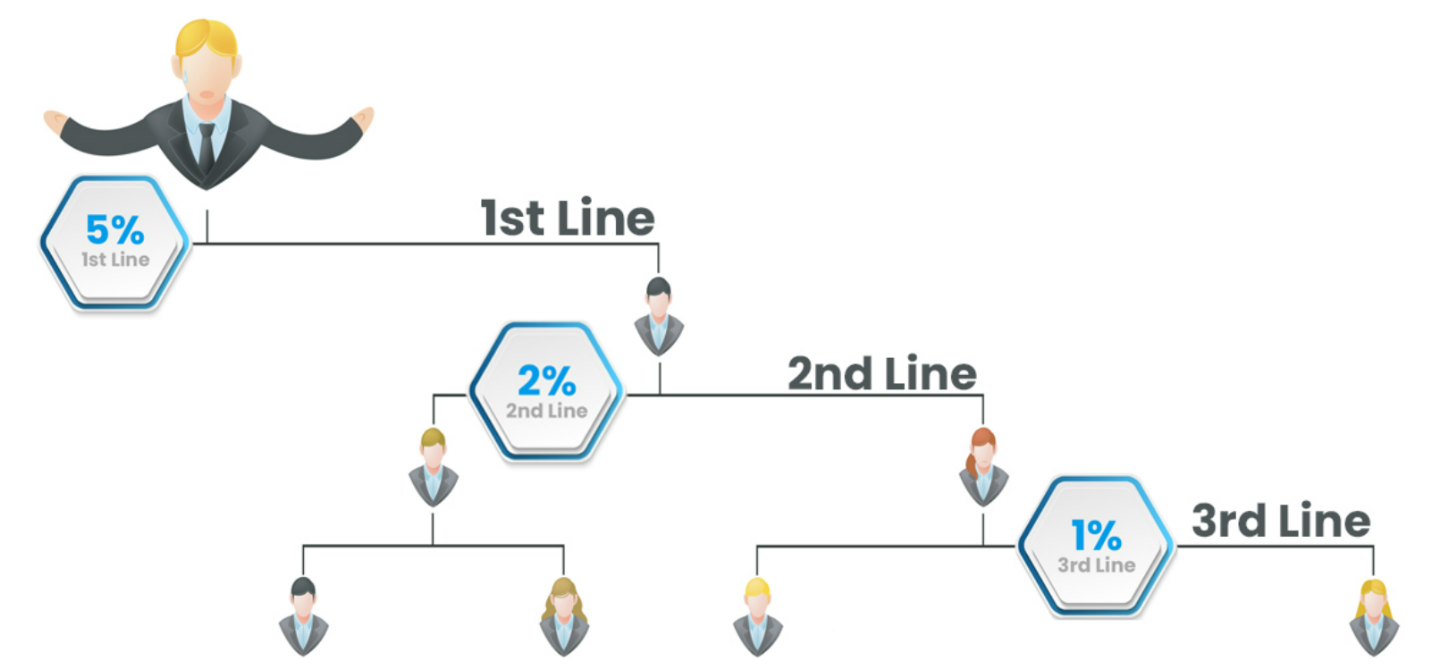 The net number of users one Met500 client can invite is unlimited. Users can immediately withdraw their referral payouts or restake them in auto-compounding mode. The referral link can be downloaded immediately after the account is created: new users can start sharing it wherever to build a structure from the first day on the platform even without making deposits themselves. The referral program is fully transparent: users can track their referral program status online.
The best representatives of Met500 can get exclusive cooperation offers. To launch customized cooperation with Met500, the platform invites all cryptocurrency influencers and bloggers with large and passionate communities to reach out to the team via email: info@met500.com.