<>Disclaimer: The opinion expressed here is not investment advice – it is provided for informational purposes only. It does not necessarily reflect the opinion of U.Today. Every investment and all trading involves risk, so you should always perform your own research prior to making decisions. We do not recommend investing money you cannot afford to lose.

The topic of cloud mining has been relevant for a long time and the more interest investors show in it, the more projects appear that end up with the disappearance of its leaders along with the money of the clients. Among the cloud mining services, unfortunately, there is a huge amount of scams and you should be extremely careful when choosing a company. However, IQ Mining, one of those teams that consistently pays mined cryptocurrency, has established itself as a decent and proven service. If it was not so, it would simply not exist for as long as it has.
<>
The right approach to choosing a reliable cloud mining service
First of all, you should look at profitability. Although cryptocurrency earnings are considered a highly profitable business, a reliable company will not promise more than 300% per annum. If you see inadequate numbers, then most likely there is a HYIP in front of you, which is disguised as a cloud mining site.
You also need to pay attention to the commission of a service. It is clear that no one will work for you for free. Thus, the lack of maintenance fees for the equipment is also an alarming sign. It would not be superfluous to read reviews about the selected site, especially if you are going to invest a large amount.
Basic service requirements:
Favorable rates. The cost of purchasing capacity is very important, as it greatly affects the rate of return on investment.

Reliability. The most important service requirement. There are many fictitious services that disappear with your money.

Real equipment. The service can guarantee payment of money only if it has its own equipment for mining.

Convenience. Various additional options that increase profits and the usability of the service.
What is IQ Mining
IQ Mining is a company that provides cloud mining services, has been operating since 2016 and allows investors to rent cryptocurrency mining equipment. The main packages offered for rent imply multi-currency mining, within the framework where capacities are automatically switched between the top 10 coins. The legal address is registered in Seychelles, but data centers are located in different parts of the globe (Asia, Europe, Middle East). The main feature of the service is a smart algorithm that independently determines the most profitable asset at the moment and directs all purchased capacities to its mining.
The official site of IQ Mining is available in several languages and allows users to immediately find out the amount of monthly income, calculated in accordance with the amount of investments.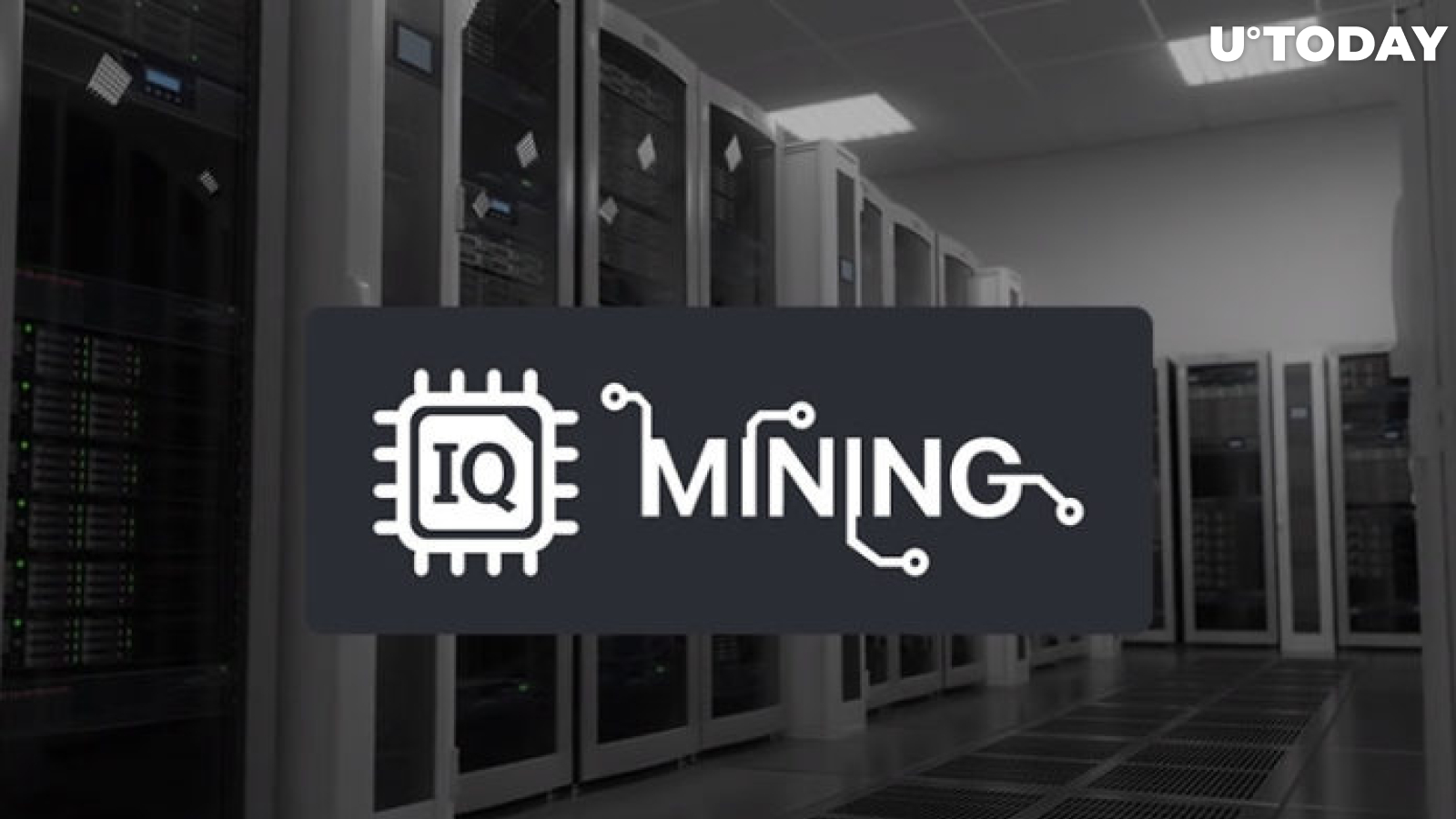 Features of the project IQ Mining
iqmining.com is the one and only official website of the company.
The methodology of the IQ Mining platform to the setting of cloud mining is very different from the standard remote service that most virtual data centers offer us. And here are its highlights:
IQ Mining is based on the mining innovation, where the hardware autonomously selects the most beneficial altcoin at the moment and continually changes between them to get the greatest benefit. And after mining is done, all earnings will be converted into Bitcoin.

Service has established lucrative cooperation with international players from such countries as: the Russian Federation, Georgia, Canada, and other states to utilize their surplus power from high-quality hardware. Wholesale rates and delivery times of capacities are protected by lawful contracts, which allows extracting more profit than other mining platforms.

An important feature is the availability of user-friendly analytical tools on the site, including a calculator, which will help you quickly navigate the choice of contract, help you manage the payback period and show the amount of profit of your activity.

You can deposit and withdraw money without commissions.
You can start mining cryptocurrency with only 10 dollars. The whole point of your business is as follows: you simply invest money and get income depending on the size of the investment, and the software algorithm independently performs productive mining for you.
Profitability of IQ Mining
The site gives the opportunity to mine 5 cryptocurrencies: Ethereum, Litecoin, Zcash, Monero, and Dash. The crucial thing affecting client benefits is the hashrate (leased capacity), but in addition to it, profitability is influenced by:
Availability of privileges and bonuses – it is known that there is an IQ Mining promotional code offering a discount on the first contract, and other promotions for clients are being held.

Financial management – buying of an additional hashrate power for already-mined coins.

Cryptocurrency value – the more costly digital assets are traded on exchanges, the more the client will obtain.

The platform only offers 1-year fixed-term contracts.
The price of a lease is determined per unit of hash power for a specific algorithm.
What is the concept of the IQ Mining service?
The company optimizes the cost of electricity. The work with TOP electricity suppliers helped to achieve this. The service works in an understandable way: altcoin mining is launched, IQ mining sells them, the customer gets additional profit, which is transferred to his crypto-purse or another convenient payment system.
Some peculiarities of the platform:
IQ Mining operates by leasing excess capacity in the largest data centers. This allows you to mine 2-3 times cheaper.

The smart contracts contain the terms and prices of the supplies.

Despite the fact that the altcoin mining is considered to be very profitable, it is among the riskiest, since price fluctuations are frequent and constant. In order to at least somehow secure your investments and earnings, IQ Mining converts altcoins into BTC at the best rate. This is made possible by special limit orders that are set up on crypto exchanges with low spreads.
Comparing IQ Mining with other cloud mining platforms
| | |
| --- | --- |
| IQ Mining | Other Cloud Mining Platforms |
| Simultaneous mining of several prospective coins | Mining of only one cryptocurrency for one contract |
| Constant monitoring and automatic shutdown of low-yield cryptocurrency mining | You are forced to continue mining altcoins, even if its rate falls |
| There is no risk from price fluctuations on altcoins. All payments are made in Bitcoin | Market prices for altcoins can significantly affect the income of the miner |
| No hidden fees and maintenance fees for maintaining a client account | Availability of commission and service fees |
How to start cryptocurrency mining with IQ Mining
Getting familiar with the website
The service has a rather pleasant website with an intuitive interface. The site is available in Russian, English, Spanish, French, German and Portuguese. We are met by two buttons: "start mining now" and "mining calculator". The first will allow you to register, the second will help calculate the possible profit.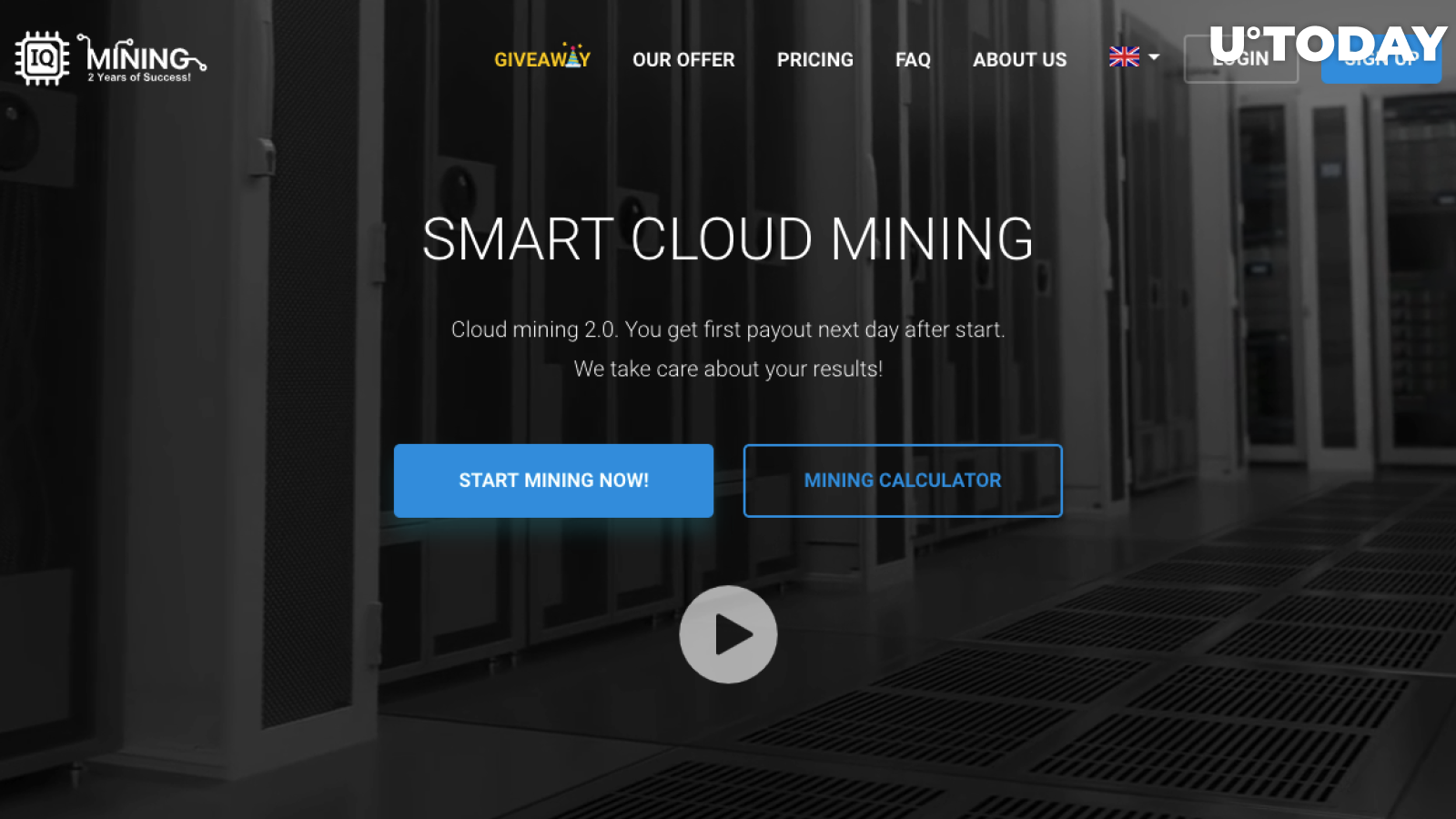 On the main page, we get information about the company, its current offers, and current prices. In the "Pricing" section there is a convenient online income calculator, and by moving the slider we can find out the estimated income for different periods of time.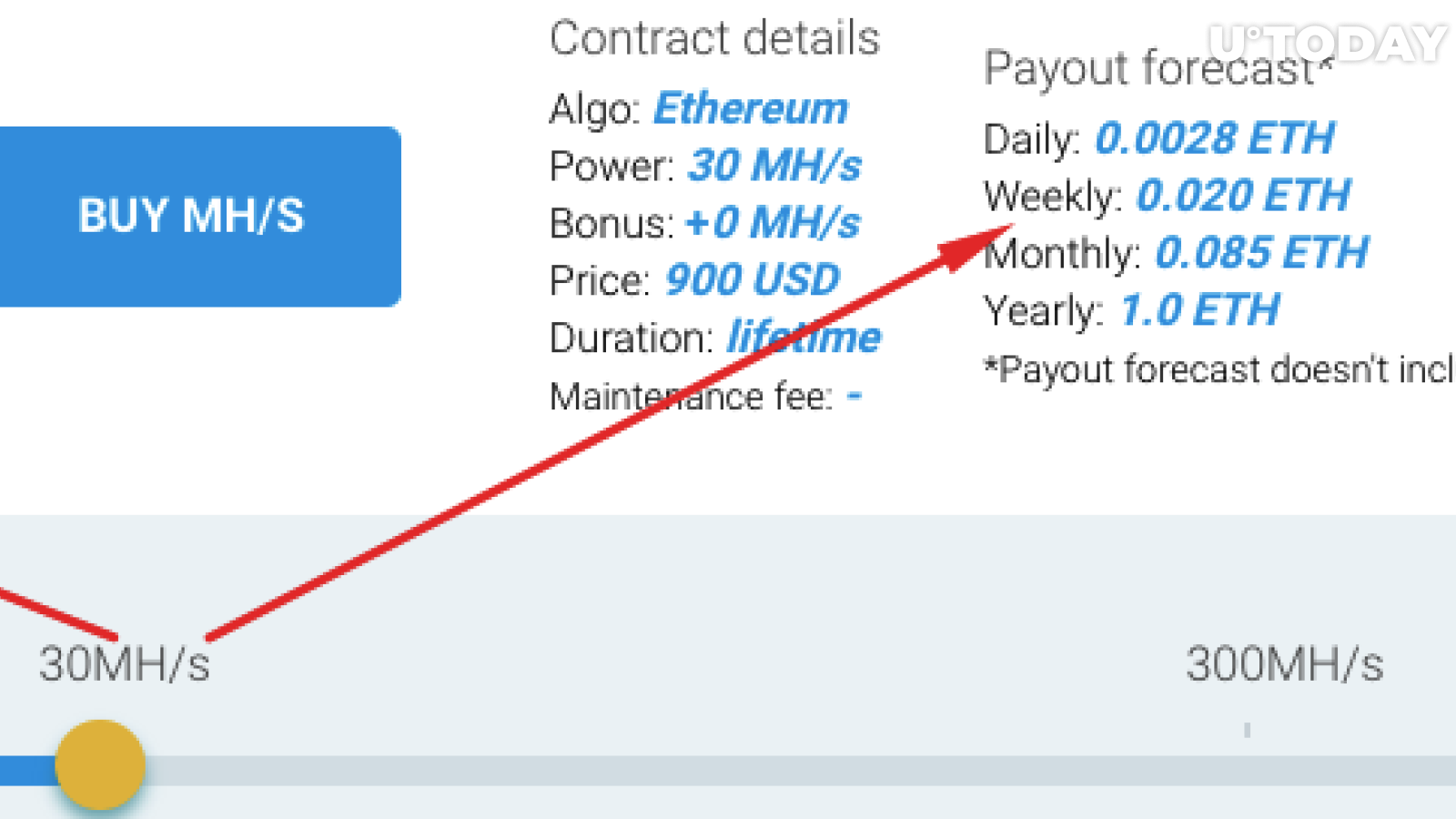 If you have additional questions about the service, it would be convenient to look into the FAQ section where you can find answers to many issues.
So, we have decided to invest. Let's get down to business!
IQ Mining Registration
By clicking on the button "Start mining now" or "Sign up", a pop-up window appears in which you should enter the registration data: name, phone, email, and password. Enter the necessary data, tick off the agreement with the rules of the service that you are not located in the United States and click "Register".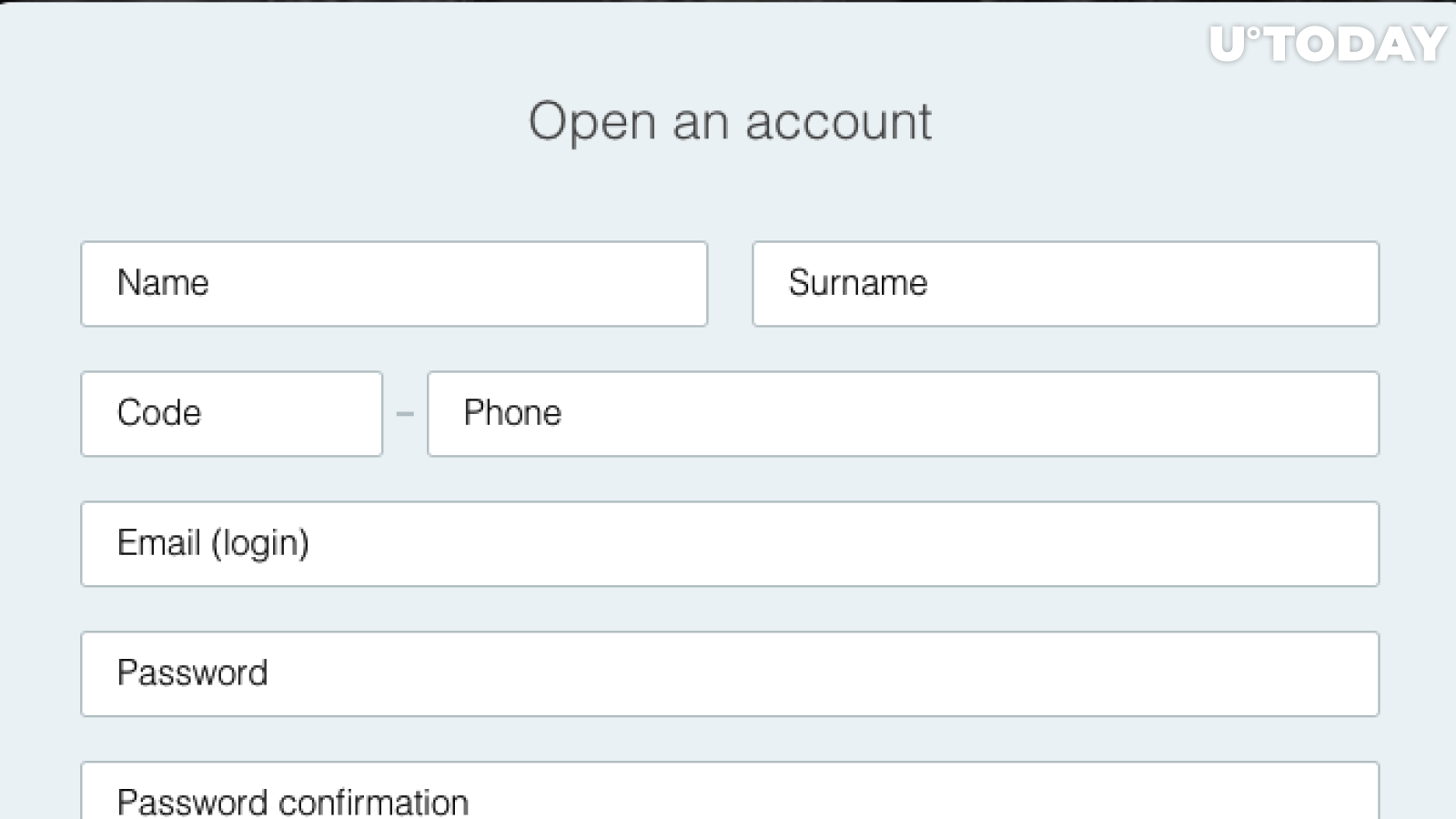 Confirmation of Registration
Several emails will be sent to your email account. The first letter is a registration confirmation; it will contain a link to your personal account, as well as a login and duplicated password. The second letter is a greeting from your personal manager with his contact information.
Do not be surprised if sometime after the registration you will be called on VIBER from an unknown phone number, as this is also a service manager of the company.
In order to get full-fledged access and the ability to deposit and withdraw funds, the service will ask you to provide copies of documents for account verification.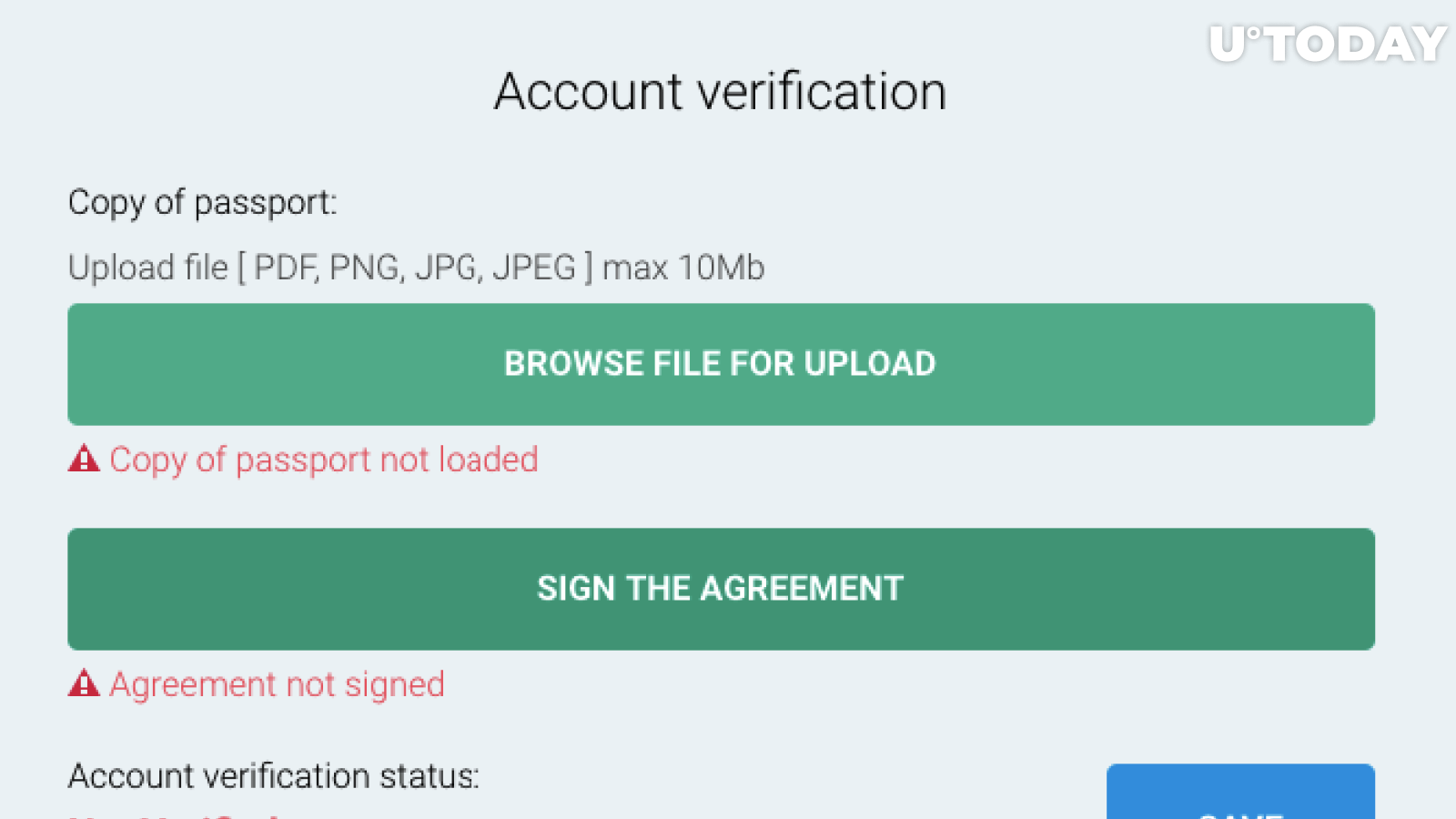 After registration, you will be forwarded to your personal account where you can purchase the necessary MH/s for mining cryptocurrencies. Further on this page, you will be able to keep track of your capacities and profits, where you will also be able to buy additional power.
By clicking on the "Buy More MH/s" button, we move on to the already well-known online power calculator, which will allow us to visually understand how much we will earn when we make a specific amount.
Variety of contracts
The interface is replete with buttons that move the user to the hashrate purchase page to start receiving passive income.
The process of ordering the contract looks like this:
Specify the required capacity: enter the amount manually or by moving the corresponding slider.

Familiarize yourself with the value of the payment.

Decide on the payment system (you will see the available options at the bottom of the screen).
In general, there are no difficulties with the purchase of contracts, even for beginners. The interface is well thought-out and intuitive.
Depending on the amount you wish to invest, the system will automatically assign a maintenance rate. There are three tariffs: Bronze, Silver, and Gold.
Everything is quite simple: the more you invest, the cheaper the power will cost you, and less will be the commission of the system. Accordingly, you earn more by investing more money.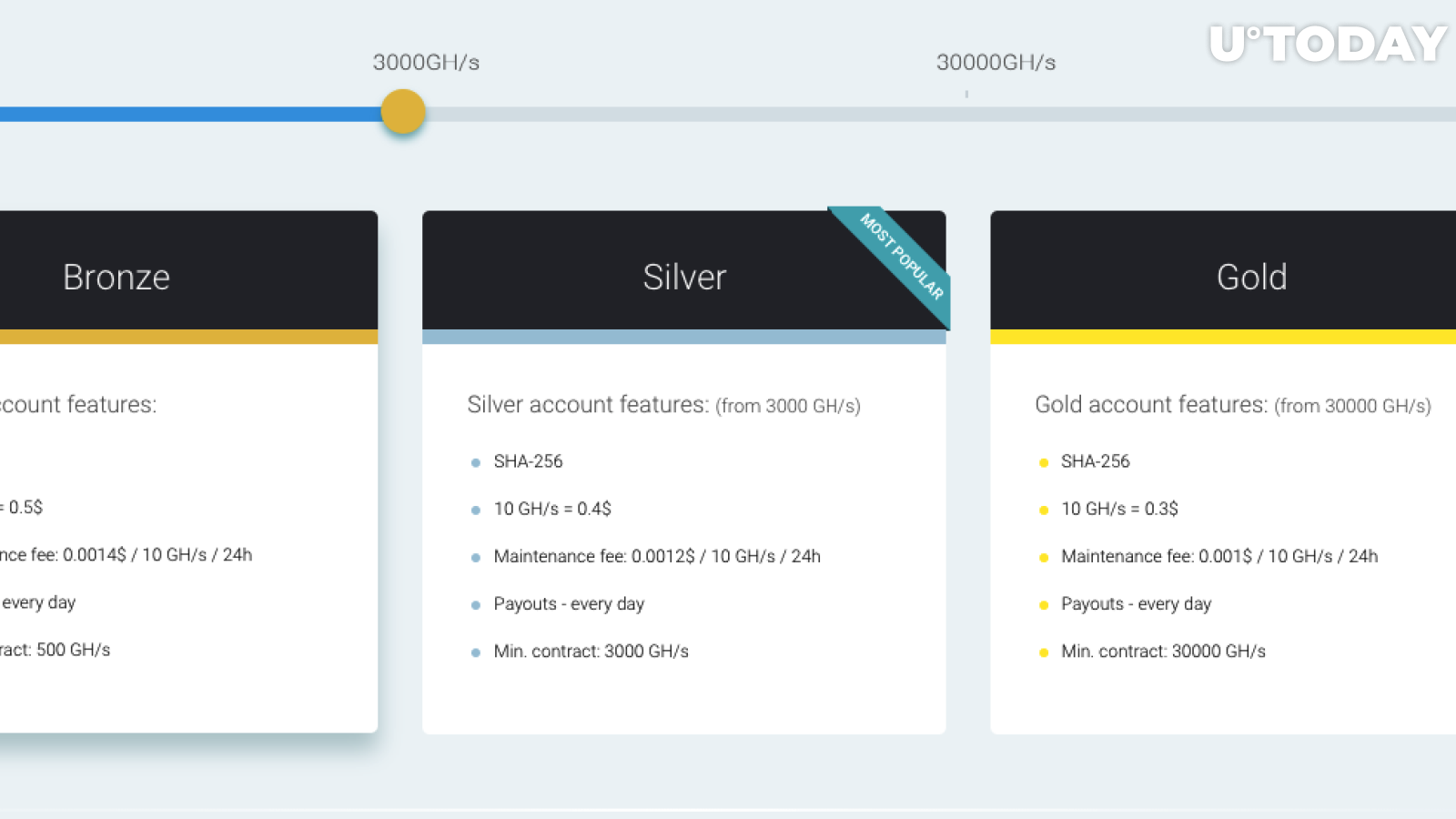 Bronze tariff
Payments in this tariff are made daily. In the mining process, the Script algorithm is used. The cost of 1 MH s is $5. Commission maintenance costs reach $0.005 / 1 Mx/s /24 hours.
Silver tariff
From 300 Megahash per second. Crypto assets are paid on a daily basis. The digital currency is mined by the Script algorithm. For 1 MH s you will need to pay $4. Maintenance fee is $0.003/1 MX / s / 24 hours.
Gold tariff
From 3000 Megahash per second. Funds are transferred to the user's wallet every day. 1 MH/s costs $3 in this tariff. Crypto is mined on the Script. Maintenance fee is $0.001/1 MX / s / 24 hours.
Based on the available tariffs, we can conclude that when buying a Silver package, you can fully return the investment:
With Bitcoin – after 11 months

With Litecoin – after 12 months

With Ethereum – after 15 months

With Zcash – after 24 months
Account deposit
After choosing the desirable tariff, the new user will need to make a start-up deposit to his balance. This is necessary for the buying of hash capacities and to start working. The software of the service allows the deposit using the following methods:
Visa / Mastercard

Bitcoin

Ethereum

Litecoin

As well as 12 other cryptocurrencies (BCH, BLK, BCN, DASH, DOGE, EMC, PPC, XPM, RDD, ZEC)
The minimum deposit is 0.01 BTC or an equivalent amount in another currency. Full information on all deposit and withdrawal operations is located in the personal account.
Once you have deposited the account with your own funds, you will have to purchase hash powers. What volume to buy depends on the preferences of the user; in fact, the larger the investment is, the higher the future profit will be.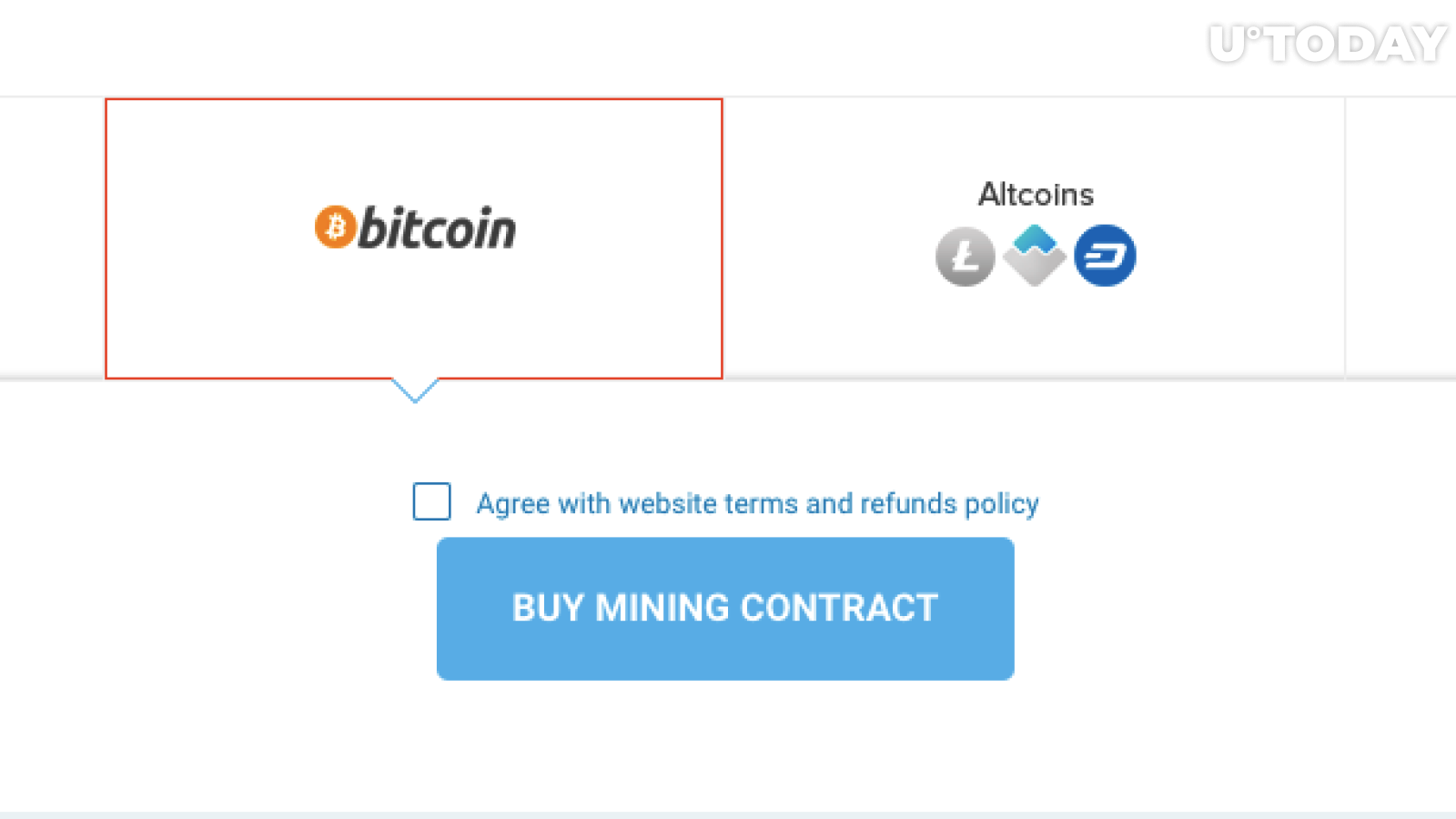 IQ Mining opens up an additional opportunity for users to increase their earnings. To do this, you must reinvest the profit in order to expand the original contract. This will allow the clients to significantly increase the level of profitability from cooperation with the service without buying additional contracts.
Funds withdrawal
Regardless of the service tariff chosen, you can withdraw funds daily. Your income will be displayed on your balance, changes are recorded every hour.
The minimum amount for withdrawal is 0.001 BTC.

Bonus. When purchasing capacity, you will receive a bonus of 10 to 20% of the replenishment amount if you deposit from 0.1 BTC.

Registration in the system is free of charge, there is no subscription fee.

You can apply for withdrawal at any time of cryptocurrency mining.

In addition to Visa/Mastercard, you can use Webmoney, Mastercard, Yandex Money and other electronic wallets for withdrawal.
Deposit and withdrawal limits:
Altcoins – from $10

Bitcoin – from 0.001 BTC

E-wallet payment – from $10

Bank transfer – from $50

Transfer by credit card – from $25
IQ Mining payback
Here are examples of the paybacks of some IQ contracts.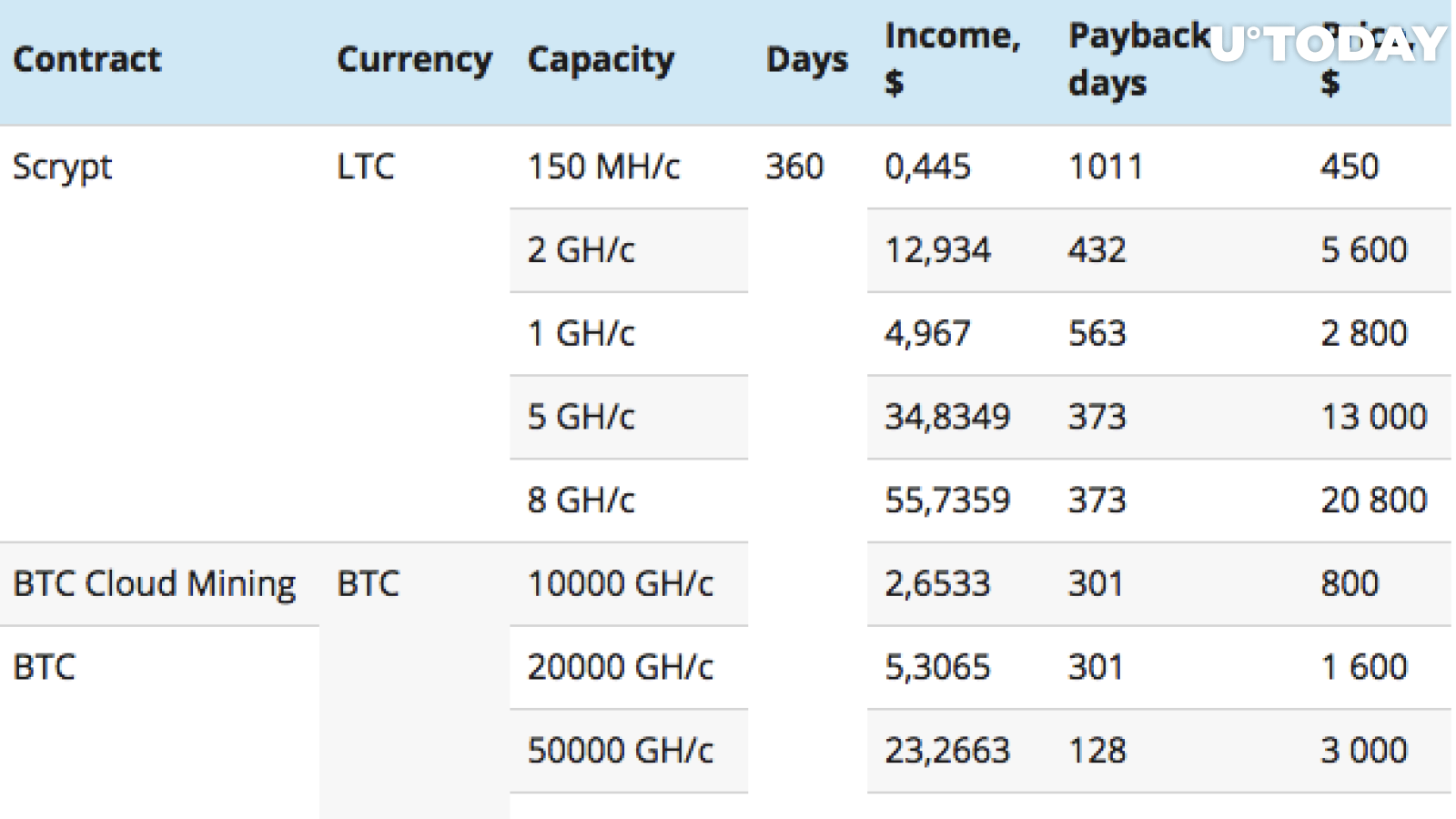 Technical Support Service
Even cryptocurrency experts can sometimes have questions about the use of the IQ Mining service. In this case, the specialists of the technical support team will come to the rescue. The service works 24/7, and it can be contacted either by email or via live chat. The platform has at its disposal an international team of specialists, so the user is not in danger of facing a language barrier.
Summing up
In theory, the cloud service IQ Mining offers a very interesting way to mine: mining cryptocurrency coins in leased facilities. You do not need to invest thousands of dollars in high-performance and expensive equipment, provide it with ventilation and turn your house into a mining farm.
The main advantage can be considered the use of the algorithm to automatically search for the most profitable digital coins.
You do not have to pay large utility bills for electricity. All you need for cloud mining is to pay in advance a known amount for the selected contract and receive your income an hour after the start of mining.
How is cloud mining better than classic mining?
In the case of the purchase of conventional farms for mining, or especially ASIC-miners, a number of problems need to be solved:
Accommodation. Miners are quite noisy devices and placing them in residential areas will bring a number of inconveniences.

Cooling. In connection with the round-the-clock operation, miners need good cooling, due to which their service life is increased.

Electricity supply. One mining farm consumes about 1.4 kW / h, which requires high-quality wiring in the room. When installing more than 3 miners, the question of a separate line arises, since standard household lines are not designed for power above 4-6 kW.

Service. Miners periodically lag, they need to be configured for maximum speed and dedicate them a certain time.

Breakage. Most mining farms are not covered by the warranty, so a farm breakdown can lead to a crash. Cloud mining deprives you of all these inconveniences.
Principles of cloud mining
Companies offering cloud mining of Bitcoin are big data centers: they have developed infrastructure, low-cost electricity, and maintenance of multiple devices by highly qualified specialists. These are the distinctive features of real companies.
The capacities of cryptocurrency cloud mining services are based in areas with low electricity tariffs. Usually, data centers are located in the northern territories with natural cooling.
Companies are interested in providing large volumes of capacity. Delivery of equipment for rent allows you to buy additional devices, pay for electricity. Integration makes it possible to increase speed and calculate more blocks. This gives revenue to the service and customers.
There are different conditions for leasing capacity. But as a rule, the principle of cooperation with companies is the same. The client pays one of the tariffs.
The more hashes bought, the more coins received. Contracts are bought for different terms (24 hours, 1 year, 5-10 years). At the end of the capacity period, it is possible to sell it to the company at a reduced price (equipment wear is taken into account) or to other users at a contract price.
Experts believe that cloud mining in 2019 is a good alternative. To build a performance-efficient farm for Bitcoin mining, it takes more than one thousand dollars.
Features of cloud services with bonuses
Cloud mining without investments is possible thanks to the free hashrate and bonus cryptocurrency, which is exchanged for computing power. Some cloud services hand out this hashrate for registration, so it's not surprising that they are of more interest to members of the cryptocurrency community, as well as those wishing to penetrate into a niche.
First, getting a bonus, albeit a small one, is always a pleasure.

Secondly, thanks to the free hashrate, you get the opportunity to get acquainted with the capabilities of the service, and in general with a similar type of coin mining.

Thirdly, with the purchase of serious power, the bonus will not disappear anywhere, but will only complement them, which is also good.
The process of mining on cloud services without investments is presented in the following form:
Registration on the platform

Mailing address confirmation

Exchange bonus coins for power

Start of cryptocurrency mining
In principle, on cloud mining services that require investments, this process is similar, except for the fact that you will acquire power not for a free hashrate, but for your own money.
Disclaimer: The opinion expressed here is not investment advice – it is provided for informational purposes only. It does not necessarily reflect the opinion of U.Today. Every investment and all trading involves risk, so you should always perform your own research prior to making decisions. We do not recommend investing money you cannot afford to lose.