U.Today is one the most fast-growing media outlets in Blockchain and cryptocurrency industry today.
U.Today offers not only advertising that consists of a variety of services, including native advertising, but also full PR support and promotion for your business among the Blockchain and cryptocurrency audience.
Contact us right now: [email protected] and get the most beneficial offer.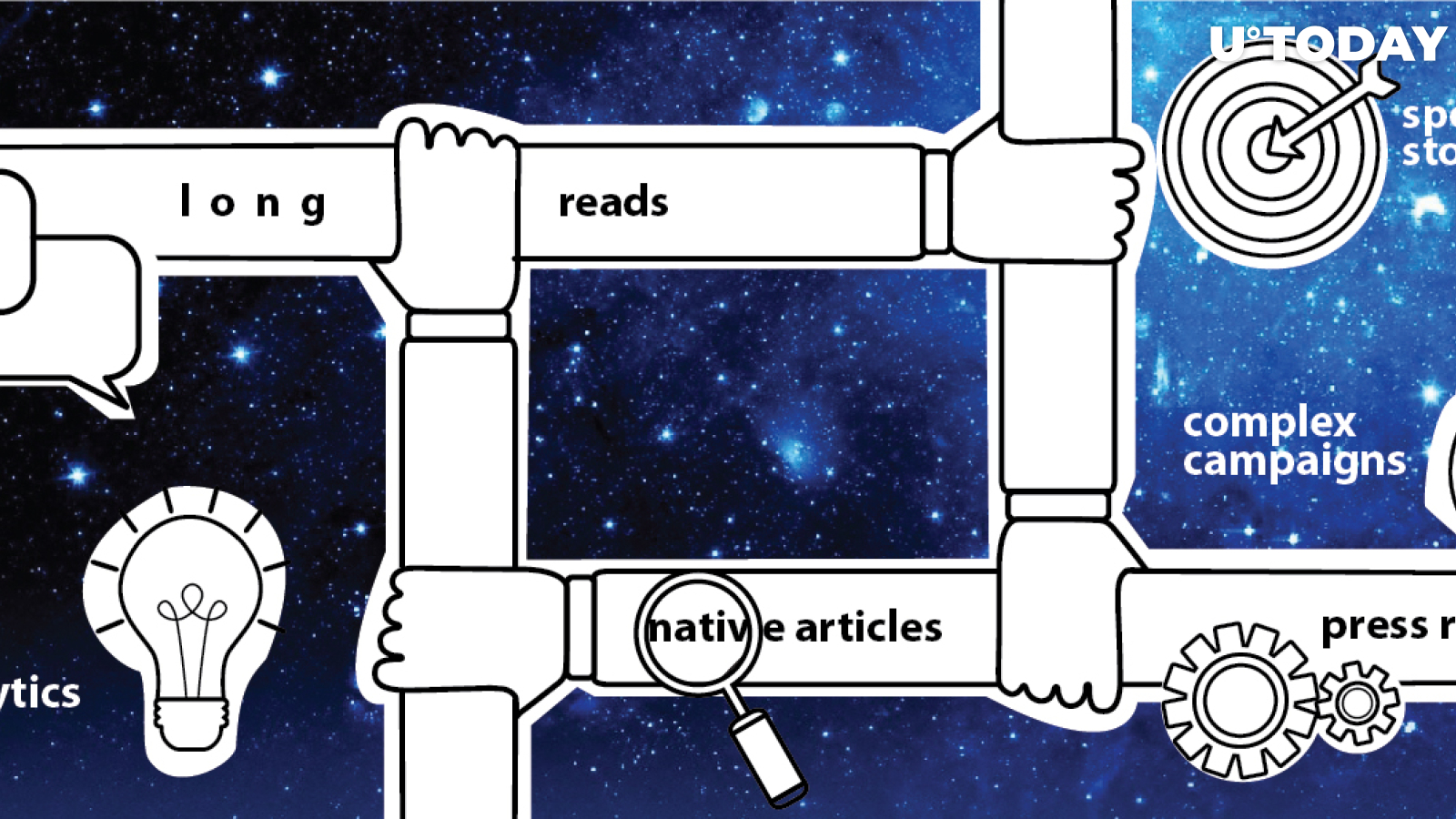 Press Releases
You got this very special product you want to promote and you want to get the most for your money. With U.Today, there's nothing easier.
Just click https://u.today/press-release/submit and fill out a simple form. It lets you select at your convenience the timing of publication which allows you to get maximal exposure. In just a few moments, you could upload your logo and all the information you think will appeal most to your prospective audience.
Our Press Releases section has a prominent position on the landing page so you can be certain our readers won't skip it.
Sponsored stories
Of course, writing effective advertising texts is a special art that requires knowing some nuts and bolts of the trade. Also, we are all consumers ourselves and we know what it is like to be bombarded with advertising messages throughout the day.
We're not waking up in the morning just wondering when the next press release is going to come. So you may need to get prepared to find that unique differentiator that makes your story more important than every other story coming. If that's what you honestly lack don't worry.
U.Today will help you find professionals with special competences who can make your story shine. They will lead you through all the snags and make sure to highlight all advantages of your product to your target audience.
Our best authors who focus on just what you consider special and distinctive about your business will write a full feature story starting from 400 words or, when needed, their series.
Our account managers will help you through the whole process, take your feedback and send you the story for final approval. All the details will be considered and accounted for, and if you got your own text as a basis for a rewrite, we'll help you improve it to be most effective.
The resulting story will appear on the site in an appropriate section, marked as sponsored.
Native advertising articles
Of course, you can create a still more effective content using the approaches of native advertising, that is making your story newsworthy by its own merits as a part of larger trends important to your prospective customers.
By doing so, you will put the readers' interests first as the content that you create is going to resonate with them much more fully and really have a much bigger impact.
Our staff is ready to help you do exactly that. We will conduct market research to fully observe the trends and problems facing your prospective customers.
Then our best-handpicked authors with an established reputation will write a 500-words or more featured story or a series and make your product a part of the solution.
Analytics and long reads
You don't want to create something that's relevant for a week and then drops off the map. So the analytics piece or a unique long read is probably what you need.
Our analytics will make a thorough study of the market and the niches where your business interests are presented.
Note that our journalists can make a difference by their professional skills of finding reputable sources, research studies, expert quotes or data to back up what you're saying.
Other native advertising options
You may think that writing is not rocket science but in fact, thinking like a journalist is one of those things that's kind of hard to teach, and a good story is close to impossible to write without this gut feeling.
Our staff is ready to help make your content the most effective by providing it with all professional tools of the trade. For example, good infographics can render complex hi-tech products in a simple visual manner, making it stick to mind.
Quizzes, games and other tools for creating the high-quality content can also be offered to highlight the better sides of your product.
Outsource your content creation
You may need to solve a bigger problem then preparing a story or its series, especially if you get a flow of information to be used in your product promotion.
We can help your PR department to create any number of materials of any complexity to be published in various media outlets across the globe, including the most respected ones, and in the social media.
Complex PR campaigns
The maximal impact could be achieved only by smart usage of various formats and media channels. We could fix you a cocktail with just the right mixture of nature advertising different ingredients. Pour, shake and serve!
Our team
U.Today is a close-knit team of professionals founded by editors with extensive experience in both high-quality journalism and the crypto industry.
Tens of our staff and contributors come from the US, Europe, Asia and all corners of the globe. They have covered all aspects of the industry and community and developed some very successful media projects.