With Bitcoin and other coins still soaring in price, millions of people jump in the bandwagon and join the rows of happy cryptocurrency owners. Want to be the next? It's not as difficult as it seems. However, being a newcomer in the world of crypto, you must wonder how and where to buy cryptocurrency.
<>
To help you out, we have prepared a definitive guide on how to invest in cryptocurrency and make your first steps to becoming a trader. You will find out which exchanges are worth consideration, and what other ways to obtain virtual coins are. Please, mind the golden rule: you should never invest money you can't live without.
All the ways to buy cryptocurrency
A couple of years ago, you could hardly find a place for buying cryptocurrency online– Bitcoin and virtual currencies alike were supposed to be mined mostly. Today, the situation has changed, and there are many places to obtain the precious coins. Let's observe them.
Cryptocurrency exchanges. These are websites where you can exchange your local fiat currency for a cryptocurrency. This is the most widespread way of making investments. Newbies are highly recommended to use such platforms because they are easy to set up and navigate– there's no need to get into the technical nitty-gritty.

Bitcoin ATM. Although is sound hilarious, such ATM do exist! There are not so many of them, but many countries start adopting and installing the units. How does it work? In fact, just like a regular ATM with one difference: instead of withdrawing money, you can make a deposit in your local fiat currency to buy Bitcoins.

P2P purchases with cash. Wonder how to buy cryptocurrency in real life? In fact, there are decentralized sites allowing users to meet in person and perform transactions. Bitcoins price is agreed beforehand, so it's not as unsafe as it seems. Despite the fact that such service involves meeting with strangers, this is still a popular way of buying cryptocurrency. Why people go for it? It doesn't involve middlemen, such as exchange platforms, so the fee is minimal.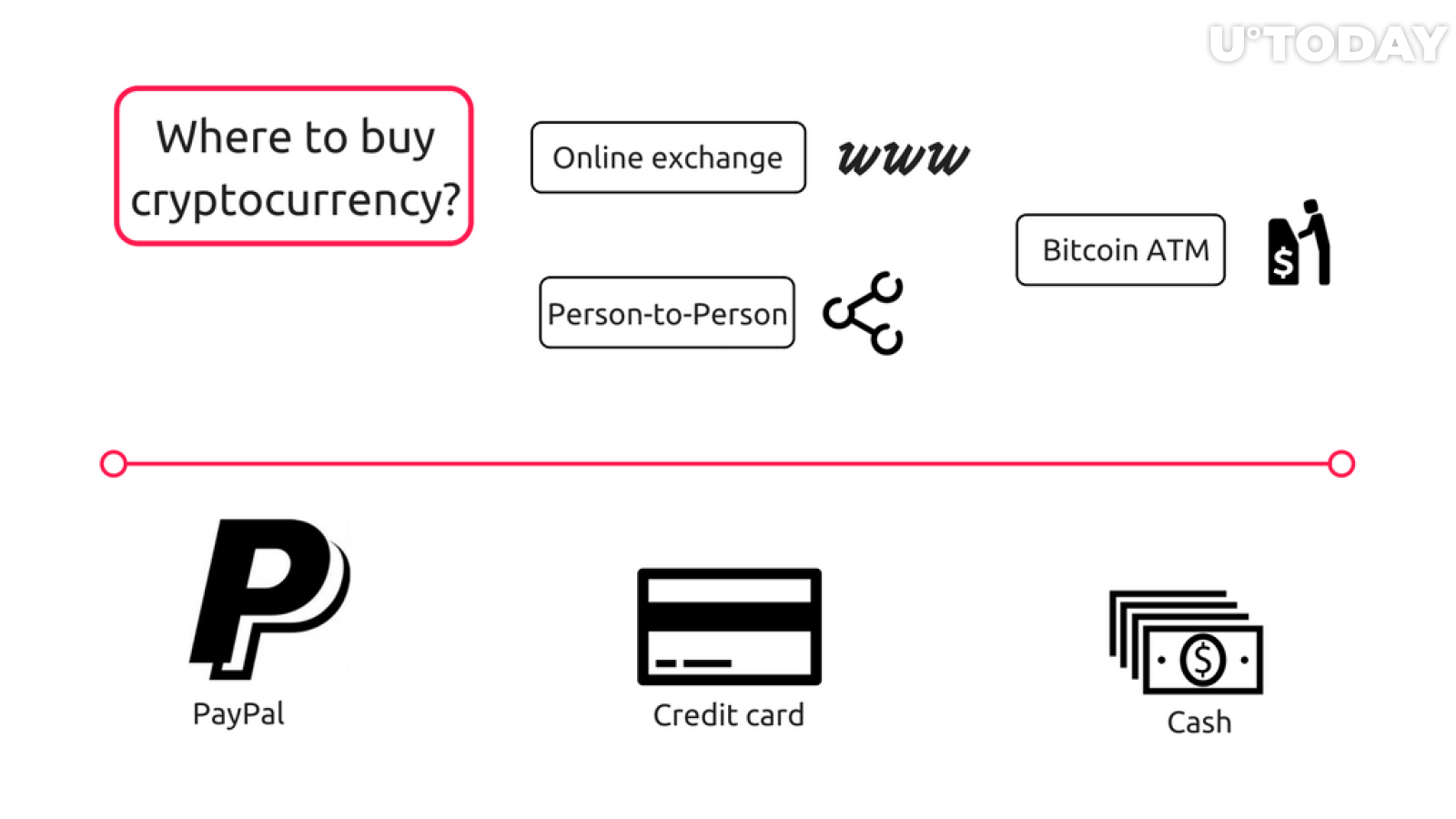 Desc: Summary of ways to buy cryptocurrency
Alt: How to buy and pay for cryptocurrency?
How to buy cryptocurrency in exchanges
As it has been mentioned, investing in cryptocurrency with exchanges is the easiest and fastest way to purchase virtual coins. There are tens of platforms that offer such an opportunity, but not all of them are equally reliable and beneficial. Let's observe the best ones.
Coinbase
If you're a US, Europe or Australia resident, Coinbase would be the simplest option to obtain Bitcoin, Bitcoin Cash, Litecoin or Ethereum. Unfortunately, it doesn't support other coins yet. As soon as you verify your account with documents, you can select preferable payments methods (debit or credit cards, PayPal, bank accounts, wire transfer).
The fees are based on the user's location and payment option with the highest charge 3.75 percent for card payment. What makes this platform popular among users? First, it is considered to be highly reliable and easy to use (you can download Coinbase app that makes crypto purchases a matter of a few seconds). Secondly, it shows you the charts showing the fall and rise of popular cryptocurrencies and allows for both small and big purchases.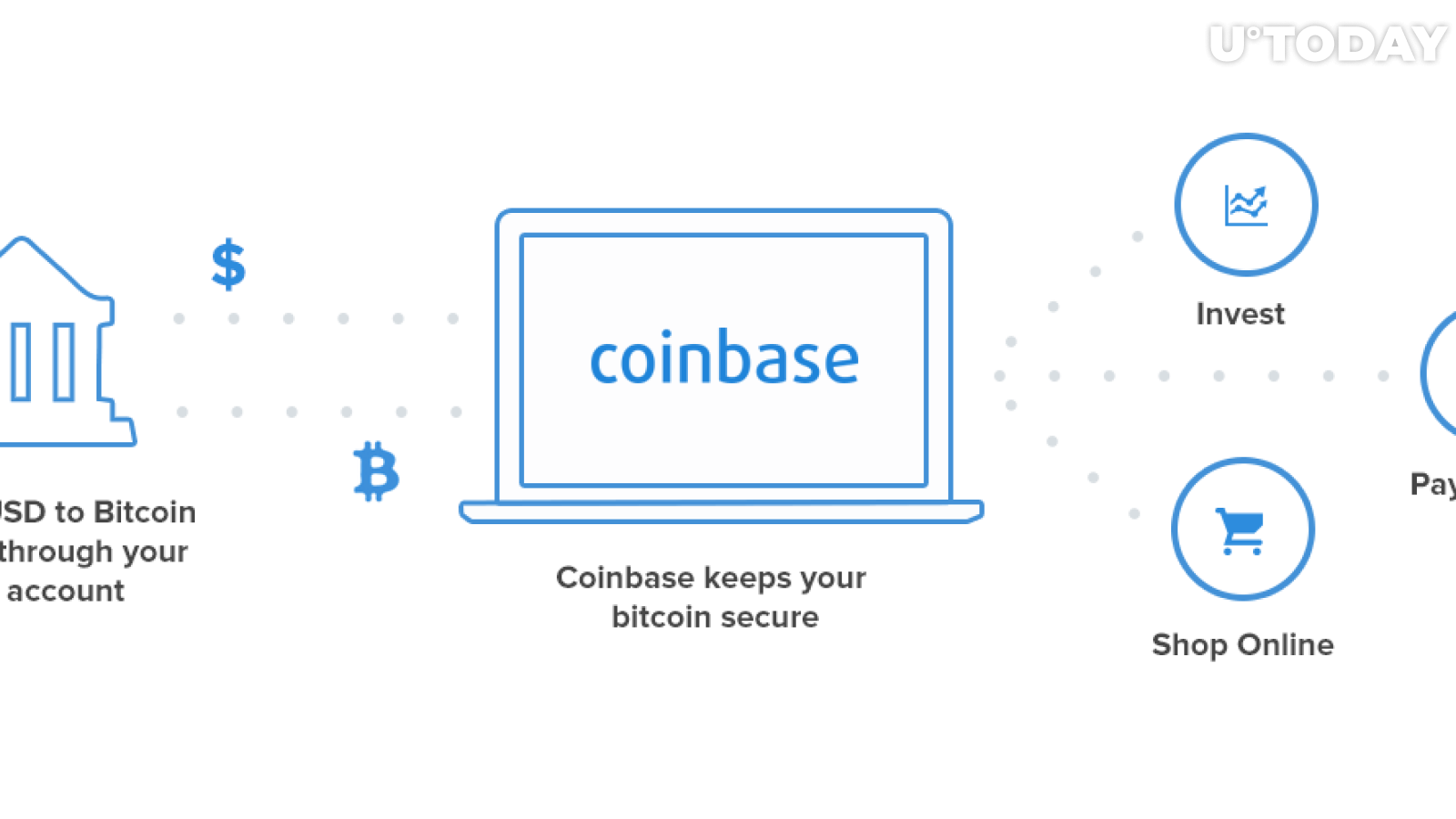 Desc: Coinbase is the most popular and convenient exchange platform for users from Europe and the US
Alt: How Coinbase exchange works
Bitstamp
Being established in 2011, Bitstamp appears to be one of the oldest exchanges of its kind. It allows you to buy a larger range of coins than Coinbase:
Ethereum,

Litecoin,

Bitcoin Cash,

Bitcoin,

Ripple.
The website accepts payments in EUR and USD from bank transfers and credit/debit cards. However, the charge fee for small payments is too high. Thus, the fee is two percent when you make a deposit over $1,000, but is $10 when you deposit less than $1,000. It's the place for those who play big.
Desc: This is how you can buy Bitcoin using Bitstamp website
Alt: Bitstamp website navigation
Kraken
Just like Bitstamp, Kraken is a bit more complicated in navigation and can be used via a website only (there's no smartphone application). To get registered, you'll need to provide your phone number, name and address, as well as the ID photo and the proof of residence. Sounds complicated, but at least that guarantees that your funds are safe and secure. The transaction fees are surprisingly low– that's what appeals to users.
Desc: Kraken provides detailed charts showing cryptocurrency fluctuations
Alt: Graphs on Kraken website
CoinMama
How to invest in Ethereum without problems? Try CoinMama– this platform is open for users from all countries, but allows trading Ethereum and Bitcoin only. The website is well-established: it appeared in 2013 and has become one of the most popular exchanges so far.
CoinMama lets you use a credit card to buy crypto, but charges as much as six percent for that! The deal is sweetened by the fact that it accepts every local currency. If you're a beginner, this website can become a nice option just to understand what is what and get the general idea of how cryptocurrency trading works.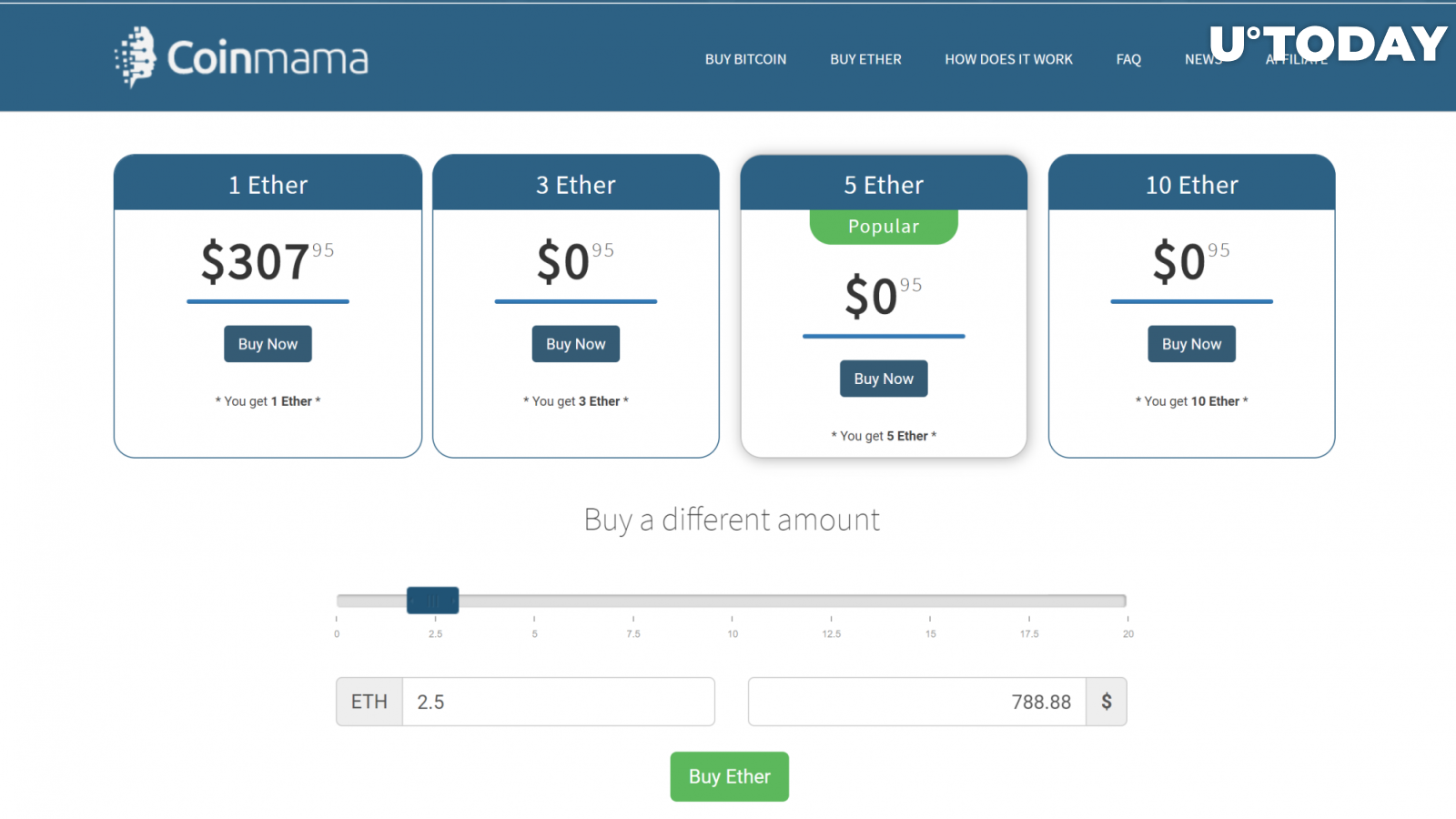 Desc: Coinmama interface is convenient in use
Alt: CoinMama website interface
How to choose a cryptocurrency exchange
The choice of cryptocurrency exchange should be based on many factors, especially, your location. To make an informed decision, take into consideration the following:
For how long has the website been around? It's always better to work with reputable platforms.

Read the reviews of exchange platforms (better find them on forums and independent websites).

Which cryptocurrencies are you going to buy? While Bitcoins are supported by every platform, different altcoins are present on different websites– you need to find out where exactly.

What's your location? First, you need to make sure that clients from your country are allowed to use the services. Secondly, the local currency you will use should also be supported.

What is the level of security provided? Ideally, together with identity verification, an exchange platform should also feature two-step authentication, encryption, SSL certificate and other protection options.

The last but not the least is the fee charged for transactions. Mind that it can depend on your location, sums involved, and the payment method.
Let's compare fees on different platforms:
| | |
| --- | --- |
| Exchange platform | Fees |
| Binance | 0.1% |
| Bitfinex | 0.25% (the higher the sum – the less) |
| Kucoin | 0.1% |
| GDAX | 0.25% taker & 0% maker |
| Kraken | 0.16% for BTC-fiat exchange |
| Poloniex | 0.25% |
| COBINHOOD | 0% |
| CoinMama | Up to 6% |
| BitStamp | 2% or $10 |
| CoinBase | Up to 3.75% |
As you can see, a cryptocurrency investment can be made with minimal fees, but some of the platforms mentioned above are hard in use, and cannot be accessed by users from all over the world.
How to buy cryptocurrency with cash
As a rule, it's done with the help of P2P platforms. This option is often chosen by people who don't want to disclose their identity and pay fees to middlemen. To use the service, you'll need to register on an exchange platform, select the payment methods, and either create a request for buying crypto or make a deal with some user offering the sum you want to buy.
The list of offers and requests usually includes the amount of currency, payment method, ID request (optionally). After that, you can either meet with a buyer face-to-face or have funds transferred online. In the second case, you'll need to make the payment in cash using a cash deposit machine, then get a reference number from the receiver. As soon as he/she accepts receiving the payment from you, the funds will be automatically released from the escrow to your account.
There's a video explaining how P2P exchange platforms work on the example of Koinex Loop:
https://www.youtube.com/watch?v=5fKoBGjB-qg
How to buy cryptocurrency in an ATM
This is another way to use cash to buy cryptocurrency. It works like a usual ATM, but instead of withdrawing money you deposit it. Such ATMs are usually present in big cities– they are not so much widespread yet (check maps to find the one near you).
In this case, you don't have to register an account– just go to an ATM with your cash and provide your wallet address. If you don't have a crypto wallet yet, the ATM will create it for you. Keep in mind that some ATMs require identity verification or a phone number to send you a code.
As soon as you deposit the money, ATM will send crypto to your wallet and print a receipt for you. If you've just created a wallet, save the receipt: it will have your login credentials.
Although ATM is a convenient way of buying cryptocurrency, it's not devoid of drawbacks. These include:
There's a low number of machines, and they're mostly installed in big cities. Therefore, it would be more convenient for you to perform a transaction online in an exchange platform.

Most ATM charge five to 10 percent. It's too much!
Therefore, an ATM is a way out only when you need a fast purchase and don't want to reveal your identity.
Desc: Cryptocurrency ATM installed in Asia
Alt: Cryptocurrency ATM
What's the best cryptocurrency to invest in?
It depends on your financial opportunities and patience. Of course, it wouldn't hurt to start your experiment with Bitcoin and Ethereum– these are well-established currencies, but their value is far from stable.
If you're ready to wait long enough (means, at least a year), select cheaper currencies with a high amount of potential. Litecoin, Ripple, Cardano– there's a huge list of altcoins at the stage of active development, and their price can soar one day. Don't opt for the cheapest and least known currencies: most probably, they don't have enough potential to develop and gain value.
Conclusion
Although recently cryptocurrencies hold almost zero value, today, they can be used in both real and virtual world– the paradigm of electronic money shifts, and people start realizing that virtual coins can buy us products and services. However, if you're completely new to this industry, you need to start with something. Buy a few coins and see what it's like to own crypto.
"Virtual Currencies may hold long-term promise, particularly if the innovations promote a faster, more secure and more efficient payment system." - Ben Bernanke
With the help of exchange platforms, P2P services, and new ATMs, this task isn't challenging anymore. Just find a suitable way of trading– the choice is comprehensible.