At the dawn of the emergence of cryptocurrency, it was necessary to buy and independently install the hardware to start mining. But, with increasing attention to this field, different services have appeared that are ready to provide their computing power. Now, a vast number of proposals for remote mining of cryptocurrency are available on the market: the so-called cloud mining platforms.
What is cloud mining?
Cloud mining services are engaged in providing their resources to users for сryptocurrency mining. Customers receive the computing capacity for a monthly, annual, or one-time payment.
This approach gives mining accessibility to those who cannot afford locating equipment on their premises. There is no need to pay large electricity bills or hear noise from coolers at home.
How does it work?
Companies provide cloud mining services, independently purchase equipment, and place it on their own. These resources are sold to users as a part of online mining.
To start using any cloud mining platform, you should follow these basic steps: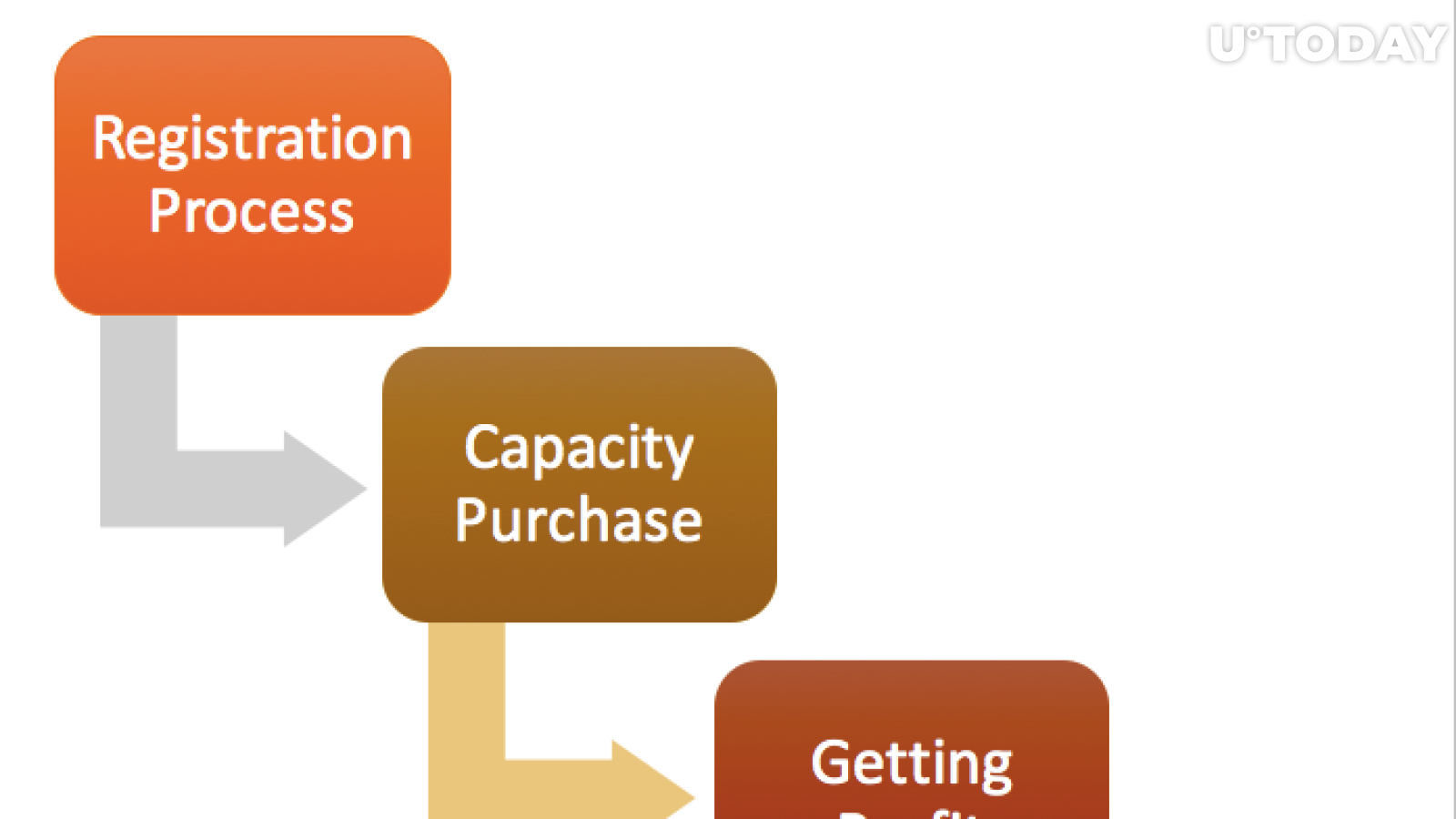 Pros and cons of cloud mining
Although cloud mining is a popular way of getting cryptocurrency, such a method has both advantages and disadvantages.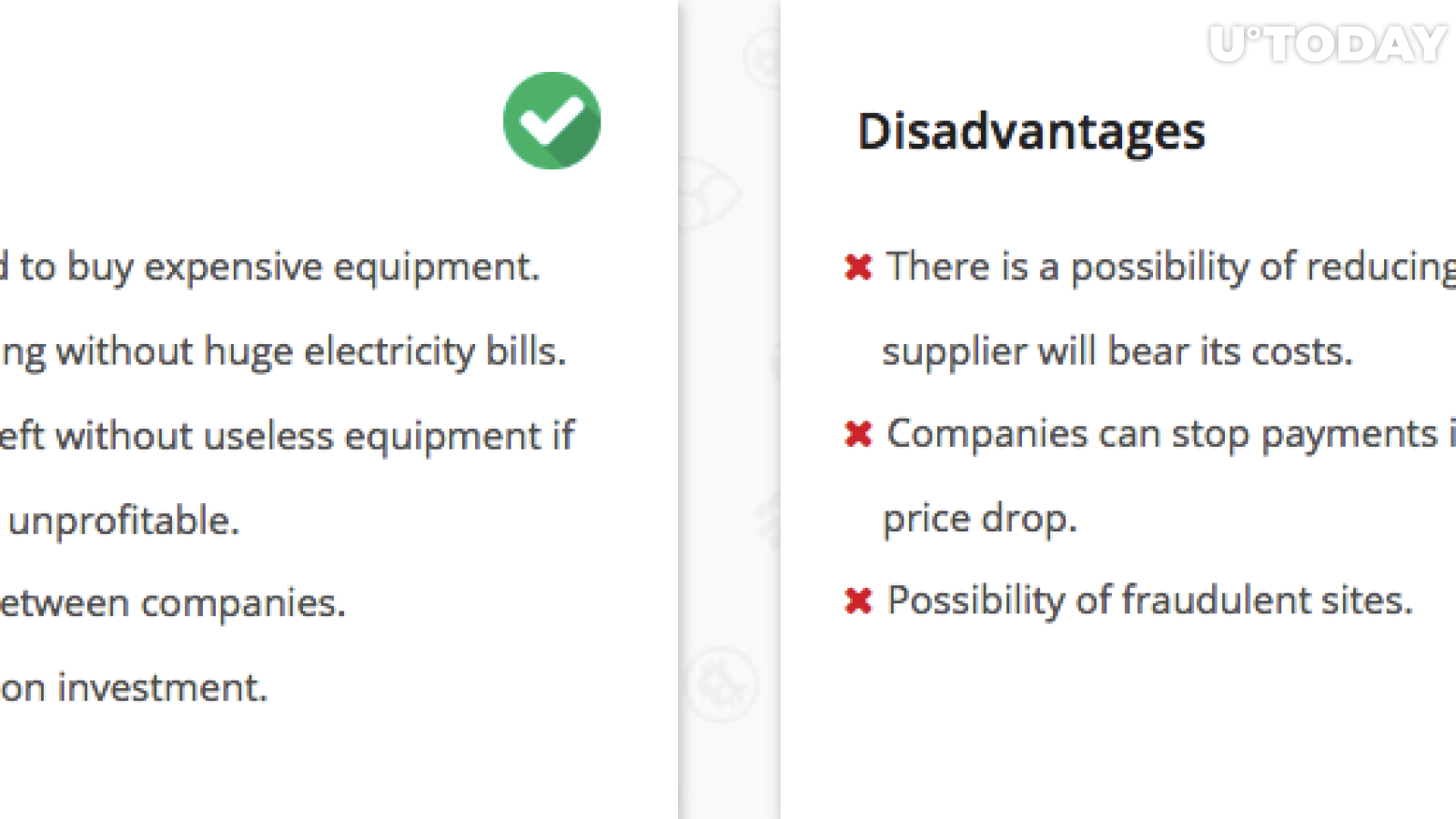 Choose a reliable mining service
This is a high-risk niche for earnings, but the income can be huge, which depends on many factors.
When choosing a cloud mining service, you should pay attention to the following things:
Availability to the public

The amount of time on the market

Opportunities the company offers

The more hashing algorithms you can use, the more reliable the service is

Methods of input and output

The timing of mining contracts

Feedbacks of a particular mining service
Best cloud mining platforms 2019
The services mentioned below have already proven themselves to be reliable ones and are the most well-known in the crypto community.
IQ Mining
IQ Mining does its best and pretends to be ahead of other competitors in this sphere. It has been known to its customers since the end of 2016; although the company has been operating for less than 3 years, it has become the most trusted choice in the cloud mining community.
The smart mining or the so-called "Bitcoin mining 2.0" is an entirely new approach in this industry. The fact is that it combines:
Surprisingly low costs for expenses that can be achieved thanks to smart contracts with established data centers

Increased efficiency thanks to the automatic altcoins switching technology
IQ Mining profitability
Presence of privileges and bonuses – one can get more benefits putting a promotional code which gives a discount on the first contract and other advantages as well.

Financial management – you can use your mined coins for buying more amount of hashrate.

Algorithm – IQ Mining selects the most profitable currency, so you do not need to engage in this process by yourself.

Currency value – investors will get more profits if the more expensive cryptocurrency is traded on the exchanges.
CryptoUniverse
The main objective and goal of CryptoUniverse is to provide the most reliable pool of technical capabilities which allows everyone to mine the desirable cryptocurrency.
The company was registered on July 20, 2017, and its representatives immediately went to China on a working visit to contact the major and reliable manufacturers of mining equipment, such as Innosilicon, Bitmain, Canaan, and Ebang.
Compared to other cloud mining services, CryptoUniverse differs significantly. Representatives of the company put the reputation of their service in one of the first places and offer only ready-made technical equipment for efficient operation and quick profits.
CryptoUniverse advantages:
Easy to start mining. The service has absolutely everything for organizing the mining process: users choose the power that suits them and get a stable profit.

Favorable conditions. Even if you start with minimum investment – you will still receive a regular income.

Daily profits.

The best level of protection. All customer data is fully secured through two-factor authentication.

Guaranteed profit by the contract. Each miner receives an online contract (agreement) and can make sure that the CryptoUniverse service can fully implement all of these obligations.

24 hour control. For each user, there is always the opportunity to watch the online broadcast to see how his miner is operating at the moment.

A small fee. CryptoUniverse is fully responsible for the installation, configuration, and operation of mining equipment and therefore charges a minimum commission.
HashFlare
The HashFlare service has operated since 2015 and rid the miner of expensive electricity, software, constant hardware monitoring, etc.
Benefits and features of HashFlare:
Fast connection: you pay, and the work starts immediately, the first charges will come on your account within 24 hours (you can use Bitcoin or WebMoney for deposit).

High income with detailed statistics: 6-8 months payback period.

Fast withdrawal: choose the desired amount and withdraw it to your Bitcoin wallet.

24/7 statistics: you monitor what is going on in your account.

Power distribution allows you to organize a beneficial bundle.

Fixed commission: no hidden fees, all changes in the balance are set.

Own data center with modern equipment.

HashFlare prices in the cloud mining community are among the most competitive (you can test the service even at $100).

Reinvesting profits allows you to increase mining turnovers at the expense of the earned crypto.

Referral program.
Genesis Mining
Genesis Mining is an international service for the cloud mining of Bitcoin and other cryptocurrencies: ETH, LTC, ZEC, Monero, and DASH. The platform has its mining farm, built in Iceland and other cold countries, where the climate allows one not to spend a lot of effort on cooling equipment, as well as where electricity is inexpensive, which makes the pricing policy very competitive and exciting for the end user.
Service peculiarities:
Various kinds of cryptocurrency can be mined

Daily payments

Reasonable pricing policy

Proper equipment and high efficiency at the best price
Platform Comparisons
Having analyzed the most effective cloud mining platforms, we have come up with their basic features:
Platform

Launch Date

2016

2017

2015

2013

Available Coins

Ethereum, Litecoin, Monero, Dash, Zcash

Bitcoin, Litecoin

Bitcoin, Litecoin, Ethereum, Zcash, Dash

Bitcoin, Litecoin, Ethereum, Zcash, Dash, Monero

Minimum Withdrawal

$10

0.005 BTC

0.01 LTC

0.03000416 BTC
0.10025 ETH
0.1003 DASH

0.005 BTC

Minimum Investment

0.01 BTC

$5

$7.5

About $30 depending on the cryptocurrency