The price of gold has recently surged to its highest level in nearly seven years due to the growing demand for safe-haven assets amidst geopolitical headwinds.
One ounce of the precious metal is currently trading at $1,573 after reaching an intraday high of $1,590. This was a typical reaction of safe-haven assets. It is worth noting that gold is up by almost eight percent since November 2019, and touching $1,600 seems like a sealed deal at this point.
$GOLD weekly
My long standing weekly is marching on as expected. And more up today.
We are still in the first DC for this IC. And as said, coming out on the right side of a 7 year rounded bottom in a resumed bull is not the time to be out, or looking for the perfect entry. pic.twitter.com/vqNJZfG4CC

— Graddhy - Commodities TA+Cycles (@graddhybpc) January 6, 2020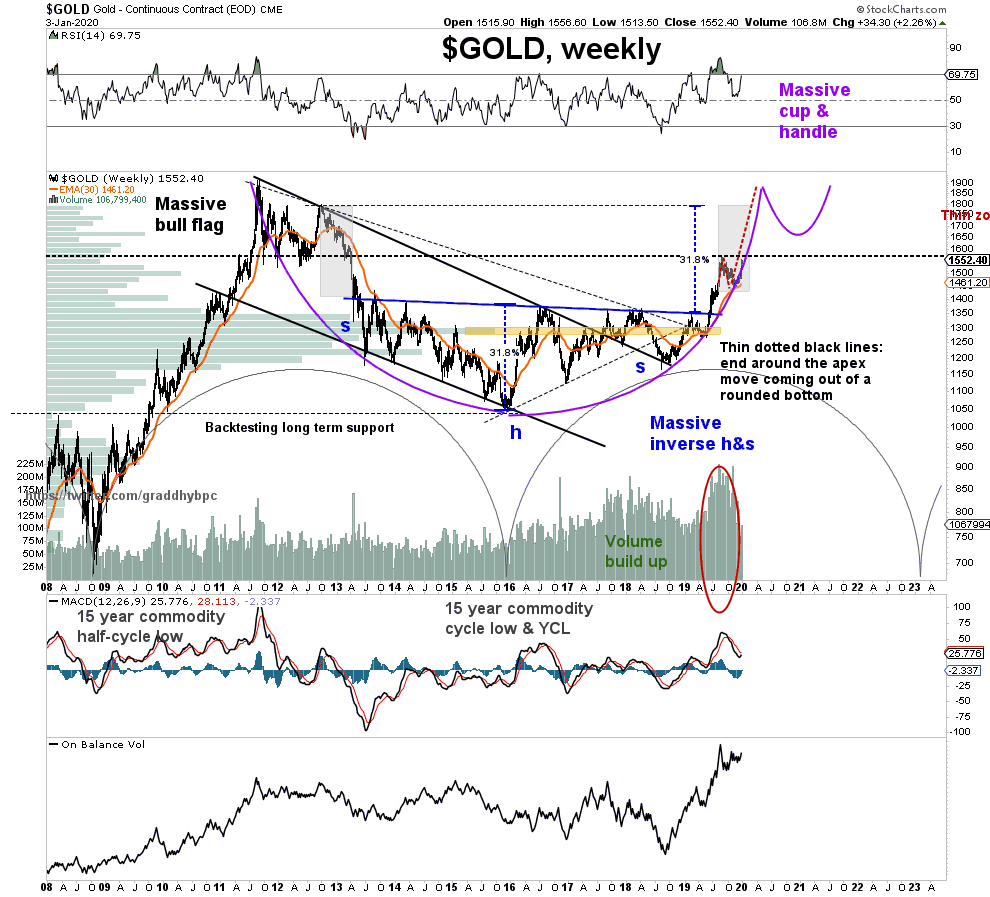 As reported by U.Today, gold and Bitcoin started to rally after Iran's Gen. Qasem Soleimani was assassinated by a US strike that was authorized by President Donald Trump himself. This instantly exacerbated US-Iran tensions that continued to intensify with Iranian officials promising "severe retaliation."
"We found that spikes in geopolitical tensions lead to higher gold prices when they are severe enough to cause currency debasement," said Jeff Currie, head of commodities research at Goldman Sachs.
Gold bug Peter Schiff recently took to Twitter to reassure investors that the current rally is more than "safe-haven buying."
As gold nears a 7-year high, gold stocks continue to lag. Investors don't believe the #gold rally, as they attribute it to temporary safe-haven buying. But geopolitical risk will remain elevated for years as Fed policy, the main driver of the rally, gets even more reckless.

— Peter Schiff (@PeterSchiff) January 6, 2020
Meanwhile, the S&P 500, which is considered to be a risk-on asset, fails to budge after an impressive streak of gains. The widely tracked stock market index has dropped to 3,231. Schiff believes that US equities are driven by "reckless" Federal Reserve policies.