Over the last two years, Ethereum seemed to be one of the most troubled platforms and cryptos with its congestion problems, Tron trying to lure its developer teams over to its blockchain, etc.
Now, that on Sunday, December 8, the long-expected Istanbul hard fork finally took place, some analysts are predicting Ether price to start growing and recover the $423 level soon after June next year.
#Ethereum's #Istanbul network upgrade is now live! Congratulations to everyone who worked to make it happen.

Want to learn more? Check out details on Istanbul's included changes here: https://t.co/KIMLb0ujce

— Ethereum (@ethereum) December 8, 2019
'Ethereum price to hit 61.8 level'
The Twitter-famous analyst CryptoWolf (@IamCryptoWolf) has brought some good news to the Ethereum community, sharing his thoughts on the ETH price spike he expects as early as summer next year (right after the BTC halving, funny as it sounds).
The expert believes that after more than half-a-year of a correction due to the Falling Wedge and three months of MACD bullish divergence, ETH has already broken out of its resistance area and is going to start surging soon.
CryptoWolf believes that at some point after June next year, Ether price will reach the 61.8 Fib level which means – 0.05661 BTC or $423 in traditional fiat.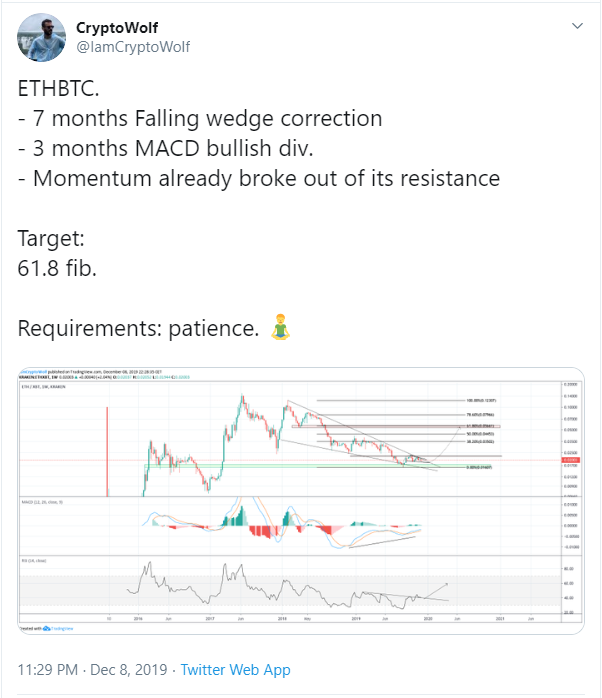 'Hardly any more downside for ETH'
Another trading expert in digital assets - @CryptoMichNL – has shared a similar bullish forecast on ETH.
Speaking of the recent Ethereum FUD, he compares it with the FUD that hit the community when Binance announced the ban for US citizens on the main platform as it was about to open its American branch.
'I don't expect much more downside,' he says about Ethereum price.
The recent Ethereum FUD reminds me of the Binance 'USA Ban'.

People expected further downside on altcoins after the USA ban, while they mostly found bottom in September.

Looks similar with $ETH in which I don't expect much more downside.

— Crypto Michaël (@CryptoMichNL) December 8, 2019
Ethereum seems to lack funds for devs
One of Ethereum developers, Nina Breznik, spreads the word, saying that next year the Ethereum Foundation intends to stop funding to internal dev teams, starting with young projects.
Ethereum has stopped finding her particular project PlayProject as of December 1.
Sadly they decided to stop funding the youngest projects first. So from December 1 our funding has stopped and other projects' funding will also have their funding cut in the following year.

— Nina Breznik📍🇹🇭 (@ninabreznik) December 6, 2019
In response to that, the Tron chief executive, Justin Sun, who views Ethereum as a major competitor and has been doing his best to let Tron surpass it since Tron's migration from Ethereum to the mainnet, calls on Ethereum devs to migrate to Tron. Again - the first time he did it was a year ago.
We would love to fund #Ethereum developers to migrate their works to #TRON. Super easy! Always #BUIDL! https://t.co/hD3g7AzQrL

— Justin Sun (@justinsuntron) December 7, 2019
In the fall last year, Justin Sun announced the creation of a special fund for financing those devs to decide to ditch Ethereum and start working on the Tron chain.