At the epicenter of the bloodbath
After reaching its peak of $1,400, Ethereum has been steadily falling since May. As the lynchpin for many ICOs, it also took down many other altcoins.

Ethereum turned out to be one of the worst performing cryptocurrencies of the previous month (ETH price tanked by almost 33 percent). However, September is already shaping to be even a bigger disaster for Ether as the currency has recently reached its 16-month low. ETH current price is sitting at $172, losing a whopping 30 percent of its value in merely two weeks.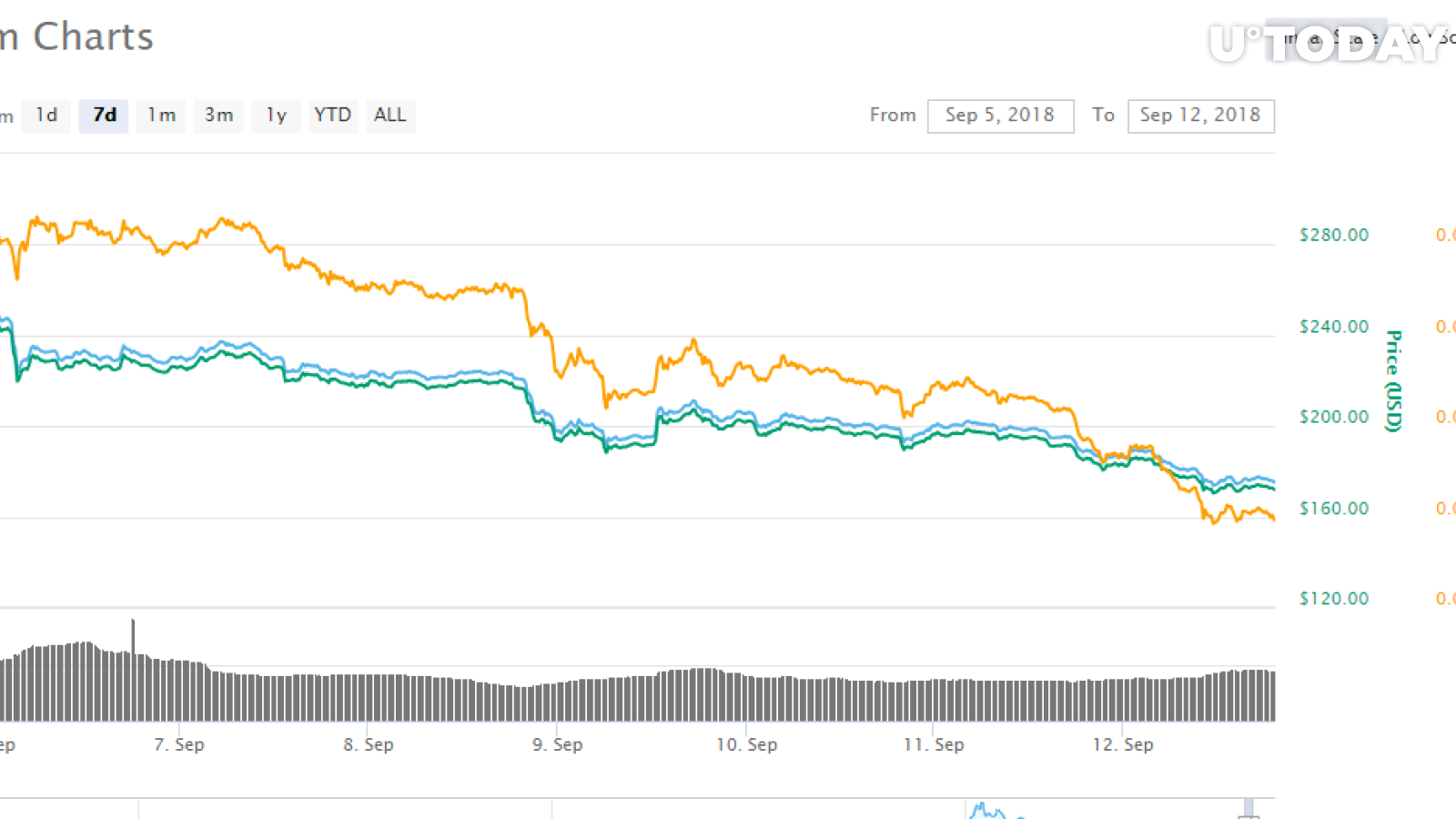 According to a recent U.Today report, Ethereum has also reached a record number of shorting positions, which is inextricably connected to this ongoing downtrend. However, some predict that this massive sell-off could trigger a "squeeze" (when the price of an asset rapidly increases because of the high level of shorting).


What's behind the decline?
Ethereum has been widely considered a major Bitcoin rival since its very launch since it represents an innovative platform that allows developers to build their own decentralized projects. However, the hype started to fizzle out, and the current coin's price vividly shows that. Subsequently, it is important to understand the main reasons behind this Ethereum flash crash:
Decentralized apps are great, but not everyone knows that. CryptoKitties, the only "killer app" contender in this niche, has an embarrassingly low number of users compared to an ordinary mainstream app (there is a good chance that the majority of its audience consists only of developers and testers). While they do make baby steps towards the mainstream adoption by planning their Asian expansion, it's too little too late for Ethereum. As a prominent economist Nouriel Robini states, casino games, scams and CryptoKitties pretty much represent the majority of dApps.

Dwindling interest in ICOs. In order to seamlessly launch an ICO, one had to spend only about 20 minutes. The fact that basically anyone can create an initial coin offering resulted in an endless number of outright scams and projects that only have a white paper and the recent inflated ICO failure rate.

" Ether's price was inflated earlier due to the ICO mania," - BitBull Capital CEO Joe DiPasquale.

Cryptocurrency analyst Kevin Rooke has also recently published an in-depth analysis of how ICO sell-off correlates with the current ETH price. Rooke concludes that ICOs are selling Ether in droves (more than $30 mln last week alone). However, the biggest revelation is that ICO also hold a staggering amount of $600 mln worth of Ether, and it's safe to say without an ounce of exaggeration that Ether's future solely depends on whether these companies further decide to hold Ethereum in their treasuries.

A tough competition. Ethereum might have the first mover advantage, but its bigger competitors in the likes of Stellar, NEO and EOS might already dethrone it in the nearest future.

Bearish market sentiment. Ethereum may be one of the biggest losers of the past few months, but one shouldn't forget the whole cryptocurrency industry is going downhill partly because of regulatory uncertainty in the US. The SEC rejection triggered a knee-jerk reaction, immediately causing Bitcoin to plummet. On Sept. 10, another meltdown started after the US SEC ceased trading on two crypto-based securities.
Predictions from Ethereum founders
Who knows better about the future of Ether than its founders? Now we would like to cover some of their predictions.

First of all, of course, we are going to focus on what Vitalik Buterin has to say. During a recent Bloomberg interview Vitalik made headlines, stating that the cryptocurrency space will never see the industry mammoth-size growth again. He claims that this is due to the fact that the industry is witnessing mainstream recognition around the globe.
Vitalik is not overly optimistic about the future of crypto and Ethereum in particular. Back in February, when Ethereum went from $1,400 to $580, he warned investors about the immense volatility of the industry. Recently, he yet again adopted a note of caution after an explosive op-ed written by Stella's Jeremy Rubin. Rubin claims that an Ethereum price crash is imminent because of its fees that are dubbed "gas." Remarkably enough, Vitalik agreed that Ethereum could indeed hit zero, but he claims that there are proposals which would forbid applications to pay for "gas" in non-Ethereum assets.
"Reminder: cryptocurrencies are still a new and hyper-volatile asset class, and could drop to near-zero at any time," - Vitalik Buterin, Ethereum cofounder.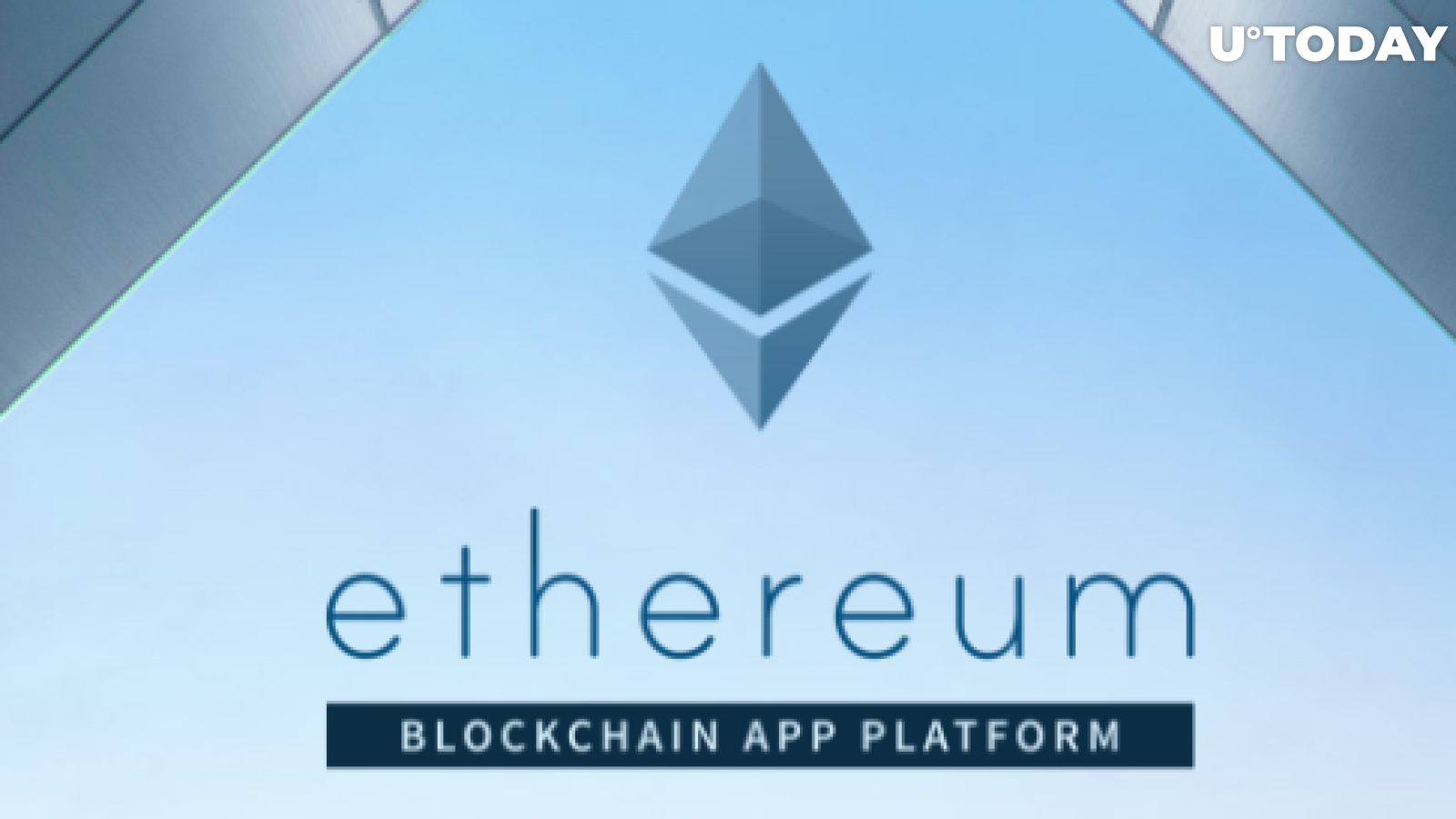 Another Ethereum co-founder Joseph Lubin said that a dramatic Ethereum crash in price is not an indication of the currency's future growth. He considers that volatility is normal, and the cryptocurrency industry is moving in the right direction. As U.Today reported recently, he doubled down on his stance during a CNN interview.
Industry bigwigs weigh in
Ethereum has been on the lisps of the biggest names in crypto. Let's have to say what they have to say about the future of Vitalik Buterin's creation.
Olaf Carlson-Wee, CEO of the biggest crypto-oriented hedge fund Polychain Capital, voiced one most vanguard Ethereum price prediction for 2018, claiming that the so-called flippening scenario will happen as earlier as in 2018. This prediction was made during the peak of the crypto craze in December. As Ethereum keeps dropping like a rock in September, we can say with confidence that it's not the case.
When will Ethereum crash? Speaking of more long-term predictions, Changpeng Zhao, the CEO of the largest cryptocurrency exchange Binance, feels extremely bearish about the future of Ether, claiming that the currency will be eventually overshadowed by more efficient technologies like EOS. Even considering that mainstream decentralization is inching closer, Ethereum won't take advantage of it, according to CZ.

Arthur Hayes, Co-Founder & CEO of BitMEX, has also recently lashed out at Ether, claiming that it should "go down to double digits." Remarkably, earlier BitMEX launched a swap product that would let users bet against Ethereum, which many experts believe also a had a visible impact on the value of Ethereum.

An extremely bullish forecast for 2018 was offered by Reddit co-founder Alexis Ohanian. Back in May, when there was no indication of a dramatic price decline, Ohanian said that Ethereum would reach $1,500 by the end of 2018. While the second cryptocurrency is indeed poised to appear in the double-digits territory if market bears persist, this prediction, while not being completely outlandish, doesn't seem realistic (although it could be relevant when it comes to Ethereum price prediction for 2020).
The recent announcement about upcoming CBOE Ethereum futures gave ground for many speculations about the potential ramification for Ethereum. Tom Lee, a well-known Bitcoin pemabull, doesn't that Ethereum futures will not have a short-lasting effect on the coin's price. However, it's rather challenging to predict the reaction of a highly volatile cryptocurrency market when a mainstream financial institution makes a move towards crypto adoption.
More Ethereum price predictions
| | |
| --- | --- |
| Expert | Prediction |
| deVere Group | $2,500 by the end of 2018 with even bigger growth in 2019 and 2020 |
| Investing Haven | $1,000 by 2020, but 2018 is a possibility |
| Finder panel of Blockchain experts | Ethereum will rise by 82 percent |

The bottom line
So, will Ethereum crash? While many are inclined to think so given its epic fall over the last two months, it's actually too early for a definite answer. This technology is still in the early stage of its development on its, so the prolonging bearish trend is more its first litmus test rather than a death sentence.