This week, Bitmain, one of the biggest producers of cryptocurrency mining hardware, filed an application in its attempt to go public on the Hong Kong Stock Exchange (HKEX). It is a bold move for a cryptocurrency-based enterprise, but it is not the only move by such a company.
In May, Canaan Creative, another major mining hardware maker from China, also filed an application in Hong Kong to go public, and Ebang, followed suit in June. There has been an uptick in these companies looking to be valued in the public space.
The question is, does launching an IPO make sense for a company, that exists in such a volatile space? It is especially pertinent when you consider that mining popularity is based almost solely on the price of cryptocurrencies, and, currently, the market is looking extremely bearish.
Aiming for billions
There is no doubting the power and the potential that mining hardware companies have. Bitmain made between $3 and $4 bln in profits in 2017, when cryptocurrencies and their mining was at its peak. Thus, the desire to go public makes a lot of sense.
However, the growth of these companies are not regulated by normal market factors, once growth has been achieved, it is not guaranteed to keep going up. In fact, as it stands currently, there has been a big downturn in the market which drives interest in mining equipment.
This is no secret, and in fact, Bitmain even warned its potential IPO investors of such an occurrence.
"If the market price of cryptocurrencies suddenly falls ... demand for our mining hardware and cryptocurrency mining services will also drop rapidly," Bitmain warned. Other factors to be wary of is that the HKEX is also in its own bearish rut, having dropped as much as 20 percent.
Still, the hope from Bitmain, and the others, in the HKEX is that they will be able to raise billions despite the current market situation.
Mining and its negative correlation to price
However, to be fair to those looking at mining IPOs, the expected correlation between mining and Bitcoin price does not seem to be there. Bitcoin mining has actually increased despite the falling price of the cryptocurrency.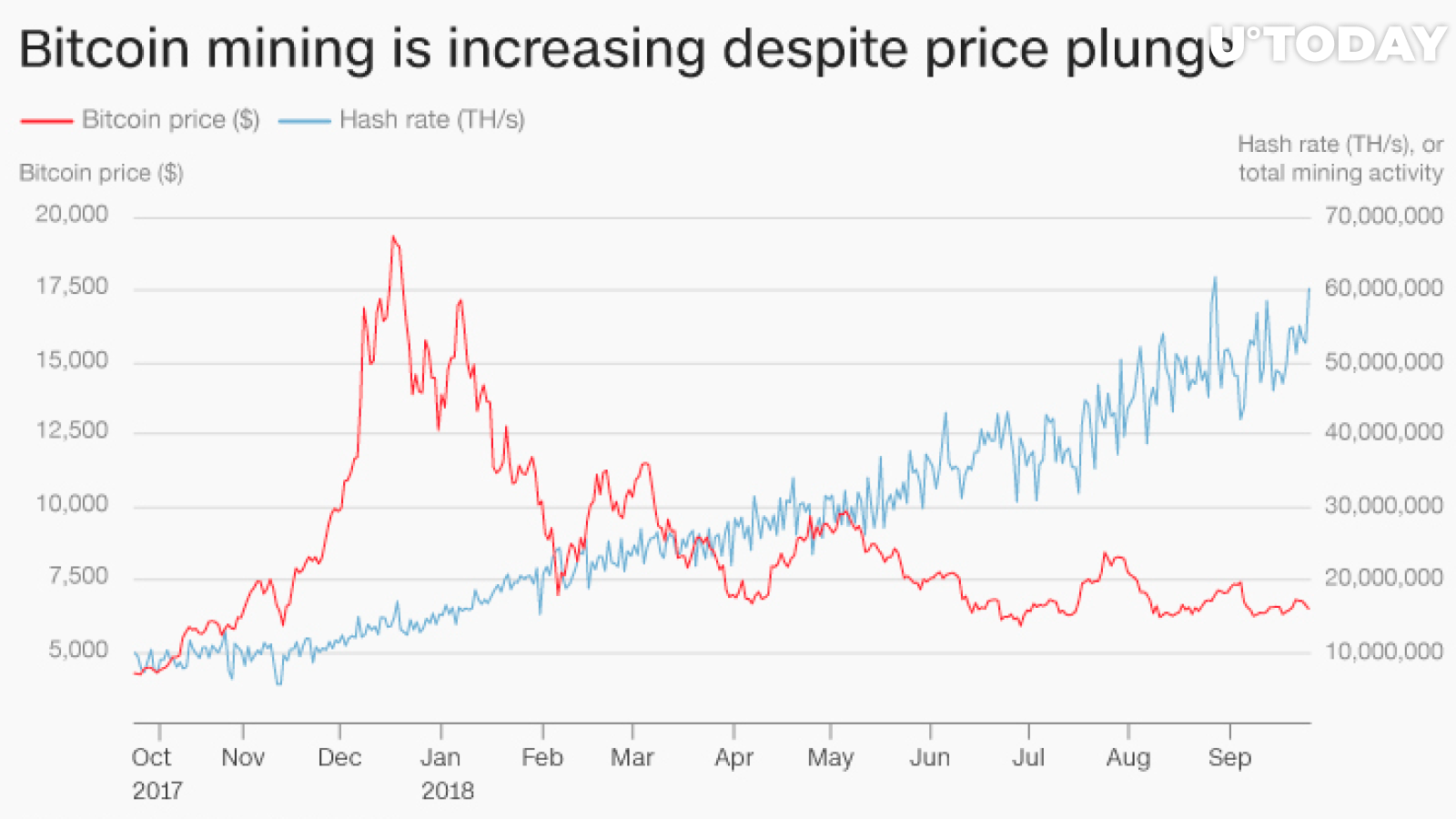 So, even with the price of cryptocurrencies slipping, there is still an uptick in the hashrate of Bitcoin, indicating that mining is still steadily growing. The reasoning behind this may have to do more with a look at the future, rather than right now.
Many people have pushed the boundaries of mining, and even with low prices, are able to survive, hopeful that once established in mining, when/if the prices go up again, they will be in a good position to profit.
Can it last?
With this kind of information behind them, investors for the IPOs should be quiet keen to get involved, however, in the long run, there are contrasting views.
"Cryptocurrencies will likely fall out of favor" without greater mainstream adoption in the near future, Benjamin Quinlan, founder of Hong Kong-based financial services consulting firm Quinlan & Associates predicted. "They will find it extremely difficult to survive when the cryptocurrency market, as a whole, withers away," he said.
But on the other hand, many are still hopeful that the digital currency can stage a recovery as financial exchanges and big companies start to take it more seriously.
"As you see more adoption of just people being comfortable with it, it feels like it's going to go up," Mike Novogratz, CEO of cryptocurrency investment firm Galaxy Digital, said.