What is Bytecoin?
Some people mistakenly suggest that Bytecoin (BNC) is Bitcoin's fork, but this cryptocurrency appeared on the market as early as in 2012. Bytecoin is particularly remarkable since this is the first coin to use the CryptoNight algorithm. As of now, many altcoins (including Electroneum (ETN) and Monero (XMR)) are based on this PoW algorithm.

If Bytecoin used the same algorithm as Bitcoin, it would be ineffective to participate in mining process without special hardware. That helps to solve Bitcoin's mining monopoly problem. Subsequently, the Bytecoin mining community is significantly more decentralized.

It is also important to mention that Bytecoin belongs to the so-called privacy coins which means that there is a big emphasis on keeping all transactions untraceable (in fact, this is the first truly anonymous coin out there). For comparison, all Bitcoin transaction data is recorded on a public Blockchain.

With a current market cap that is approaching $600 mln, there is no doubt that we are looking at a very serious project which attracts lots of investors around the globe.
Bytecoin price predictions in 2018
Bytecoin is the 24th biggest coin by market cap (according to the data provided by coinmarketcap.com). The currency was listed on a couple of new prominent exchanges including (Poloniex and HitBTC) in March which significantly increases its exposure and may cause a spike up in price. Bytecoin has also recently made an announcement about its partnership with OKEx.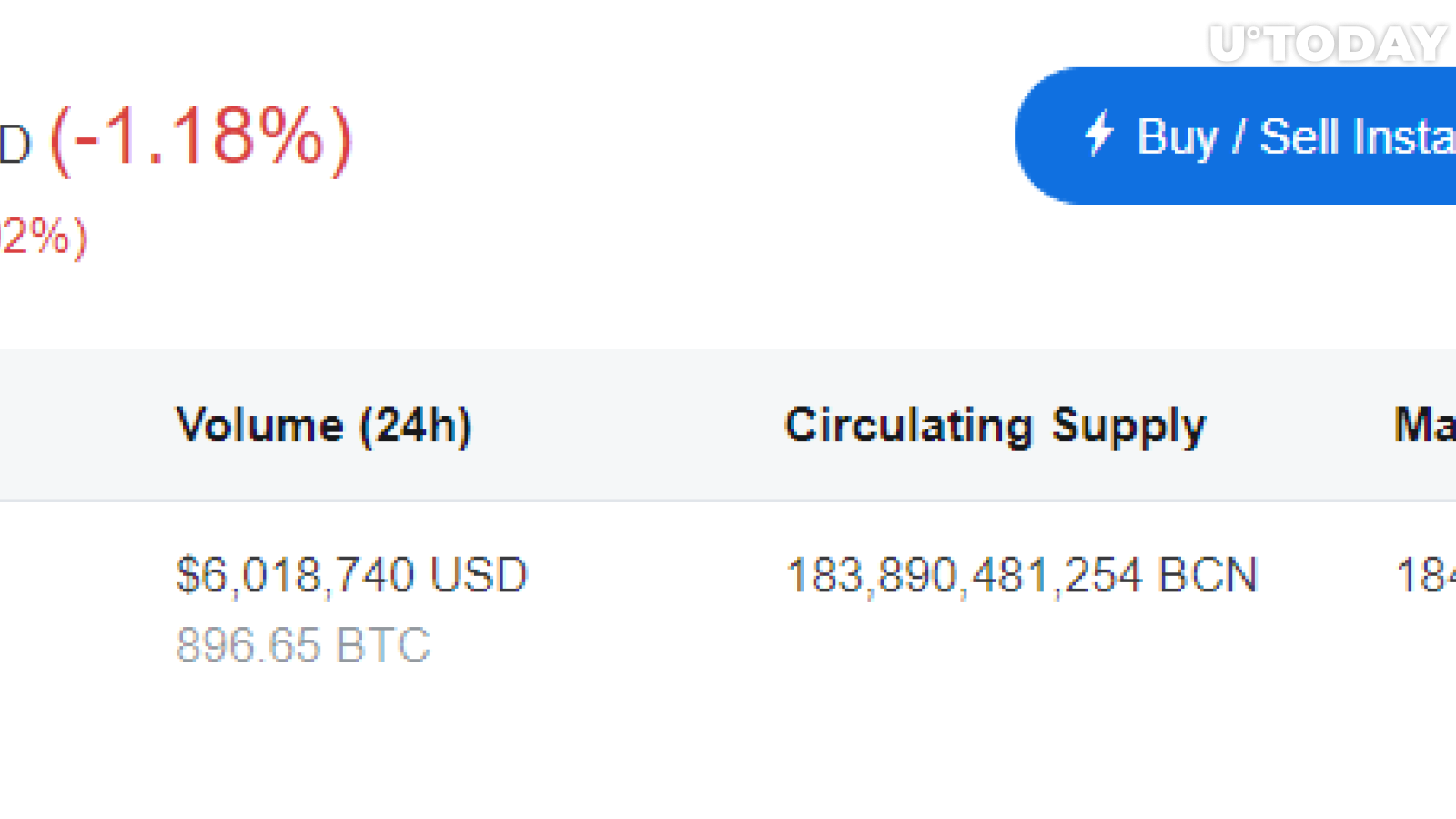 While analyzing the current performance of Bytecoin, one can come one with the following Bytecoin 2018 price prediction in the table below.

NB! Despite the fact that our financial experts analyzed numerous factors that include current market capitalization, recent market trends and Bytecoin's development roadmap, you should consider the following Bytecoin (BNC) price prediction cautiously, since this is not an investment advice.
| | |
| --- | --- |
| Month (2018) | Price Prediction |
| July | $0.01350 |
| August | $0.01470 |
| September | $0.01667 |
| October | $0.01745 |
| November | $0.02200 |
| December | $0.02350 |
As of July 2018, you can already see that Bytecoin foundation price prediction was too optimistic. The same goes for Bytecoin price prediction 2017.

Bytecoin price prediction
Bytecoin and Dogecoin show almost the same price fluctuations. Price prediction of Bytecoin states that by the end of 2018, Bytecoin isn't expected to increase much, but it has a lot of room to grow(especially if you take into consideration the fact that the max and circulating supply keep getting closer). Right now, it is extremely hard to make Bytecoin future price prediction.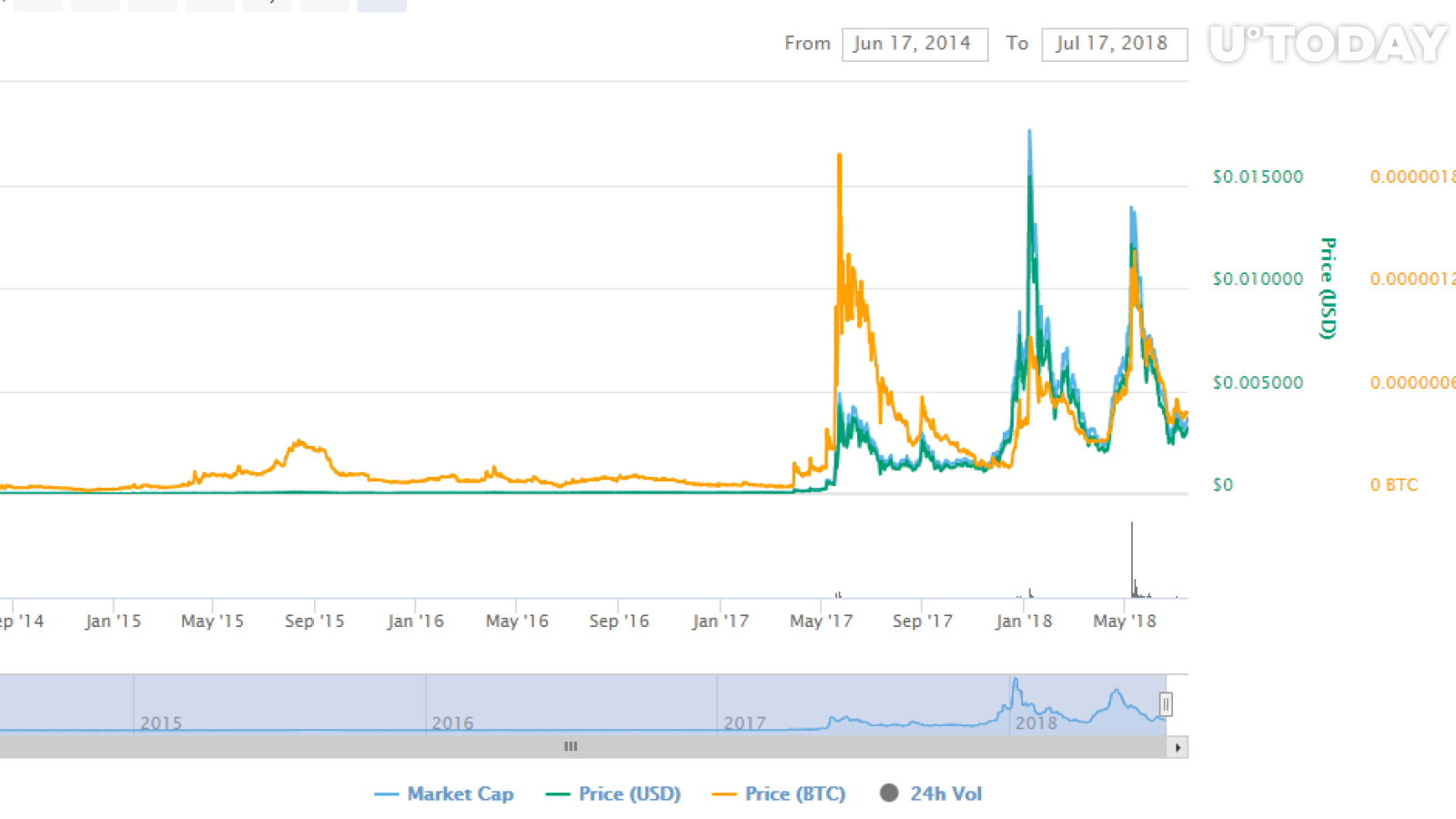 There are numerous factors which affect the cryptocurrency markets. They include:
media coverage (major media outlets can be easily used to manipulate public opinion and change Bytecoin prediction price)

BTC price (Bytecoin and the majority of other altcoins usually reflect Bitcoin's price volatility)

government regulations (numerous political events and regulatory efforts can easily affect Bytecoin price prediction 2018)

technological progress (talents from major companies are fleeing in droves to build own ICOs startups, so Bytecoin has to keep up with them)
Most likely, Bytecoin is not going to pass the $1 mark anytime soon. In order to achieve that, Bytecoin has to be the biggest currency with $183 mln capitalization (surpassing Bitcoin if the so-called 'flippening' scenario does happen) which doesn't seem to be plausible.

The market cap has to hit about $3 tln for the $1 dollar prediction to translate into reality. It is definitely not out of rich in three or four years if the first Blockchain government appears and Bitcoin's price surpasses $30,000. However, as mentioned above it is too early to come up with Bytecoin price prediction 2020 much less Bytecoin prediction 2025.

Is it worth investing in Bytecoin?
You should obviously consider any price prediction of Bytecoin at your own risk, but it is obvious that Bytecoin isn't going anywhere anytime soon. First of all, it is the first privacy coin that has already been on the crypto market for six years. Another important indicator of Bytecoin's upcoming success is that it constantly partners up with different merchants. As long as Bytecoin's team keeps promoting its coin, list it on bigger exchanges and involve new merchant, big price jumps in the nearest future do not seem too far-fetched, but Bytecoin price prediction 2020 is still too early to make.

There is no point in implementing top-notch technological features if a coin is simply stored in crypto wallets and not used by people for performing day-to-day financial transactions. Bytecoin has a significant advantage over other coins (in particular, Bitcoin) because of its relatively fast transactions. However, there is also another bigger anonymous coin Dash (DASH) which allows its users to perform transactions in a matter of seconds because of the InstantSend feature.

While complete anonymity is generally considered to be a positive feature, it may also prevent Bytecoin from increasing its value in the future which is expected according to the recent Bytecoin (BTC) price prediction 2018. The thing is that many countries move towards common-sense regulations in an attempt to move cryptocurrencies out of a legal gray zone. For instance, Japan, a country which is responsible for almost 40 percent of Bitcoin's global trading volume, cracked down on exchanges that list the aforementioned privacy coins. It is also worth mentioning that Bytecoin's team of developers remains anonymous as well, so it is difficult to determine the token issuers who stand behind the project. It obviously gives ground for shady financial operations.