Blockchain Genesis Thailand Blockchain Week 2023 | Bangkok, November 11-12, 2023
Event details
Location:

Event place

Samyan Mitrtown Hall, Bangkok

Dates:

Sat, 11/11/2023 - Sun, 11/12/2023

Website

http://www.blockchain-th.com/

Price: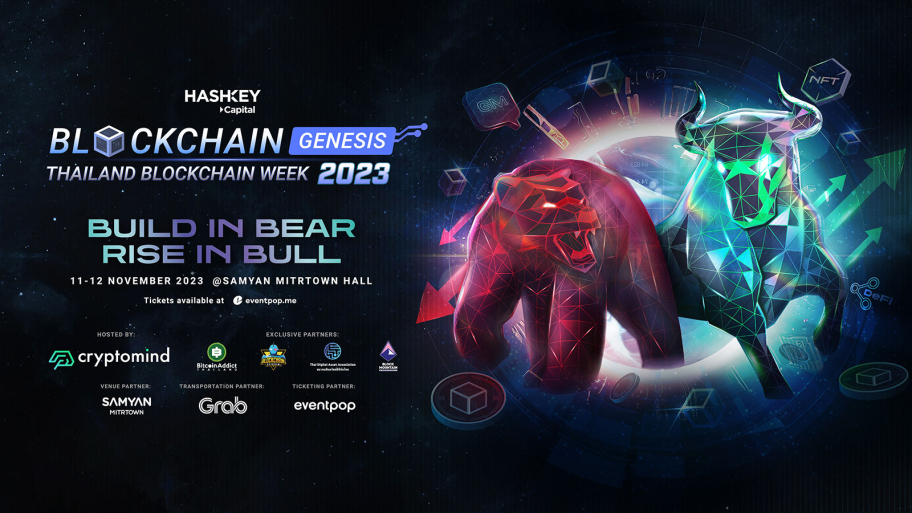 Cover image via U.Today
What is 'Blockchain Genesis, Thailand Blockchain Week 2023?' For the first time ever, Thailand's largest blockchain conference brings to you over 60 sessions and 150 speakers from Thailand and all over the world to come share their valuable insights and experiences. Learn from both local and international experts in various formats including live panel, keynote, fireside chat and face-to-face workshop.
Join Cryptomind this year for 'Blockchain Genesis, Thailand Blockchain Week 2023' returning for the 6th year under the theme 'Build in Bear, Rise in Bull' on November 11-12th at Samyan Mitrtown Hall, with an expected attendee of 5,000+ people. Explore the future of the Digital Asset world from Blockchain to Web3 including Crypto, DeFi, NFT, GameFi and Metaverse. Cryptomind Group organized this event with an aim to educate the masses to better understand blockchain technology and to bring people in the space to meet, share and exchange ideas.
Don't miss out on this exclusive opportunity to be a part of Thailand Blockchain Week, meeting and connecting with leading Thai and global crypto communities during our exciting line up of side events and parties!
Tickets are available at www.eventpop.me/e/15676/blockchainth2023 in different tiers: Standard Pass at 299 baht, for two-day entry with souvenirs, a chance to win prizes from the Quest Hunting activity, and receive NFT developed by Six Network. There are also special tickets for students: Student Pass at 150 baht.
Special! Join us with a VIP Pass of 10,000 baht to enjoy privileges including unlimited access to workshop sessions, entry to VIP lounge inside the event with complimentary food and beverages, access to welcome dinner and exclusive networking party session with leading investors and developers, giving you an opportunity to meet leading blockchain figures from various countries.
Besides, attendees can also purchase tickets for special workshop sessions – 'Learning Shortcuts' based on topics of their interest at 200 baht each. For example, "Techniques to build a well-balanced crypto portfolio to always attain the highest returns" and "In-depth use of various tools for crypto investment like a pro" and many other topics.
For more details, please visit:
Advertisement
Top
Crypto
News
in
Your
Mailbox
Top
Crypto
News
in
Your
Mailbox