With the last days of 2019 right around the corner, analysts and traders are getting the audience pumped for 2020 forecasts. The third Bitcoin (BTC) halving and Ethereum's probable migration towards its Proof-of-Stake (PoS) consensus will be hot topics for the crypto community. Prominent trader PlanB decided to surf this wave by showing BTC's dominating traction.
Four Stages for Dominance
In the historical chart, PlanB has revealed one of the most important indicators of the crypto world - Bitcoin's market capitalization. This indicator shows the ratio of BTC's market capitalization to the capitalization of all other cryptocurrencies tracked publicly by the available services (4000+ coins). This is used as a sign of comparative demand for altcoins and BTC.
Guess what's next?#AtcoinAnnihilation pic.twitter.com/oRm4n5DHro

— PlanB (@100trillionUSD) December 6, 2019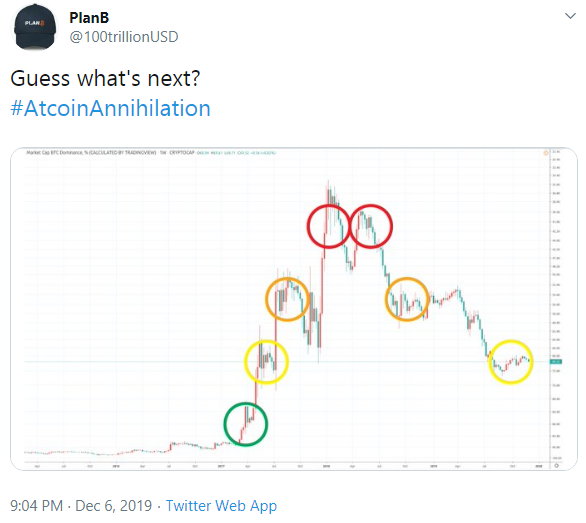 Plan B showed the four stages of BTC's dominance, in which the graph is slipped vertically (bottom line indicates 100% BTC market dominance). The first stage, which lasted before April 2017, showed that BTC's dominance was more than 90%. The second stage (April-September 2017) showed that the figures were between 70% and 90%.
The third and the fourth stages repeated twice from September 2017 to the present day. In the early days of 2018, the indicator was at an all-times-low of 35%. Now, the graph is about to re-enter BTC's second stage with a 70+% dominance.
Altcoin Annihilation?
PlanB surrounded his picture with the ironic hashtag #altcoinannililation. Therefore, PlanB interpreted this traction as bad sign for the altcoins. It should also be said that some of commentators in PlanB's open thread suggest that the four-stage cycle was launched by the previous BTC halving of July 9, 2016.
Furthermore, we can see that BTC's high price correlates with its low market dominance. With that said, the publication by PlanB forecasts an extremely bearish start for 2020.
Recently, BTC advocate Tuur Demeester claimed that the price of BTC will drop one more time to $5,000. This level will be reached due to the capitulation of "weak" investors prior to the long bull rally.
card

Are you still waiting for BTC to move? Will you hold onto it in 2020? Share your trading secrets on Twitter!