Bitcoin has been trading flat for a while already, and many experts, including those from Bloomberg, believe that in the short term the BTC price is not going to take any significant highs.
All hopes of the crypto community are focused on the approaching Bitcoin halving in May.
Bitcoin price to rise if green holds
The crypto analyst @CryptoMichNL finds the current behaviour of BTC boring. Still, he writes that if Bitcoin manages to hold in the current position without falling to the $7,000 level, the price may start growing towards the $7,700 area – that is clear from the chart he has posted.
However, he points out that should bears take over, the price may plunge to $6,900 - $7,000.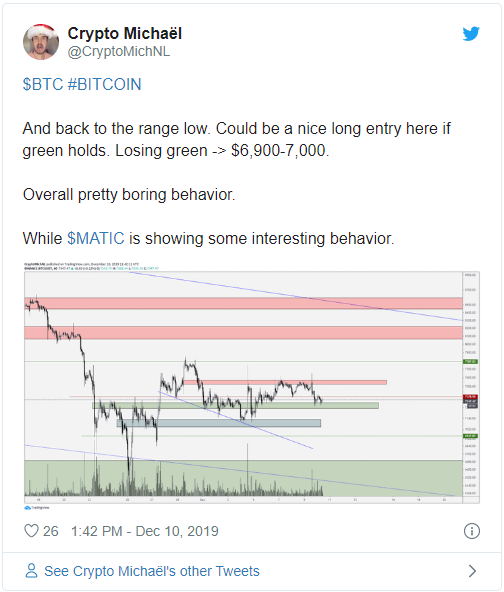 The analyst has also made a positive comment on the MATIC price, which earlier collapsed 70 percent after gaining almost 300 very quickly.
The reason for the fall @CryptoMichNL believes to be the low liquidity of MATIC and in an earlier tweet he stated that Binance should not have opened margin trading on it.
"Could be a nice long entry here if green holds."
Bullish fractal update
The crypto trader @nebraskangooner who works with fractal analysis on crypto, has posted an update on his earlier BTC fractal chart.
The trader says that "things should get interesting very soon".
As per the chart, the Bitcoin price should enter the $9,700 area between February and March and after the halvening in May, it is likely to drop from the $9,000 area back to $7,400.