The Bitcoin (BTC) price has dropped to the $7,200 level as bears continue to exacerbate selling pressure, CoinStats data shows.

Crypto NebraskanGooner has provided yet another update on his fractal analysis, claiming that he expects the BTC price to experience "some sort" of drop shortly. For the past week, Bitcoin has remained range-bound, which means that another volatile move might be in the offing.
However, NebraskanGooner doesn't expect BTC to closely follow the 2014 fractal since the coin tends to be less volatile. Hence, it is unlikely that the highly expected drop will be in the double-digit territory.
#bitcoin

Update on the fractal we've been following since September.

I can't imagine price will drop as steep today. 2019 drops have tended to be a little less deep than the 2014 fractal drops.

However, I do expect some sort of drop shortly. pic.twitter.com/xakzSPYBMY

— NebraskanGooner📈 (@nebraskangooner) December 10, 2019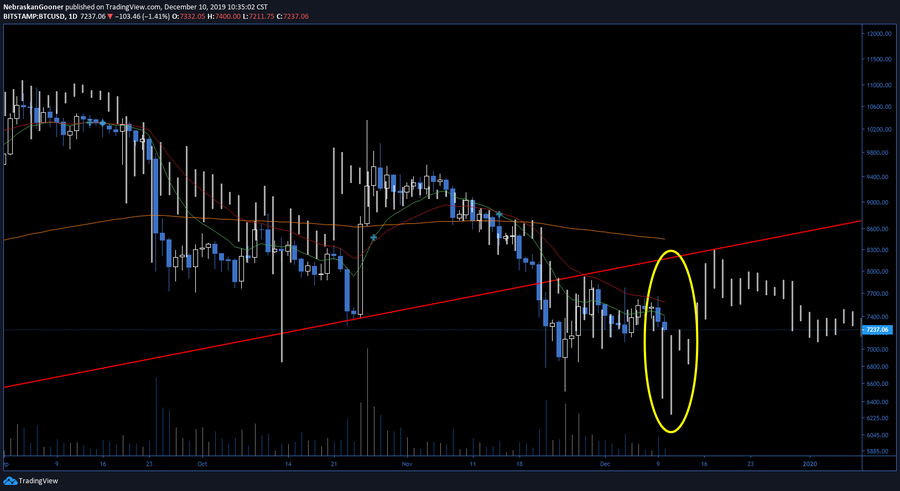 Even if the BTC price does drop to the $5,500 level, some crypto traders see the recent gold cross (Bitcoin's 50-day MA surpassing the 100-day MA) as a good reason not to capitulate. They expect to pocket great returns in the run-up to the Bitcoin halvening event in May 2020.
However, as reported by U.Today, the golden crossover that happened on the weekly chart whose predicting power is very limited. As of now, Bitcoin needs to break out of its bearish channel to put the bulls back in power.