The cryptocurrency industry undoubtedly reminds the late 90s dot-com bubble. Amazon, which is poised to become the second company to reach $1 tln market cap, was a tiny initially a tiny firm with barely 200 of employees when it went public in 1997. Same goes for Bitcoin– starting at $0.003 on BitcoinMarket.com, BTC is worth $6,023 with a market cap that exceeds $103 bln. However, will it be able to surpass today's tech giants?
It is crucially important to know where this trend will go in the future. Many would say that it was too late to invest in Bitcoin back in 2012, 2013, 2015…until it reached its all-time high in December peaking at $20,000. Some experts predict that Bitcoin may be worth astronomical sums if it experiences mainstream adoption. However, there are still some ardent Bitcoin haters in the likes of Warren Buffett who keep insisting on BTC being yet another Ponzi scheme.

So, let's jump into the latest and the most relevant Bitcoin price predictions in order to find out whether it's worth putting your money in crypto in 2018.
Forecasts in 2010 (expectations and reality)
You've probably heard many inspiring stories about jaw-dropping investment gains of those who jumped on the Bitcoin train early. A Norwegian Kristoffer Koch became a dollar millionaire after having invested only $27 back in 2009. However, do not be too hard on yourself even if you've already missed the boat since only biggest crypto evangelists believed that Bitcoin would turn into a multi-billion international industry. Koch, like many other Bitcoin millionaires, wasn't a firm crypto believer himself – he forgot about his small cryptocurrency investment only to discover a mammoth-size profit a few years later.
I thought to myself, didn't I have something like that? Koch told a local newspaper
To put this into perspective, let's have a look at the Bitcoin Pizza Index (BPI), which stems from the first known purchase with Bitcoins. Back in May 2018, Laszlo Hanyecz spent a staggering amount of 10,000 BTC in order to buy just two pizzas ($41). As of now, BPI is set at $63.3 mln.

Since the inception of Bitcoin, numerous naysayers (from the mainstream media to run-of-the-mill experts) tried to kill the king of crypto numerous times, but every time it would come back from the dead. Let's recall the infamous 2011 Forbes article 'So, That's the End of Bitcoin Then' which states that Bitcoin would not recover after its price plummeted from $17 to just pennies on the now-defunct Japanese exchange Mt.Gox. Tim Worstall, the author of this prediction, points to the fact that the currency is not liquid enough and has numerous security issue.




Now, have a look how the price of Bitcoin has changed every year since June 20, 2011 (the day when the article was published).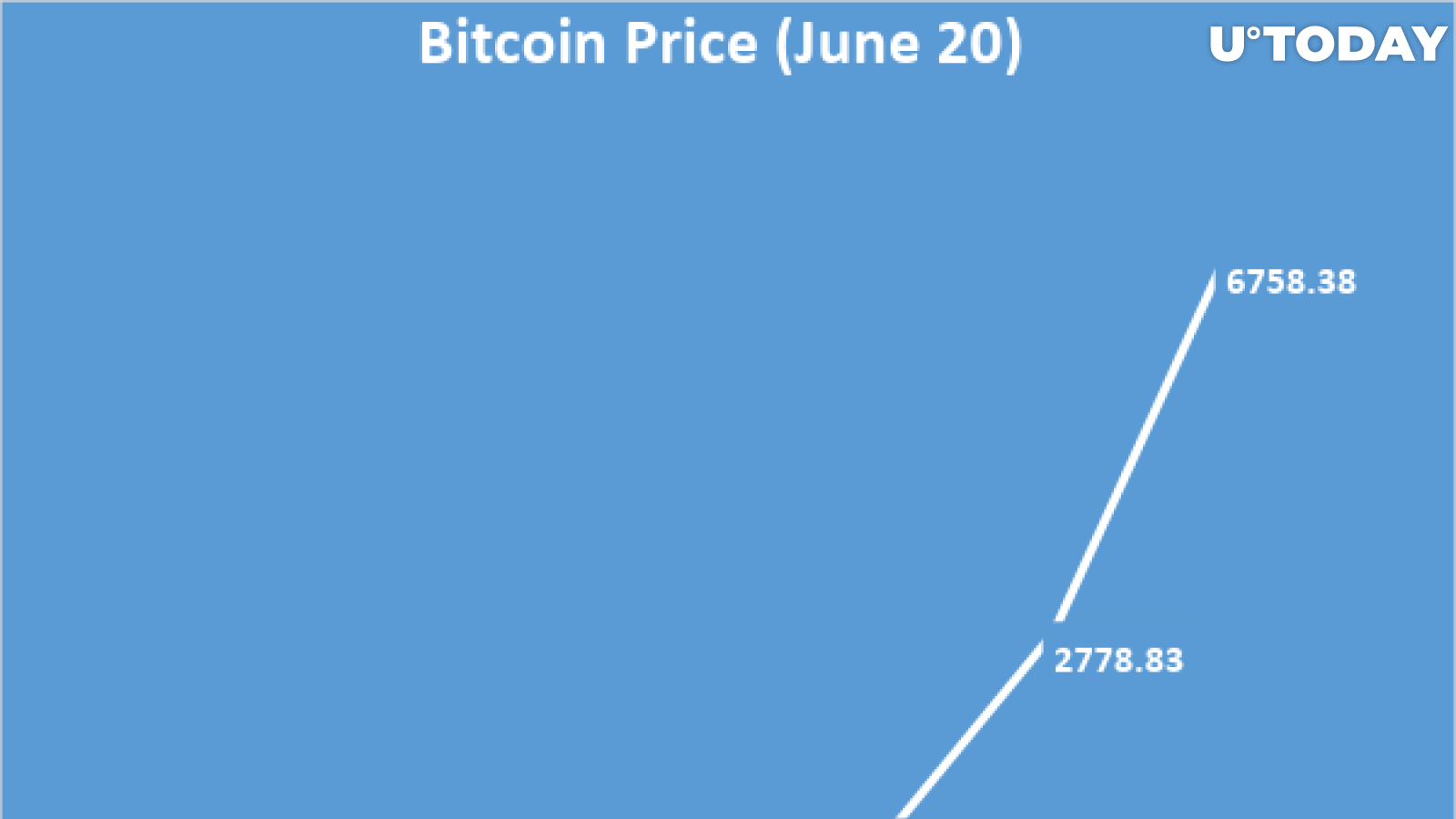 Bitcoin price prediction in 2015\2016 (expectations and reality)
Bitcoin turned out to be the true winner of 2015 outpacing all the traditional currencies – it gained almost 40 percent, which is nearly twice as much as its nearest competitor Somali shilling. That followed a series of gloomy forecasts about Bitcoin from pundits in 2014. In all fairness, these predictions were not baseless, since 2014 turned out to be the disastrous year for the king of crypto that resulted in a 56 percent price drop. The chart below is a visual representation of how BTC price not only rebounded but also reached new heights.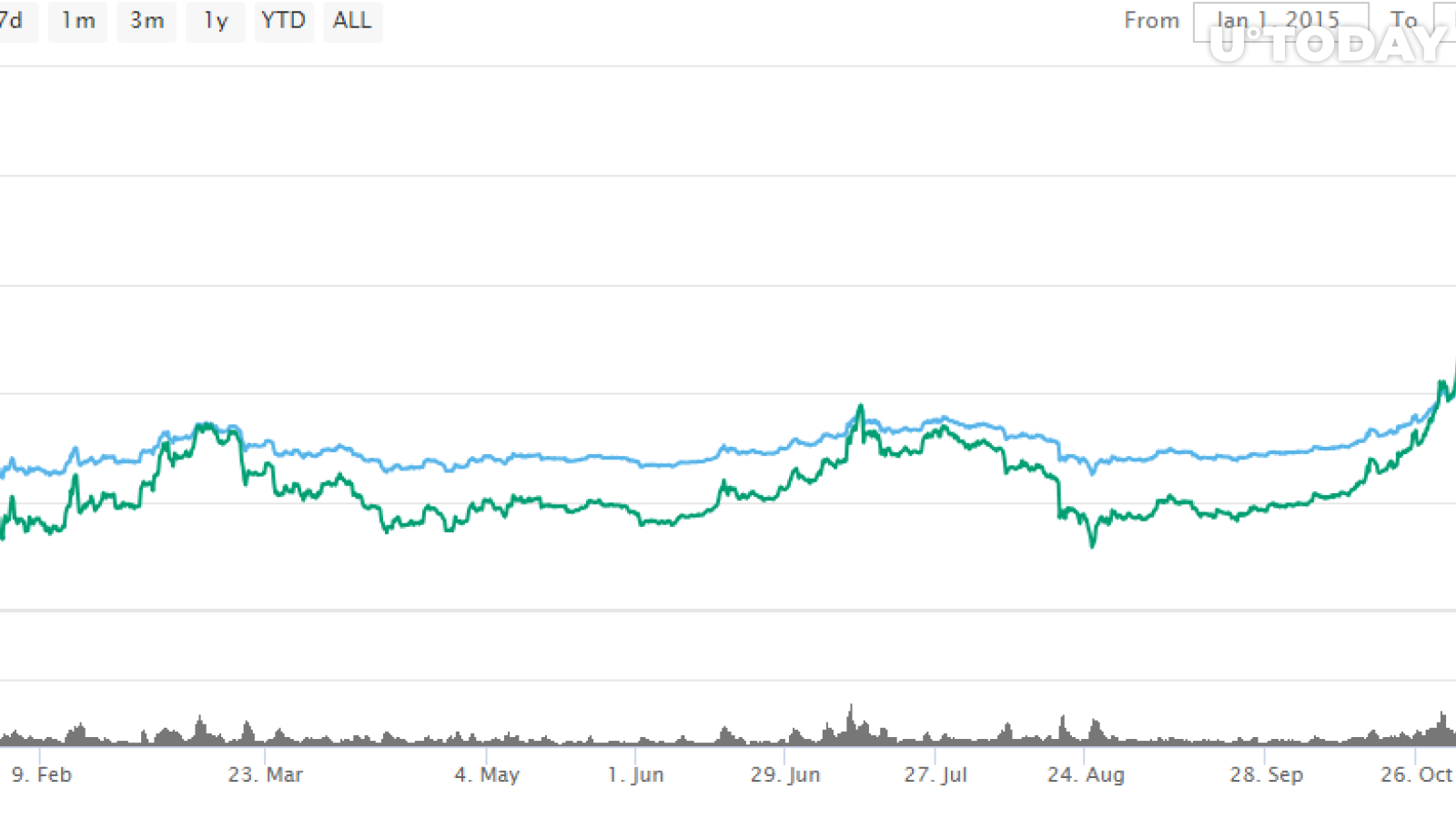 2015 was the year of increasing Bitcoin adoption as a payment method by numerous companies around the globe. Combining with the long-awaited PayPal and Western Union partnerships, it turned out to a boon for the whole crypto industry.

In 2016, BTC continued its growth due witnessing an impressive 75 percent surge. According to the initial 2016 Bitcoin predictions, there were several reasons for that:
Bitcoin halving. As you probably know, the block award is halved every four years and 2016 was such a year. Despite the fact that it didn't have a significant impact on Bitcoin's price, many pundits believe that it did ensure the currency's stability.

The growing trading volume. There is an obvious correlation between the Bitcoin' value and its trading volume.

The expansion of the Blockchain technology. The more companies get interested in decentralization, the more attention Bitcoin gets.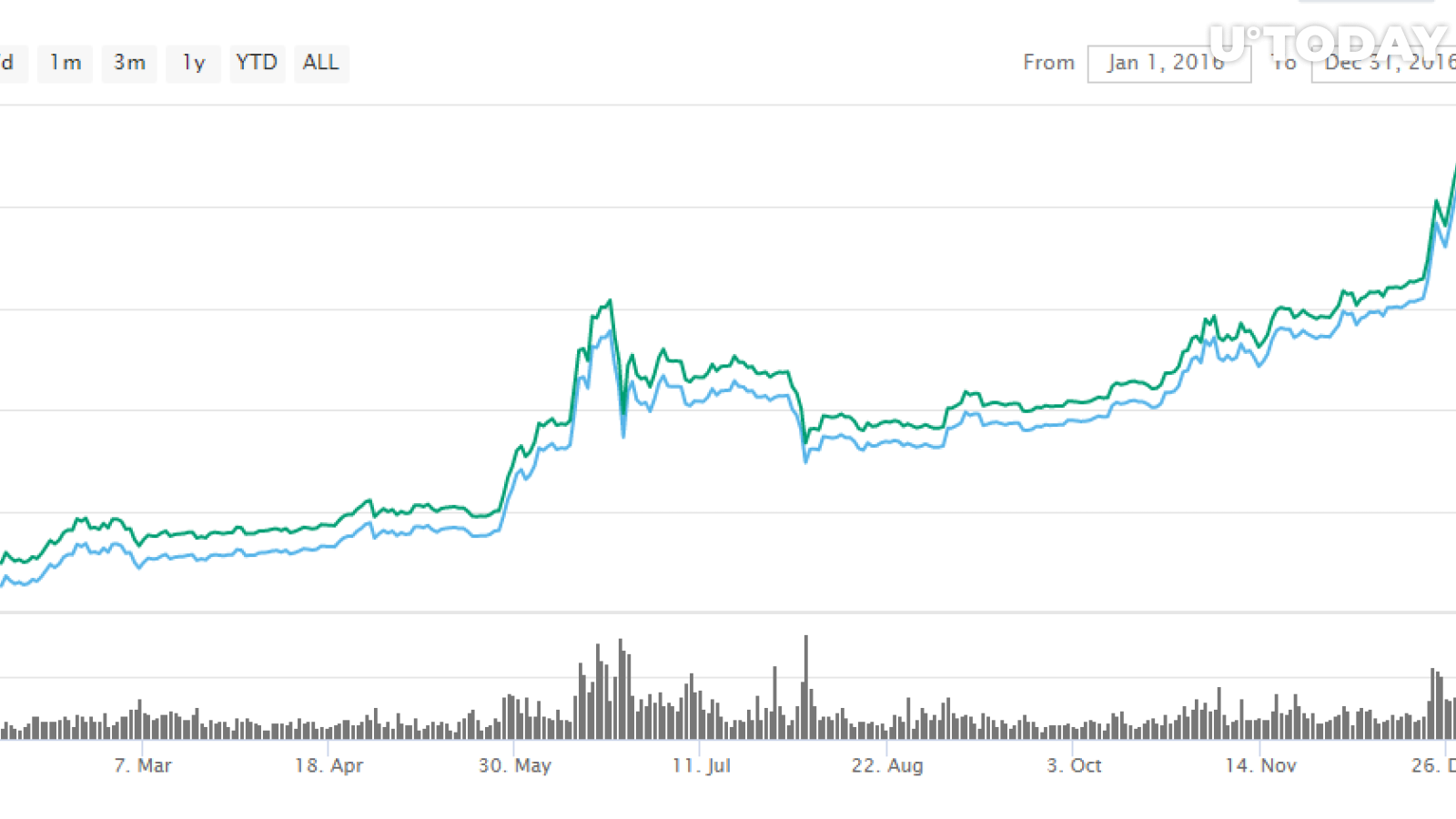 Bitcoin price prediction 2018
The first two quarters of the year are over, so it's time to evaluate the current state of Bitcoin. As bearish market keeps prevailing, many are curious what is going to happen to the currency in the nearest future. The total crypto market cap has recently dropped below $200 mln for the first time since 2017. However, it is also worth mentioning that the BTC dominance in constantly increasing (currently sitting at 53.3 percent). So, will Bitcoin be able to rebound in 2018? Not really. Here are the main reasons why will not witness another major bull run in 2018:
History is repeating itself. During the aforementioned 2014-2015 period, Bitcoin lost a whopping 80 percent of its all-time high price during a very prolonging decline. Pundits suggest that right now we are going through another bearish trend that is going to last until the end of 2018.

The decline in mining profitability. Due to a constantly increasing mining difficulty, the profitability of mining has by more than 90 percent since last December. Therefore, miners are selling BTC instead of holding it for a longer time.

SEC snub. Bears are out in a full force after SEC the Winklevoss Bitcoin ETF proposal was rejected by SEC. Now, the whole crypto community is still waiting their decision with a bated for breath.

Dwindling investor interest. Google searches for Bitcoin have also experienced a major drop in 2018.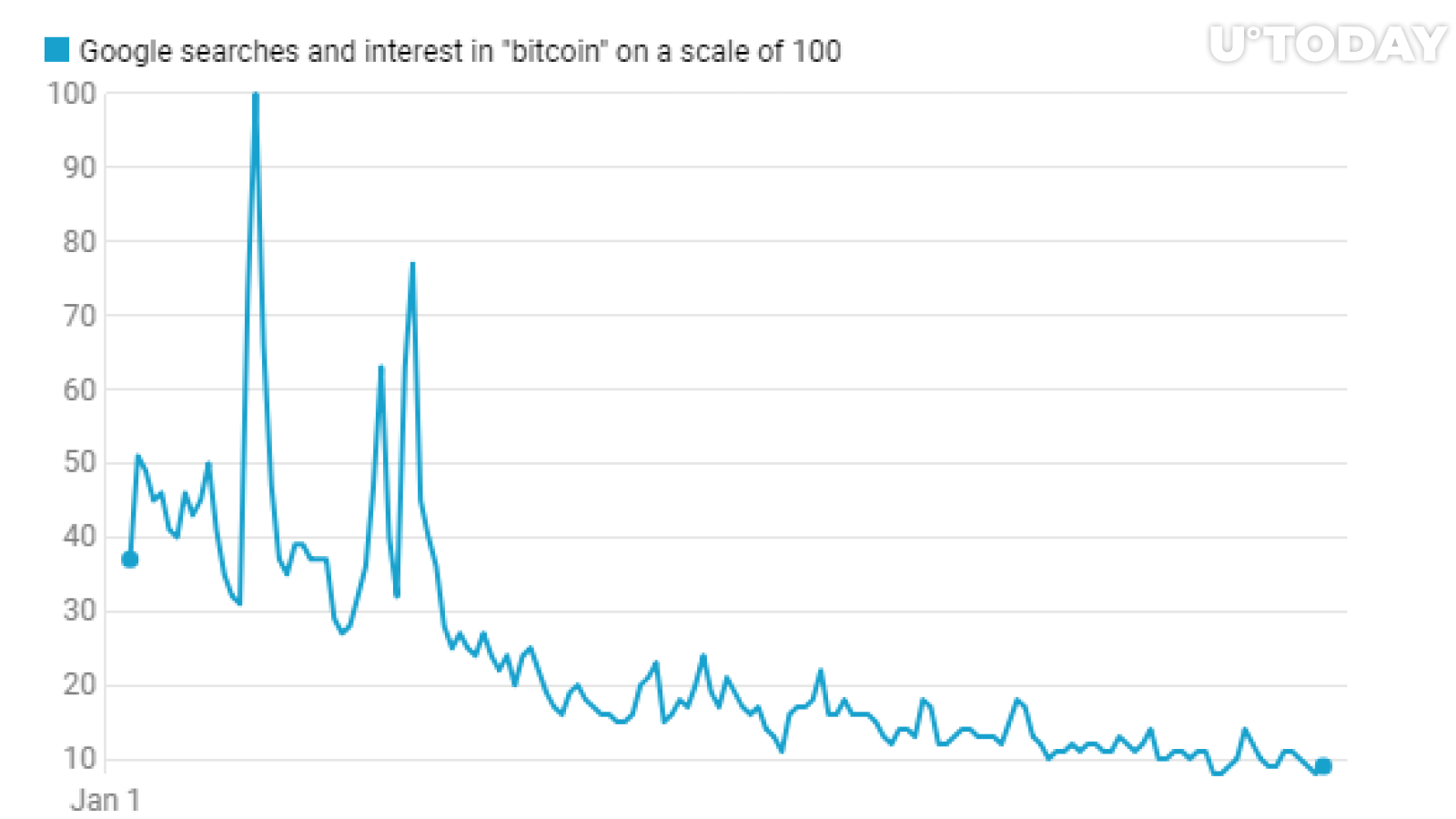 Taking into consideration all the aforementioned facts, it is very unlikely that Bitcoin will see another major uptick this year, so it is safe to say that BTC will remain pretty much in the same price range this year. Anyway, let's have a look at these Bitcoin price predictions for 2018.
$50,000 by the end of the year?
BitMEX's CEO Arthur Haynes makes a very bold prediction that BTC may such astronomical numbers as early as in 2018 if starts alight. It is worth mentioning that Haynes has already predicted the current bearish trend (he believes that BTC may reach its rock bottom at $2,000), but the upcoming regulations and a positive SEC decision may cause an immense spike in value.
I stand by $50,000 prediction by 2018 Arthur Haynes
Remarkably enough, in January the crypto experts, who were polled by Finder.com, also believed that Bitcoin was going to witness a tremendous growth reaching $44,000 by the end of 2018 (thus, nearing very close to the aforementioned price). However, this figure has been recently slashed to $19,605.
| | |
| --- | --- |
| Month (2018) | BTC price (December 31, 2018) |
| January | $44,558 |
| May | $30,925 |
| July | $21,228 |
| August | $19,605 |
Bitcoin price prediction 2019
Now, let's move on with an extremely bullish Bitcoin price prediction for 2019 from Pantera Capital, the first crypto-oriented investment firm. While claiming that Bitcoin will be at $21,000 by December 2018 (reaching its new peak), they are also extremely optimistic about Bitcoin's future in 2019. Pantera Capital predicts that BTC will cost not less than $67,000. Pantera Capital's CEO Dan Morehead attributes these huge numbers to the fact that custodial services are starting to dive into crypto (this trend is expected to continue in 2019).
Bitcoin price prediction 2020
One million?
The famed Bitcoin evangelist John McAfee is doubling down on his claims that the era of decentralization is inching closer. He believes that BTC is accelerating at a rapid speed, which makes his previous $500,000 prediction invalid.


Bobby Lee, the founder of BTCC (formerly BTCChina), also believes that that Bitcoin is capable of shooting up to $1 mln, but, according to his Bitcoin price prediction for 2020, it takes much longer to reach this milestone.
Bulls vs. Bears
Here's what Bitcoin price will look like in 2020 according to two economic models proposed by Arthur Haynes and Spencer Wheatley.
| | |
| --- | --- |
| Prediction Model | BTC Price in 2020 |
| Hayes | $55,931 |
| Wheatley | $2,352 |
As you see, the two forecasts are drastically different. However, Wheatley's model inclines to underestimate Bitcoin's market cap, which leads to such bearish predictions.
Bitcoin long forecast
John McAfee is not the only expert who is being extremely bullish about Bitcoin. John Pfeffer, an investor from Pfeffer Capital, predicts that Bitcoin could eye $750,000 in the nearest future, but, unlike McAfee, he does not specify the exact date when this 75-fold spike is going to happen.

Pfeffer is certain that Bitcoin emerges as the first asset that could potentially replace gold. There will be no need to keep gold bars in your backyards since Bitcoin is very easy to store.
Haters gonna hate
In sharp contrast to this, a well-known American economist Nouriel Roubini, who correctly predicted the 2008 financial crisis, call Bitcoin, along with other currencies, the 'bubble of all bubbles.'
I tend to think of Bitcoin as an experiment said Nouriel Roubini during his Guardian interview in February
Of course, we cannot ignore the biggest Bitcoin critics Warren Buffett who infamously called BTC 'a mirage.'
If you buy something like Bitcoin or some cryptocurrency, you don't have anything that is producing anything Warren Buffett weighed in on the future of crypto
Bitcoin price prediction 2025
Wences Casares, a director of PayPal, predicts that Bitcoin has the potential to hit $1 mln by 2025. Now owning Bitcoin, according to Casares, is the biggest mistake that an investor can make at this point, but he doesn't encourage anyone to make gargantuan investments in BTC. He encourages anyone to put one percent of their net worth in Bitcoin and see what happens to this investment in a decade.




Apart from Casares, Jeremy Liew, the first Snapchat investor, is also certain that Bitcoin will reach unsurmountable heights judging by his Bitcoin price predictions for 2025. Liew claims that one BTC will set you back half a million by 2030 because of the prevalence of smartphones and rising political uncertainty.
Bitcoin price prediction chart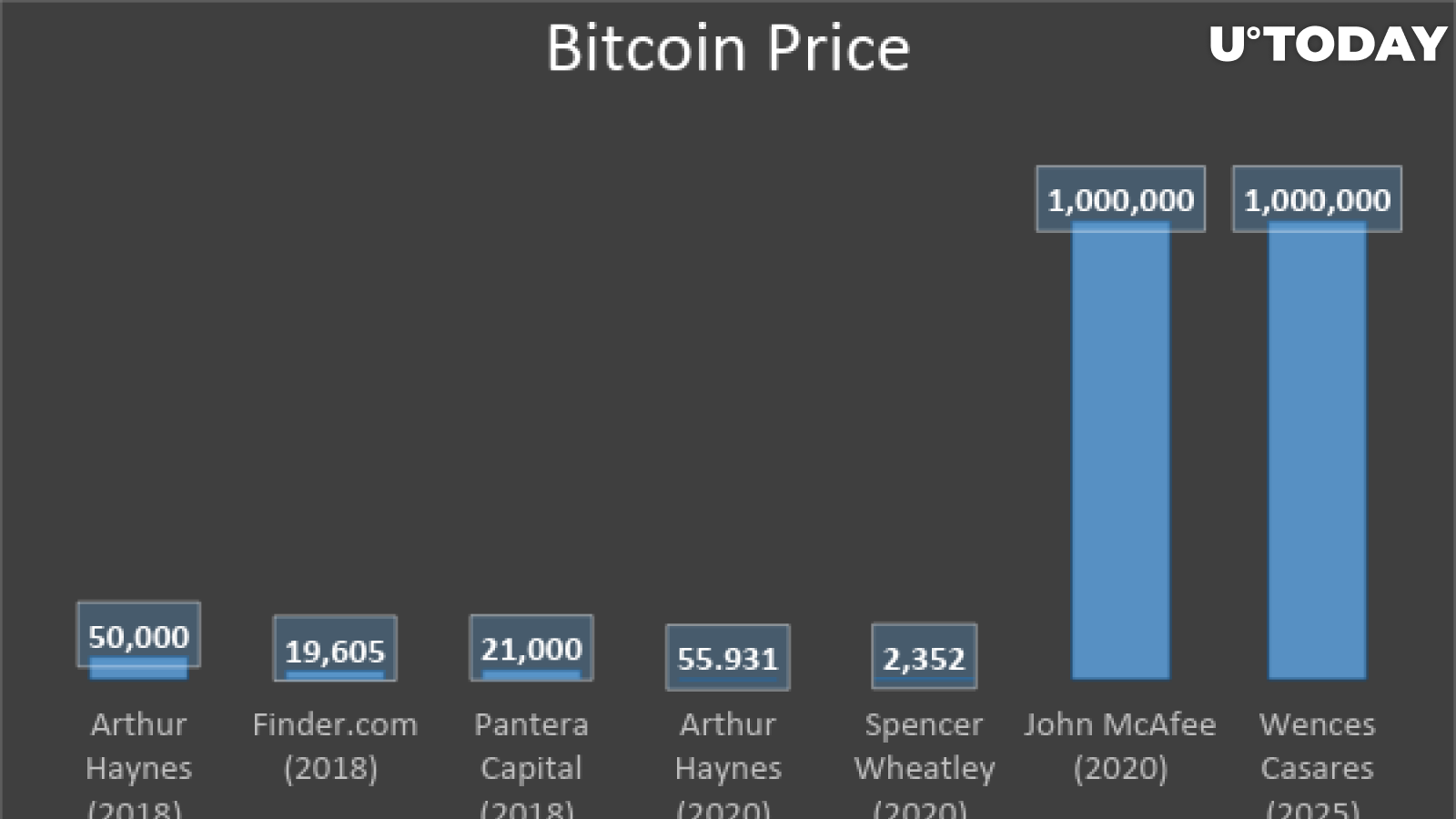 What are the forecasts from professionals from the world of cryptocurrency
Once we've covered it all, let's have a look at what famed financial pro-Bitcoin experts have to say.
Tom Lee
Tom Lee is usually extremely enthusiastic about the future of crypto. This time, the Wall Street permabull predicts that the next Bitcoin's comeback is in the offing. He claims that the constantly increasing Bitcoin's dominance is a good sign that that the king of crypto is only starting its another bull run. While not giving exact price predictions during his recent interview, Tom Lee believes that Bitcoin will keep hovering in the same price range for a while.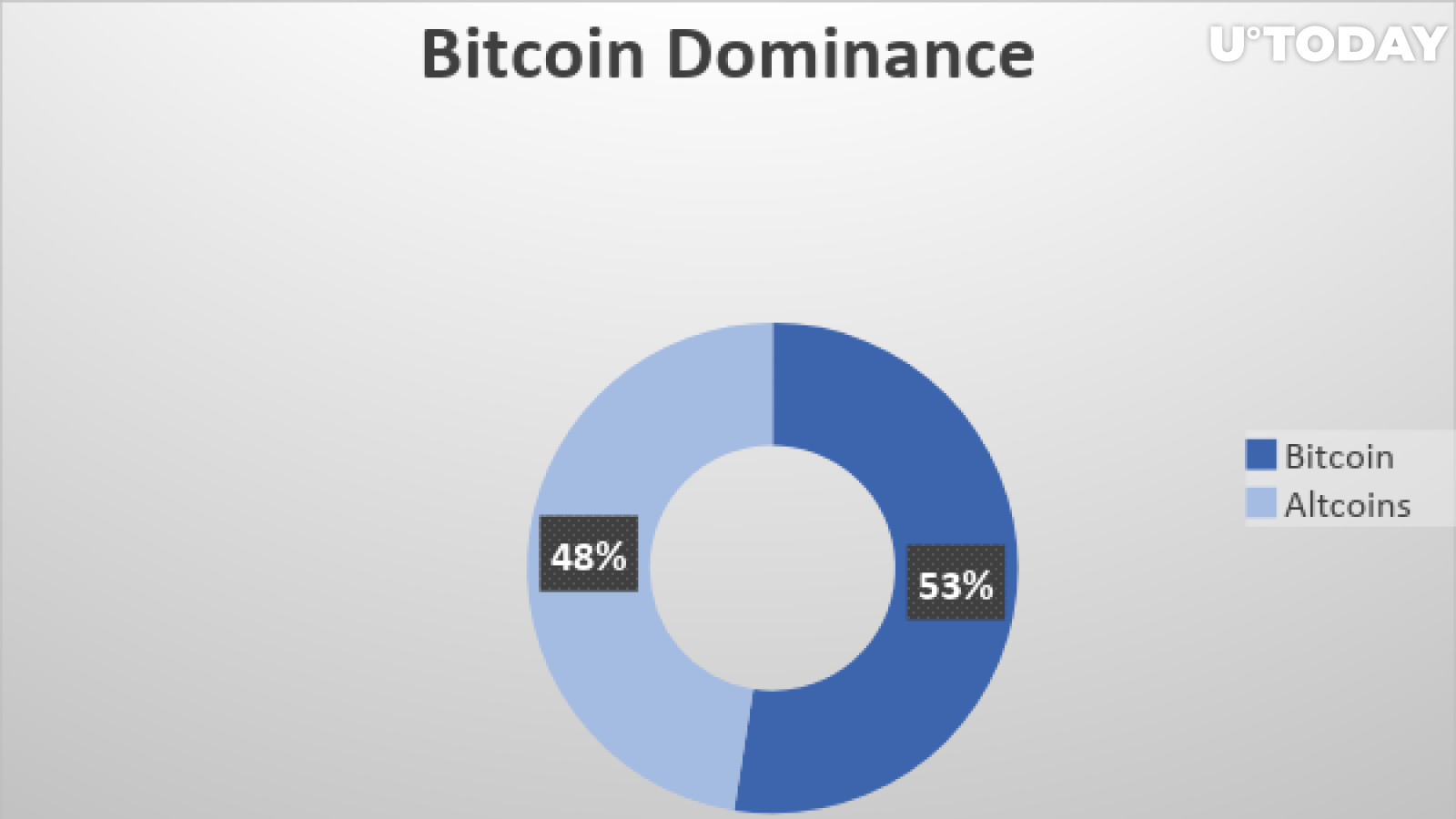 Chamath Palihapitiya
Social Capital's Chamath Palihapitiya claims that Bitcoin will be worth $100,000 in the next three or four years. He also believes that the king of crypto would be able to reach a $1 mln mark in a couple of decades. It is possible that we are dealing with a Bitcoin price prediction for 2030 or even 2040.

Ran Neu-Ner
Ran Neu-Ner, the CEO of Onchain Capital, states that we are yet to witness the mainstream adoption of cryptocurrencies. Similarly to John Pfeffer, he draws a parallel between Bitcoin and gold.
In a couple of years, there will be more demand for Bitcoin than for digital gold said Ran Neu-Ner in his recent CNBC interview
Conclusion
We've covered both extremely bullish and bearish predictions, so it is crucially important to find a middle ground here. As of one, one can only determine the factors that may have the biggest impact on the Bitcoin price prediction today.

No major changes expected to happen until the long-awaited SEC decision on Sept. 30, which may either make the Bitcoin price shoot up to astronomical numbers or trigger bearish trends. Since then, the crypto community has to look for more regulatory actions.

In terms of long-term forecasts, they are very vague and unreliable. However, if we continue seeing more companies getting on board, crypto mainstream adoption may become a reality. Since then, there will be no limit as to where Bitcoin price can spike up, so the aforementioned $1 mln predictions do not sound too crazy.