The price of the major cryptocurrency has finally moved up from the $7,400 area where it had been trading for quite a while, briefly dipping below $7,000 a few times. At press-time, Bitcoin is sitting at $7,586 and some analysts are expecting it to head for the $9,550 area soon.
"Targeting $9,550 easily"
Crypto trader @IamCryptoWolf believes that Bitcoin is going to move higher on the charts and expects it to break through the $8,090 barrier, thus confirming the fact of getting out of the 7-month Falling Wedge pattern. He optimistically writes:
"Bulls will step in aggressively targeting 9550 easily."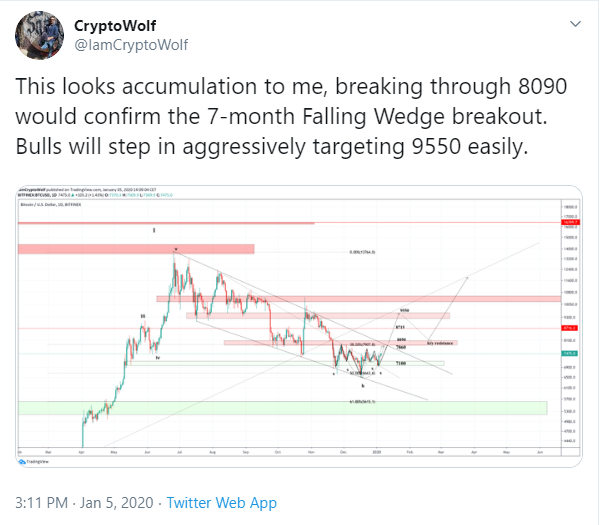 "Signal of likely continuation up"
Another crypto trading expert, Scott Melker, says he had taken a speculative long when the BTC price was sitting at $7,350, seeing a potential bullish divergence. Now, he says that there is a 'signal of likely continuation up'.
"I'm expecting $9,400"
Analyst and trader @CryptoMichNL has pointed out that the top coins of the market have finally started moving, including XRP (which has posted gains of nearly 9 percent on the news from Binance). The expert further tweets that if Bitcoin breaks through the $7,600-$7,800 level, it is likely to reach $9,400 too.
However, he states that before it happens, the price may slump to $7,200 briefly.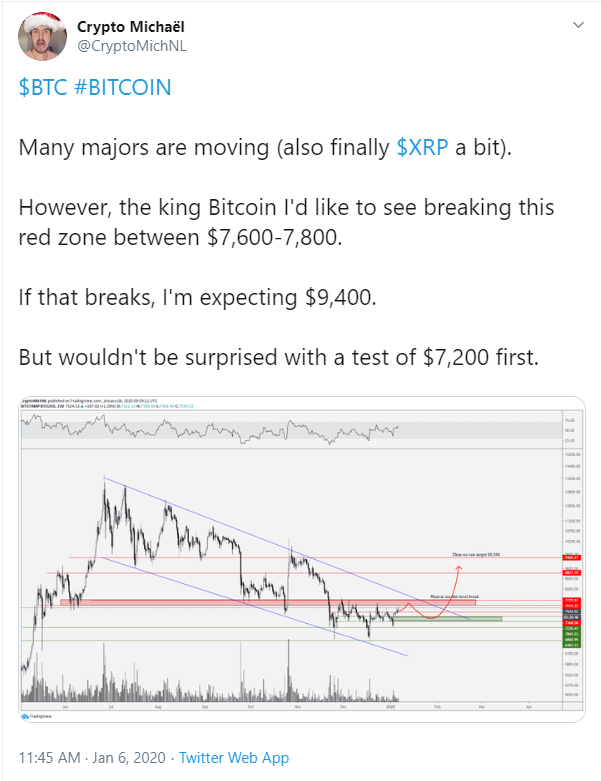 "Back to full steam after these calm days"
Other analysts and investors also seem bullish on the major coin. The Blockfyre co-founder, Simon Dedic, bullishly tweets that 'the market in general seems to stabilize and slightly increase'.
Morning everyone, back to full steam after these calm days 🔥$BTC and the market in general seems to stabilize and slightly increase, let's hope this continues for a while 👏🏼

What are you guys buying right now?

— Simon Dedic (@scoinaldo) January 6, 2020
Crypto trader @TheCryptoDog has put it simply:
I aint gon lie I'm kinda bullish on $BTC to be honest

— The Crypto Dog📈 (@TheCryptoDog) January 6, 2020