According to blockchain sleuth Chainalysis, the Bitcoin price could continue bleeding as long as those behind the PlusToken scam keep cashing out their coins. In its recent study, the firm suggests that there is a direct link between the price action of the leading cryptocurrency and the biggest crypto scam in history.
PlusToken keeps dumping, Bitcoin keeps tanking
The graph below shows how PlusToken transactions are correlated to the price of Bitcoin. The company hypothesizes that the value of the top cryptocurrency drops every time when fraudsters sell their coins on the OTC brokers. For example, Bitcoin's bull-purging 20 percent drop on Sept. 25 back that happened just days after scammers cashed out about $34 mln worth of BTC.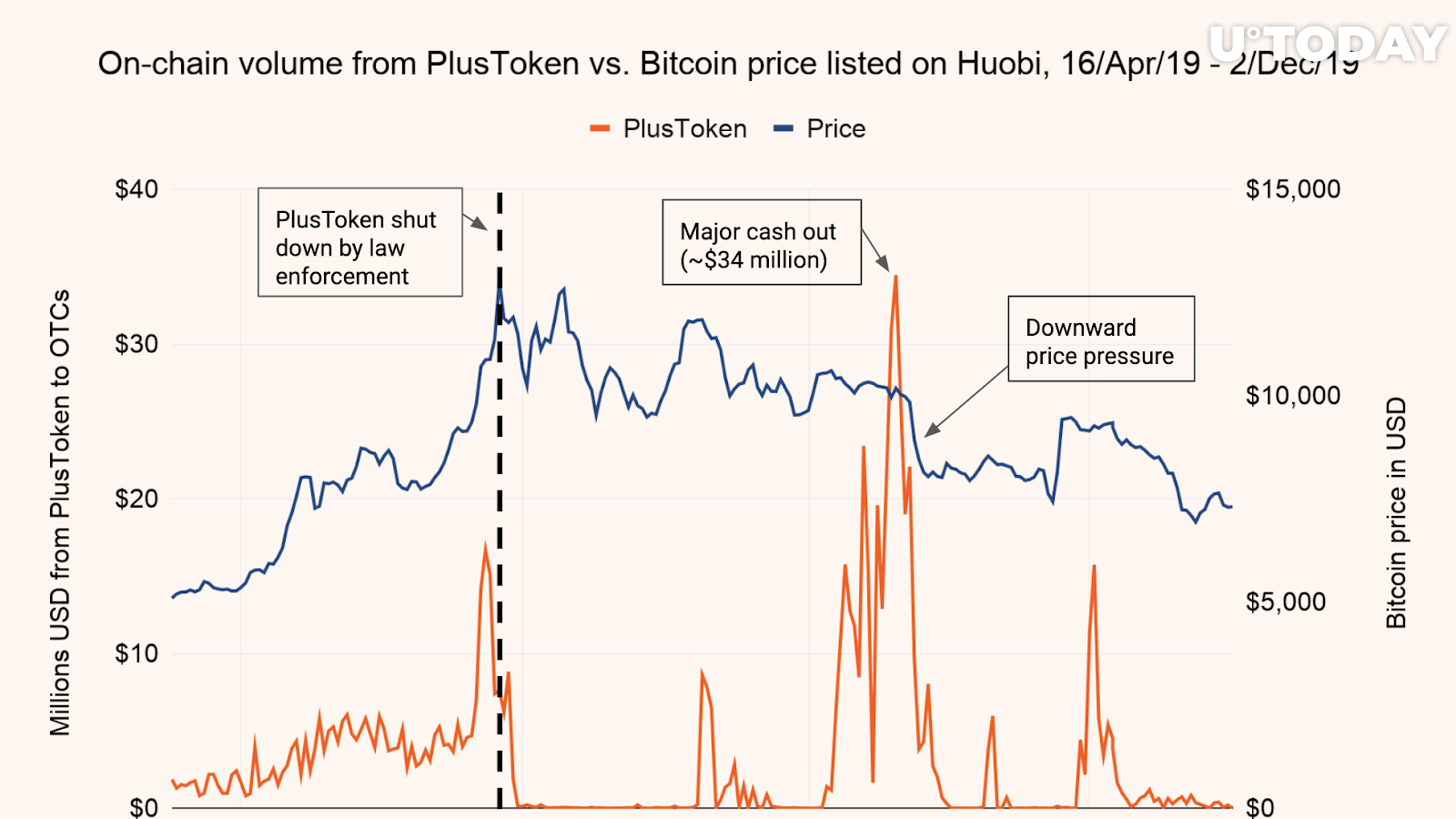 image by chainalysis.com
To make things even more interesting, Bitcoin started its 48 percent correction from the yearly all-time high of $13,700 right after PlusToken got shut down by the Chinese police in early July.
As reported by U.Today, numerous cryptocurrency influencers called attention to the fact that PlusToken scammers are the ones who pull all the strings in the Bitcoin markets.
20,000 coins are yet to be cashed out
PlusToken managed to pocket more than $3 bln worth of BTC from gullible investors. It is believed to be the biggest scam in the crypto space ever, eclipsing the infamous BitConnect Ponzi scheme and other heavyweight competitors.
Chainalysis estimates that nearly 20,000 BTC ($150 mln at press time) is still in the hands of PlusToken scammers, meaning that they could inflict more selling pressure on Bitcoin any day from now.
"That's certainly something to consider when you are thinking about where the price is going, at least in the short term. It could be, according to our research, continued downward pressure," Kim Grauer, senior economist at Chainalysis told Bloomberg.
At press time, Bitcoin continues to hover above the $7,000 level, CoinStats data shows.