Bearish forecasts are appearing one after another on Crypto Twitter as analysts seem to be expecting the bears to start dominating the market again.
Is BTC heading towards $6,200?
As reported by U.Today earlier, the @nebraskangooner entrepreneur and trader expects the Bitcoin price to drop to $6,200 soon. He bases his negative forecast on the fractal analysis.
The price may first rise to see $7,500, he says, 'and then…'. His expectation is $6,200.
#bitcoin

Price action still following this fractal ever so closely...

If today's candle closes above $7300 I think we will see price reach somewhere around $7500 tomorrow.

And then... 😖 pic.twitter.com/tGTUnSuMiT

— NebraskanGooner📈 (@nebraskangooner) December 2, 2019
A hope for bulls remains
The analyst @CryptoMichNL says that at the moment on the charts Bitcoin has got out of the wedge pattern. The analyst still hopes that the price will break upwards at the $7,400 level. However, he admits that a bearish reversal towards $6,900 is also an option.
$BTC #BITCOIN

This one did make a small breakout, out of the wedge structure.

However, I'm still watching $7,400 for a break. And we didn't break that.

So still sidelined until $6,900 or whether we flip $7,400 for support. pic.twitter.com/d0Js6jekFr

— Crypto Michaël (@CryptoMichNL) December 3, 2019
Earlier, the same analyst's expectations were more bullish. He tweeted:
'I don't think we're going that much further down.'
Taking into account the approaching Bitcoin halvening in May 2020, he said he believed that the market would start surging rather than dropping.
$BTC #BITCOIN

Macroview;

I don't think we're going that much further down. Yes, we might see another wick below the golden ratio of Fibonacci (in the green support area).

However, given the halving coming up, I'd think we rather start rallying than continuing the drop. pic.twitter.com/arXoiPRNyq

— Crypto Michaël (@CryptoMichNL) December 2, 2019
A drop to 6,000 by end of 2019 expected
Another crypto trader seems to be bearish on Bitcoin, at least until the year ends. KailCrypto has posted a chart on TradingView where he shows that the price of the flagship currency is likely to plunge - down to $6,000 by the time 2019 is over.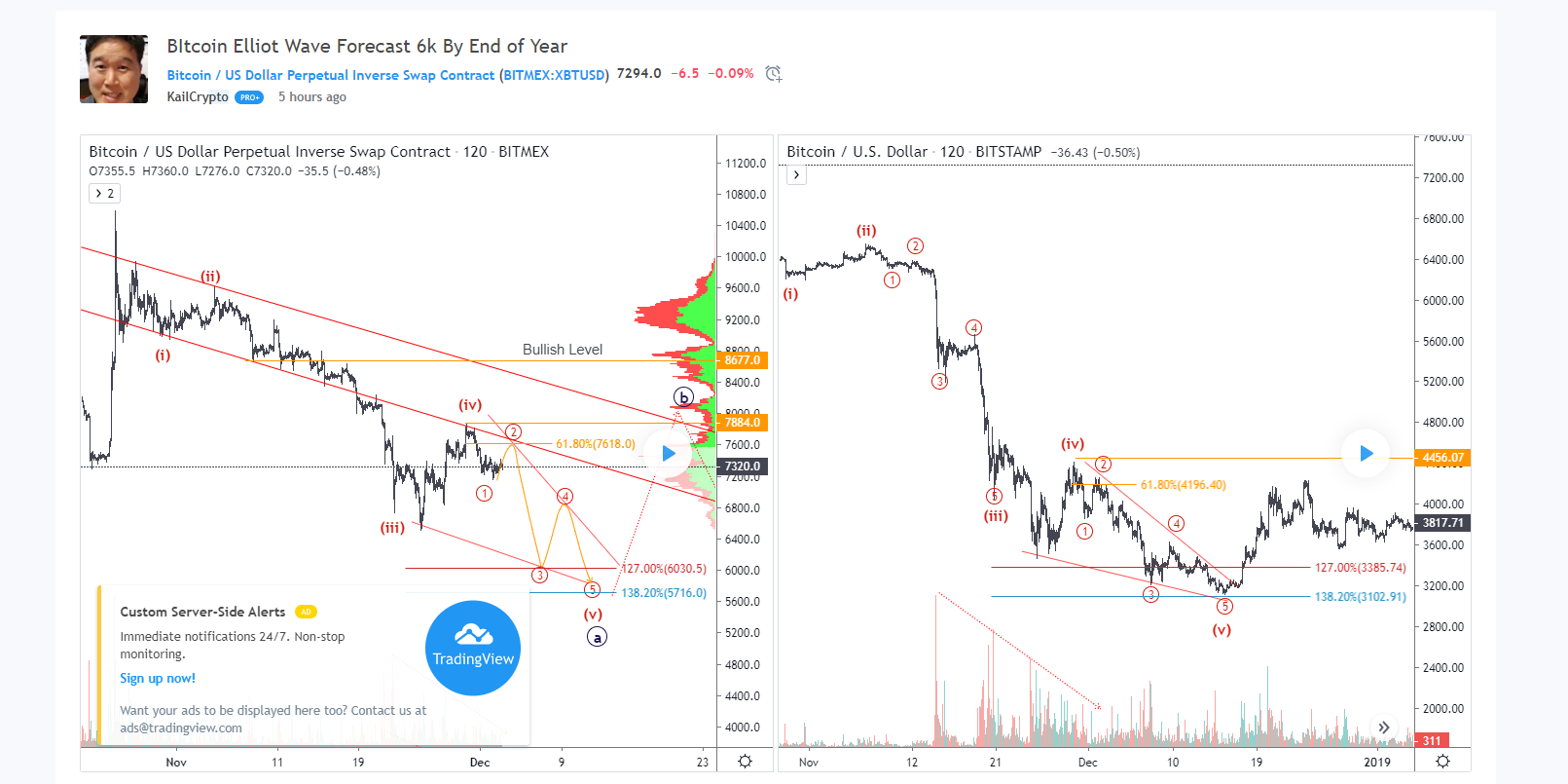 Bullish expectations ahead of the BTC halving
Overall, market expectations concerning the price of Bitcoin remain bullish, despite the bearish short-term forecasts mentioned above.This is due to the approaching halving in less than half-a-year.
The crypto analyst PlanB on Twitter says that the run-up to the halving is not bearish at all. However, he is surprised not to see any front running on the market yet.
IMO the run-up is not bearish at all, we are close to the S2F model value, like last 2 halvings. The only thing that surprises me is why we don't see front running.

— PlanB (@100trillionUSD) December 1, 2019