On its 11th anniversary, Bitcoin briefly dropped below $9,000, emboldening the bears to dream about the retest of the $8,800 level.

However, the top coin printed a string of big green candles at 12:00 UTC that pushed its price back to the $9,400 level.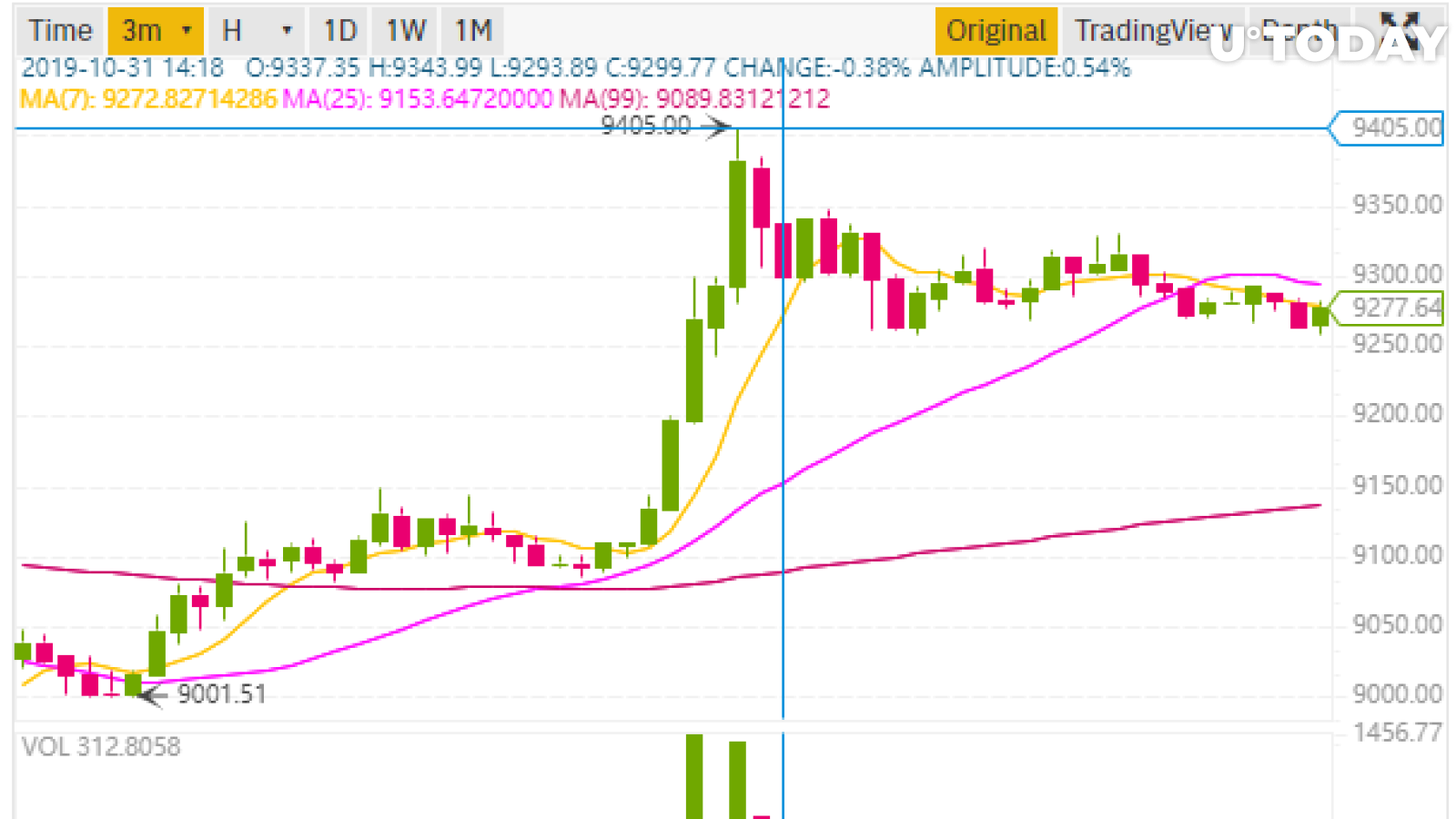 Since Bitcoin's 40 percent price jump that took place on Oct. 25, it has dipped below $9,000 on multiple times, but never managed to stay here for a long time. According to cryptocurrency trader Josh Rager, there were bigger players that didn't give a chance for aggressive sellers to push the price further down.
Aggressive selling being held up by the heavier hand was showing the bigger player didn't want price to drop from $9000

At least short term

Nice bounce from $BTC to tap $9400 https://t.co/5ZhUYDwaO9

— Josh Rager 📈 (@Josh_Rager) October 31, 2019
'Crypto Rand' noticed that the recent pump allowed Bitcoin to break out of the falling wedge pattern. This is a bullish formation that could serve as a harbinger of more short-term price gains for the top cryptocurrency.
#Bitcoin | So it begins pic.twitter.com/t6AFXx4tPB

— Crypto Rand (@crypto_rand) October 31, 2019

Trader Luke Martin (also known as 'Venture Coinists') says that it "would be a shame" if Bitcoin failed to surge above the $9,500 horizontal resistance.
aiming for that 9550 touch. would be a shame if it didn't get there

— Luke Martin (@VentureCoinist) October 31, 2019
At the time of writing, the O.G. coin is changing hands at $9,295, which means that the aforementioned target could be easily reached if more buyers decide to step in.