According to a new study published by leading job-hunting website Indeed.com, the number of jobs that are related to cryptocurrencies and Blockchain has exploded by a staggering 1,457 percent over the last four years.
Crypto jobs remain in vogue
It is worth noting that despite tanking prices and waining interest for crypto, job postings were steadily piling up on the website in 2018 when everyone and their uncle was parroting about the demise of Bitcoin.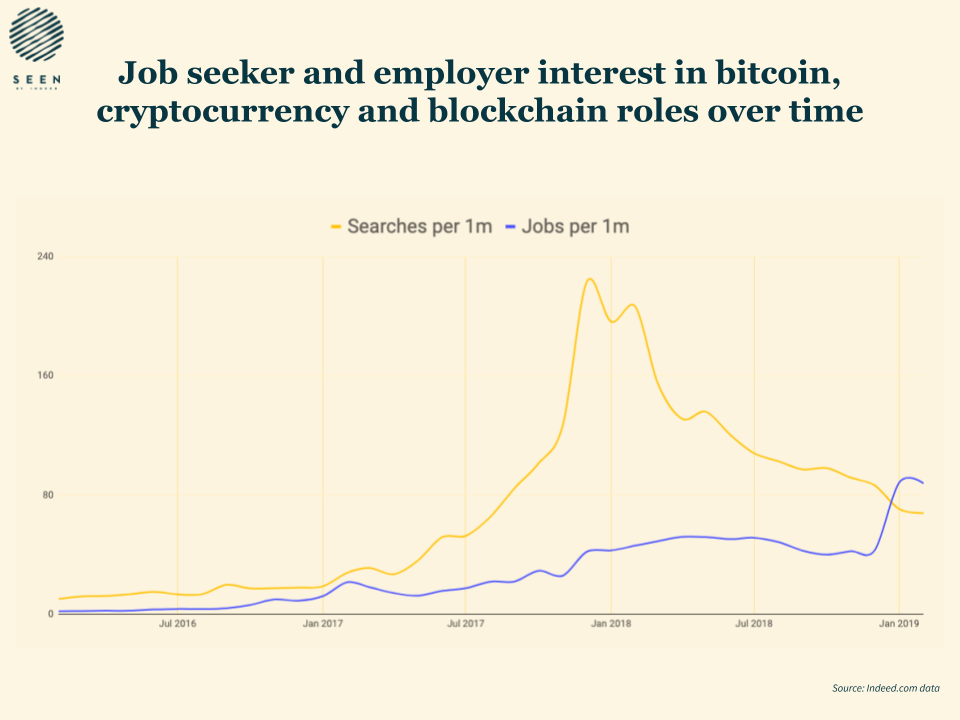 In 2019, the share of crypto-related job offers also increased by 26 percent despite searches dropping by 53 percent. Indeed predicts that this trend will continue in 2020 as well despite price volatility and regulatory uncertainty as the crypto industry continues to grow.
"So with employers investing heavily in bitcoin jobs and cryptocurrencies becoming more accepted and accessible, blockchain tech seems like it's here to stay."
Tech-savvy workers only
Indeed also revealed that cryptocurrency jobs are completely dominated by tech roles -- software engineers who know a thing or two about cryptography on top of several programming languages are in great demand. If you want to end up among top contenders, it's also worth learning crypto-specific languages, such as Ethereum's Solidity and Bitcoin Script.
Deloitte and IBM in the lead
When it comes to top companies by the number of job offerings, accounting giant Deloitte is in first place (followed by IBM and Accenture). Coinbase and Ripple, which occupy fifth and ninth places respectively, are the only crypto companies in the top 10. Meanwhile, ConsenSys dropped from tenth place to 13th place.