After surging to its yearly high of $9,818, the bulls and the bears are once again stuck playing tug-of-war. However, this period of range-bound trading will sooner or later come to an end with BTC potentially shooting all the way up to $11,000.
A short squeeze in the works
Crypto trader Anondran noticed that Bitcoin recently touched the upper Bollinger Band while simultaneously moving to the top line of the Ichimoku cloud.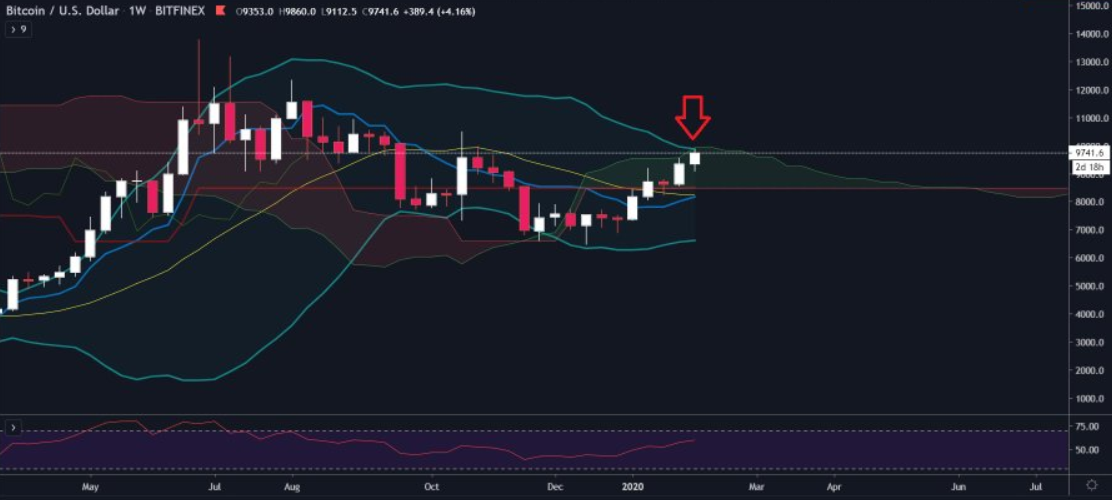 image by @AnondranCrypto
On top of that, the trader noticed that there was "a ton" of short trade stop losses above this resistance level that go all the way to $11,000. This could trigger a short squeeze when many traders are scrambling to cover and close their positions as the BTC price continues to rise.
A bearish scenario
However, even with Bitcoin inching closer to hit the shiny $10,000 mark, bulls are not out of the woods. Anondran also offered a bearish case where the recent price surge could simply be a head fake. He doesn't rule out that the price of BTC could suddenly reverse back to $8,500.
As reported by U.Today, Fundstrat's analyst Robert Sluymer concluded that it was unlikely for Bitcoin to witness another deep correction even after it appears in the $10,000-$11,000 resistance band.