On Aug.13, a Reddit user nicknamed Cryptohomie, after saying that he is a 32-year-old man, resident of Abu Dhabi, published a photo of his repayment schedule to a local bank on a cryptocurrency subreddit.
With what he borrowed from the bank, he bought various digital coins and then the market collapsed, along with his investment, leaving him with a huge debt and an 85-percent loss on investment.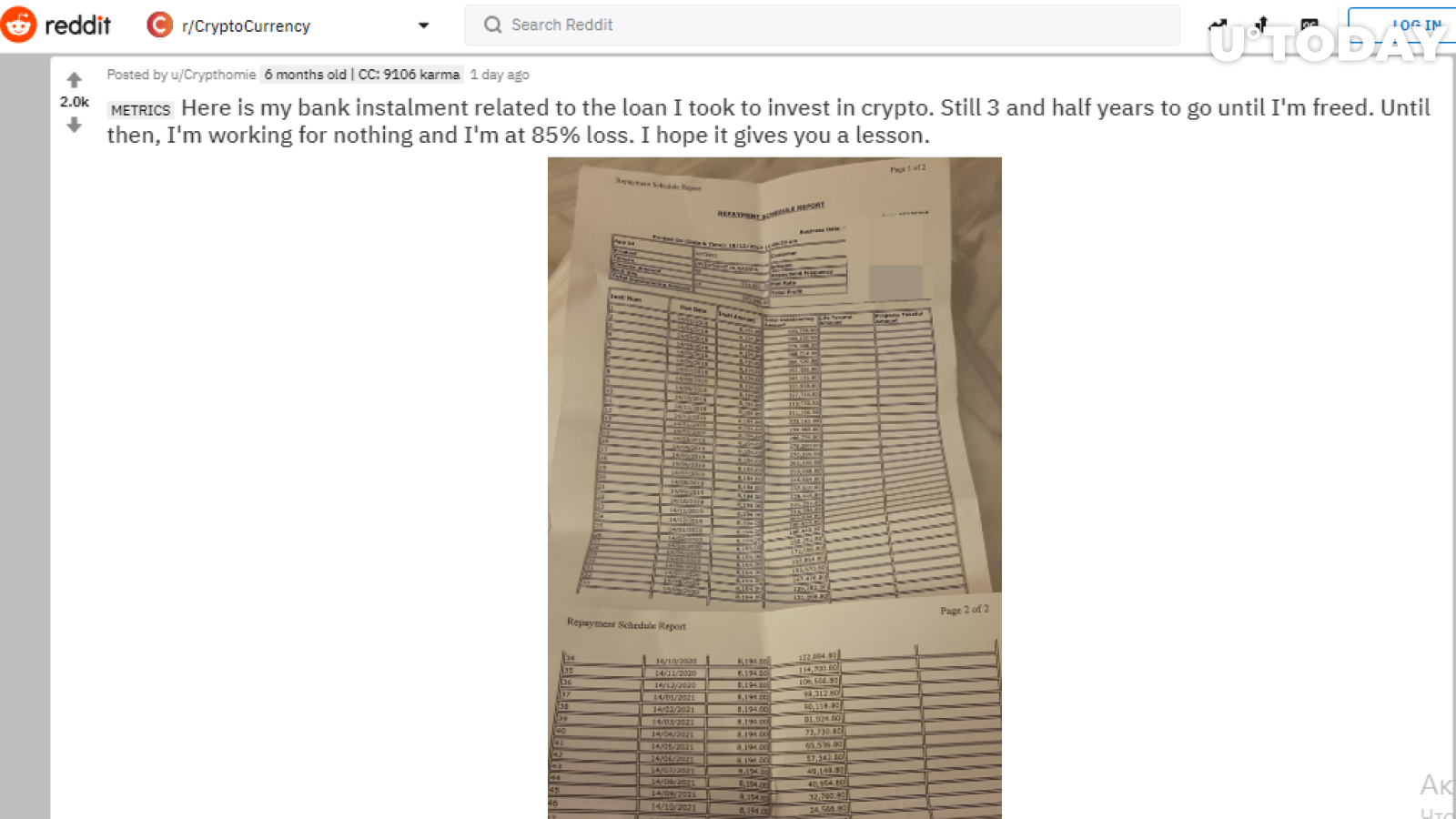 Draconian repayments
The initial credit from the Emirates Islamic Bank was over $120,000. Each month until the end of 2021, the person has to pay back slightly over $3,000. The total amount to repay, including interest, is almost $150,000.
As the man wrote on the subreddit until 2021 he is working for nothing. He hopes that his case would serve as a lesson to other crypto investors.
The unexpected collapse
The unfortunate investor mentioned that he bought Litecoin, Ethereum and Stellar (XLM) from the top 10 list, Neo and some "shitcoins" that cost hardly anything already.
As a reminder, since 2018 started, NEO dropped about 90 percent of its value, XLM lost almost 75 percent. LTC and ETH plummeted about the same, along with the rest of the market and the total market capitalization volume, which collapses from $800 bln to $200 bln.
The investor explained that he had got the loan easily, local banks provide up to $100,000 to a borrower with hardly any verification. He also admitted that it was the first investment and experience as a market speculator.
Reddit response
Other forum users split– some were amused and did not hide it, some were being sympathetic.
Some even responded that people should not blame banks for prohibiting loans for crypto investments, and the guy from Abu Dhabi is a perfect example of this ban.
US regulators' warnings
In December 2017, when Bitcoin, Ethereum and other coins were at the peak of their prices, the US regulatory agencies kept warning investors not to take bank loans to buy virtual assets.
Back then, many people, hoping to become rich overnight, took mortgages, opened new credit cards, took out their retirement savings, etc, to invest into the fast-growing crypto market and ICOs.
One of the most frequently given pieces of advice from numerous investment gurus and financial experts back then was not to invest more than you are prepared to lose– one of the redditors also reminded the unfortunate Abu Dhabi investor about that.