Former Wall Street trader Tone Vays says that he's now "way more bearish" after watching CNBC's recent "Fast Money" episode that called attention to the super-bullish $250,000 Bitcoin price prediction made by venture capitalist Tim Draper.
After listening to this $BTC price coverage on @CNBCFastMoney profiling @TimDraper saying #Bitcoin can hit $250k by 2022, I am now way more BEARISH than I was this morning. @fundstrat https://t.co/rOiK0D495p

— Tone Vays [Vegas - Unconfiscatable.com] (@ToneVays) December 21, 2019
Choose your contrarian indicator
Vays is a rather divisive figure within the cryptocurrency space since some of his bearish calls turned out to be extremely wrong, which is why some prefer to trade in the opposite direction.
However, his most recent prediction about Bitcoin dropping below the $7,000 level once again was on the money. The orange coin plunged to $6,500 just two days after his "buy the dip" tweet.
CNBC can be also used as a contrarian indicator for Bitcoin with extreme accuracy as proven by trader Jacob Canfield. This explains why Brian Kelly breaking down Draper's $250,000 and Tom Lee saying that 2020 could be "much better for crypto" than the current year alarmed Vays and, quite possibly, the rest of CNBC's crypto-savvy audience.
$5k could still happen
Bitcoin's speedy recovery from a drop to $6,500 made the community far more optimistic ahead of a much-awaited yearly candle. At press time, BTC is changing hands at $7,170, barely moving the needle for the past few days.
That said, according to trader Josh Rager, the top cryptocurrency is not even close to a potential bullish reversal until it breaks above $8,000, the price level it hasn't touched since Nov. 21.
$BTC

Feeling bullish after that $1k move? Zoom out and you'll see price is still very much in a downtrend

Needs to break/hold above $7950/$8k for any talk of a potential reversal

Break previous low and likely head under $6k where $5,300 area is a promising place for buyers pic.twitter.com/Xhyekb5Yq8

— Josh Rager 📈 (@Josh_Rager) December 21, 2019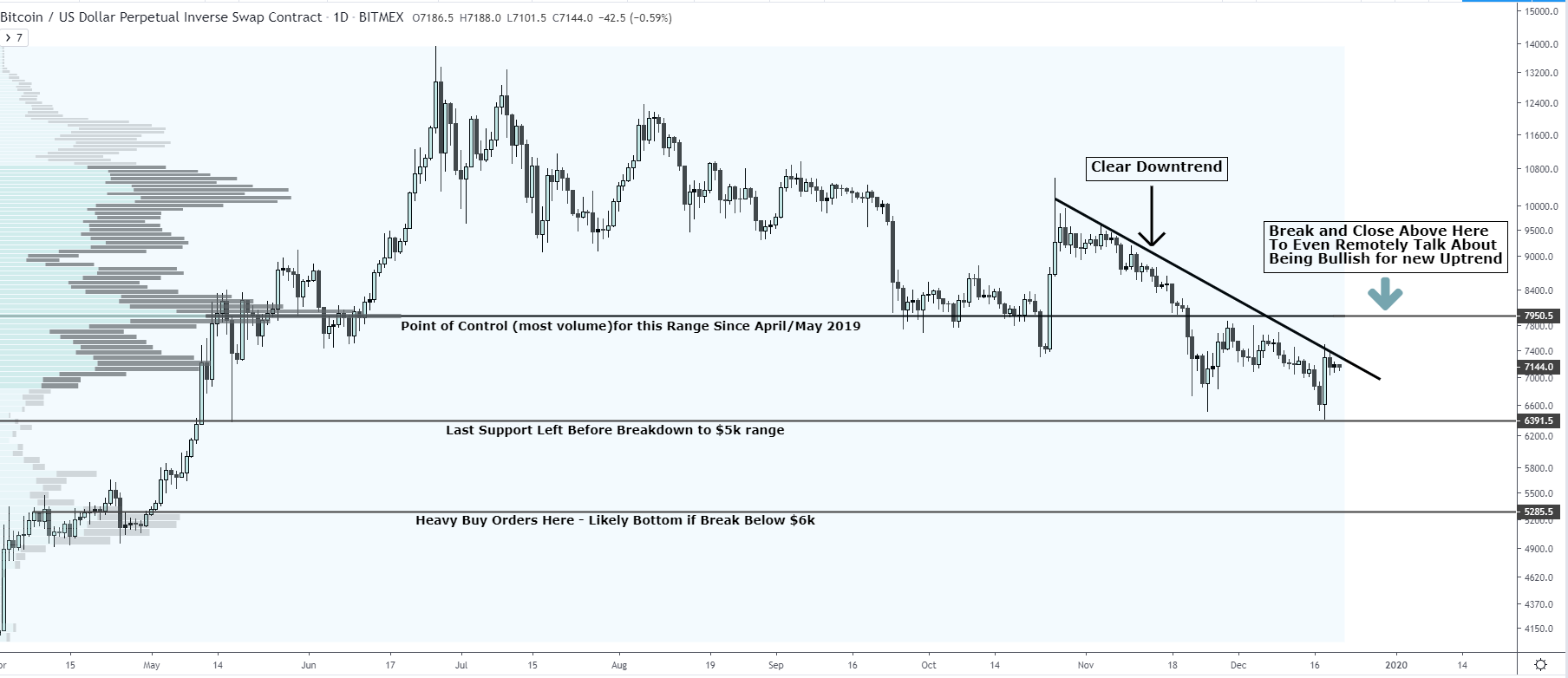 In case a bearish scenario, when BTC collapses below the previous support, he would target the $5,300 area to stack more sats.